If you are into knife throwing, you should find the proper throwing knives. They are designed for throwing only and here are a few properties of these knives:
They are made of a single piece of metal and have a streamlined design.
They do not have any handles that are made with wood or plastic – so a folding knife is not classified as a throwing knife.
They are made with softer metal because the knives are meant to bent, not break upon hitting the hard concrete floor.
However if you want to throw other knives e.g. folding knives, you can still do so. They do not fit the criteria above and they are not the best knives to throw. In most of the cases the handles would tend to break after some serious practice. But today we will go through some of the best folding throwing knives that can take up a bit of abuse.
Why Throw a Folding Knife
One of the main characters of the professional throwing knives is that they are not sharp. In fact their blade needs to be dull and this makes them very anti-multipurpose. You can use them for throwing for sure, but if you want to cut a rope and open a tin can with it, then good luck. Throwing knives are usually put into a sheath so you wouldn't really carry these knives on daily basis. Because of that, some throwers carry folding knives or pocket knives instead because 1) they are sharp and multifunctional, 2) they can be folded and carried in the pocket.
There might be times that you just need to throw a knife, either for fun or hunting. If all you got is a folding knife, throwing it could sometime be the only way. You can practice throwing folding knives at home just like the way you practice a normal throwing knife. Bear in mind that most folding knives are made of harder steel which would snap if they hit the ground too hard. To avoid that, try practicing on the grass and stay away from the concrete. Some throwers also suggest using layered corrugate cardboard as target because they are soft, cheap and easy to obtain.
Some of the Good Folding Throwing Knives
Here are a few things that we look at while deciding if a folding knife is good enough to throw.
Durability
The folding knife has to be able to withstand some sort of abuse. The handle needs to be made of sturdy material which doesn't chip or tear easily. The popular handle materials nowadays are Titanium, G-10 (glass-epoxy laminate), FRN (Fiberglass Reinforced Nylon) and Zytel (a high temperature plastic). The bottom line is, the knife needs to have a strong construction so that the handle doesn't come off easily.
Blade Type
If you want the folding knife to stick in the target, make sure the blade has a tip that is pointing forward. Look for normal blades like the drop-point blade – they have a convex curve near the tip. Avoid blades that are too thin or concave e.g. clip-point blade as they are weaker at the tip.
Blade Material
Go for toughness rather than hardness. They are more flexible and softer which are perfect for throwing knives. Hard metals could be too brittle and they tend to break while throwing.
Spyderco Tenacious Folding Knife Review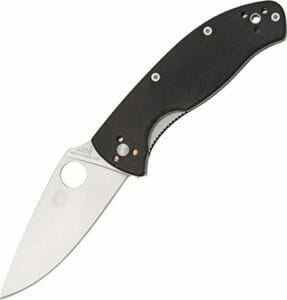 Here's a popular knife manufacturer – Spyderco. One of their signature knives is the Spyderco Tenacious Plain Edge. It's a tactical folding knife that can satisfy your everyday's need. Combo with the high quality steel and the G10 laminate handle, this knife can handle lots of heavy duty tasks. With a whopping 4.7 / 5 stars review, this knife is worth your every penny.
The 3 3/8 inches blade is made of 8CR13MOV stainless steel and it's razor sharp which is not ideal for throwing. The knife handle is made of G-10 which is comfortable to grip. It weighs only 4oz which is quite light to carry, but throwing it at the long distance becomes a challenge.
Most of the Spydero knives have a signature circular hole in the blade. It is useful for opening and closing the knife with just a thumb. However if you are throwing this knife, the hole might get into the way.
Overall, the Spyderco Tenacious is a good folding knife. It is okay for throwing and it is a good knife with a reasonable price.
>> > See more reviews, details and the latest price about the Spyderco Tenacious < < <
---
There is another Spyderco knife worth looking at – the Spyderco Endura 4. It has a slightly different specifications but it is as good as the Tenacious. In fact, we prefer throwing the Endura because the longer handle gives you more control.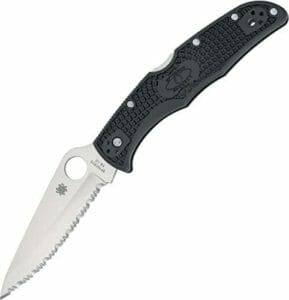 • Opening Mechanism: Skeletonized steel internal liners.
• Handle: Fiberglass Reinforced Nylon
• Overall Length: 7.125-inch
The only downsides that we found while throwing this knife are the 4-way clip and the David Boye Dent.
>> > See more reviews, details and the latest price about the Spyderco Endura 4 < < <
---
556 Benchmade Pardue Mini-Griptilian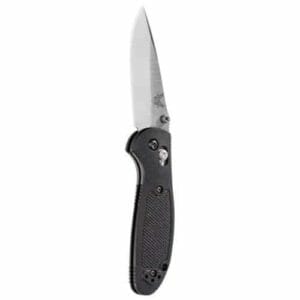 In the folding knife world, Benchmade is one of the most well-known knife manufacturers. The Pardue Mini Griptilian knife from their popular Griptilian series is one of the best folding knives on the market. With 4.8 out of 5 stars on Amazon rating, this is a folding knife that you won't regret getting. The lock mechanism this knife uses is the AXIS lock. It is a sophisticated design and the chance of accidental disengagement is slim. Overall the Mini Griptilian is an amazing pocket knife.
But how about throwing it? The Mini Griptilian uses a drop point stainless steel blade which is good for sticking into the target. The 154CM stainless steel used to make this blade is a super tough metal. The downside is that the knife is a bit on the short side. With overall length 6.78â€, we would recommend using no-spin technique for short range throw.
>> >Click here and see the price detail about the 556 Benchmade Pardue Mini-Griptilian< <<
---
SOG Specialty Knives & Tools GFSA-98 Flash II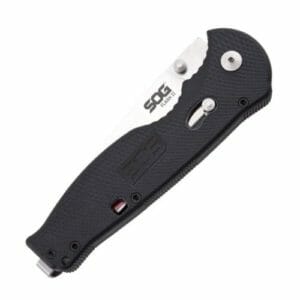 The SOG Flash II is a great and inexpensive folding knife made by the renowned knife manufacturer SOG. The main feature of this knife is the SOG Assisted Technology. It works perfectly well and it allows swift blade deployment. The safety lock is a great function too – it doesn't open accidentally in your pocket and make holes on your trousers. The handle is made of glass-reinforced nylon which is light and tough. Combined with the AUS-8 premium stainless steel blade, the Flash II is an everyday knife.
But is it good for throwing? There are a few points that you want to watch out for if you are throwing the SOG Flash II. First, the knife weighs 3.1 oz which is very light, just like other normal folding knives. This is not ideal for throwing but you can rarely find a heavy folding knife. It is not bad for a short distant throw though. Second, the knife has a pocket clip which is a nice touch for someone who carries it in the pocket. But the clip is located at the end of the handle and it is too protruding for throwing.
It may not be the best folding throwing knife but for a low price it's still a good carry knife.
> > >See more reviews, details and prices on the SOG Flash II < < <
---
The Downside of Throwing Folding Knives
Most folding knives out there are not made for throwing – if there are any entrepreneurs reading this, this might be your next business idea. Because folding knives are usually carried in the pocket, they tend to be short and light-weighted. They are fine for short distant throw but not so good for long throw. Their blades are sharp so that they can handle heavy duties but a throwing shouldn't have sharp blade. Some folders have a clip fixed to the handle which will get into the way while throwing.
Finally, remember that the more complicated the knife is, the harder it is the throw it.