If you have thrown knives before or just started knife-throwing recently, you should know that knife spins in the air when it is being thrown. The major problem about spinning is that you need to know the exact distance between where you stand and the target. The knife may hit the target with the handle instead of the blade if the distance is wrong.
To successfully throw a knife with spin, you also need to know the balance of your knife, the rotation and the grip position, etc. Basically your every throws need to be consistent and accurately controlled if you want the knife to stick on the target.
What is No Spin Throwing
This is why people invented no spin throws. So what is a no-spin throw? Well, the name says it all – no-spin throwing technique means you throw a knife without making any spins. This technique is good for a short-range throw and it is ideal for someone who doesn't know the exact throwing distance. It is good for combat because the throw can be so quick that you take your opponent by surprise although we don't recommend you throw your knife away during combat.
No Spin VS. Spin Throw
Let's check out the head-to-head comparison between spin-throw and no-spin throw.
Spin-throw
Advantage: It is great for long-range especially in competition because most knife throwing competitions are long distances. In terms of the control of the knife, it is easier than the no-spin throw. It doesn't require a special grip, you can use a normal hammer grip but consistency is key.
Disadvantage: You need to know every detail before you make the throw. E.g. you need to calculate the distance from the target. You also need to know your knife well – e.g. how many spins does it require to hit the target, where do you grip the knife, etc. If you change your knife set, you will need to recalculate all over again.
No-Spin Throw
Advantage: No-Spin is great for a short-range throw. You can throw from any distance between 0 to 10 feet because you don't need to calculate the spin. It is quick because there is no need to adjust the distance and spin. All you need to do is hold the handle and throw it. It has style: you can do an overhead throw, underarm throw, or sideway throw with the no-spin technique.
Disadvantage: Learning a no-spin throw is harder than learning a spin throw. You will need to practice on the grip, finger action, wrist action, and the timing to release the knife if you want to perform a good no-spin throw.
How to Find the Best Throwing Knife for No-Spin Technique
Shape:
Some of the no-spin techniques require the thrower to brush down the spin of the knife with a finger. To do this, the shape of the knife is very important. Make sure that the throwing knife has a round and smooth spine, it shouldn't have any bump sticking out which can thwart you from brushing down the knife.
Length:
You can use both long and short knives for the no-spin technique. A long knife is good for long-distance while a short knife is good for short-range.
Sharpness:
Same as all the other throwing knives, a no-spin throwing knife shouldn't be sharp. As long as the knife has a point that can stick to the target, it is good enough to throw. If the knife is too sharp, grind it down so that you don't cut yourself.
Quantity:
Get at least 3 knives, ideally 6 knives at the same time. You don't want to keep walking back and forth to retrieve your knives and it won't be efficient in learning.
---
Our Recommendations for the Best No-Spin Throwing Knives
Butter or Dinner Knives
Yes, that's right. Butter knives are indeed one of the best throwing knives for practice. They are made with one piece of steel without any handle parts. The shape is smooth and the blade is not sharp at all. The spine is also smooth so these knives are not bad for no-spin throw. They can still stick to the target because of the tip at the end of the blade. They are also very cheap – you can get a pack of 6. Make sure you get the one with a round, normal shape.
Get our favorite butter knives here
Of course, butter knives are only good for practice. They are not very good at long-range throw because of the short length and the lightweight. If you are looking for more serious knives, you need to keep reading.
---
United Cutlery GH2011 Gil Hibben Gen.2 Throwing Knife
These are pretty good beginner set. They are designed by Gil Hibben who actually throws knives. With an overall length of 8 5/8â€, they are great for a short-range throw. The set also comes with a belt sheath. We like it because you can draw the knives quickly from the belt and throw it with underhand no-spin technique – it is amazing for close-range combat.
The GH2011 is good for a no-spin throw. The knife has a round shape and it has a smooth and straight spine. Your finger wouldn't get caught while brushing down the spine. You can also practice spin throw with this knife. It is center-balanced so it makes a uniform spin in the air which is good for spin thrower.
>>> Click here to see more reviews, product details and prices on Amazon < < <
---
Boker Magnum Bailey Ziel Set Knife
Overall length : 13 ¼â€
Weight: 14 oz
Thickness: ¼â€
Metal: 420J2 stainless steel
Sheath: 3 compartment leather sheath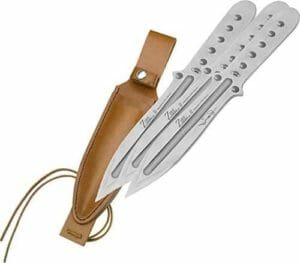 For a long-range throwing knife, the Boker Bailey is pretty good. We would recommend it to any beginners because it is designed by John bailey who is a professional knife-thrower. He knows how to throw his knife and he knows how to make one.
These knives are well balanced, heavy-weighted, and long which are perfect for long-distance throw or competition. They are amazing for a spin throw. However, you will notice that the shape of the knife is not very round. There is a little spike coming out in the middle and it would be hard to perform the no-spin technique.
One more thing to be aware of is the tip of this knife. It is thin and week when you first get them and the tip tends to break after a few throws. If you have a grinder, you can easily fix it by grinding down the tip and the knife will be good to go. Alternatively, you can go to a knife shop and pay a few bucks to get them to fix it for you. Sometimes these shops would do it for free if you are lucky.
>>> Click here to see more reviews, product details, and prices on Amazon < < <
---
Cold Steel Sure Balance Thrower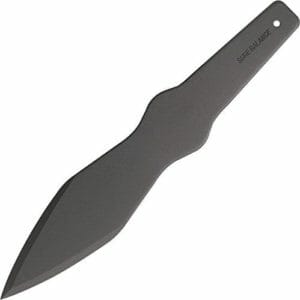 Cold steel Sure Balance is one of the greatest knives for long-distance throwing. With 13 inches length and 18.5 ounces weight, it is long and heavy just like the Boker Magnum Bailey Ziel.
The knife is made of 1055 carbon steel which is a tough and strong metal. You can use it for no-spin throw although it has a similar problem as the Boker Magnum – the knife has a bumpy bit in the middle of the spine. However, this bump is kind of smooth and round so you can still perform a no-spin throw on it.
When you first get these knives, you may want to grind down the edge a bit because they are just a bit too sharp to throw.
>>> Click here to see more reviews, product details, and prices on Amazon < < <
---
Try Out Throwing Spikes or Bo Shuriken
Another option to practice no-spin throw is to use throwing spikes or Bo Shurikens. If you like using no-spin throw, you should really try these out. They are really fun to play with. You can get these throwing spikes on Amazon and they are quite cheap, so you can try them out without hurting your wallet.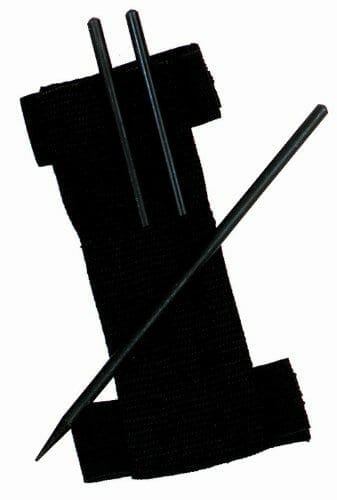 Throwing spikes are meant to be thrown with no-spin technique so it is perfect if you want to practice your skill. Although the spikes are different from the knives in terms of shape, the principle behind the no-spin throw is the same.
Here's a video on how to throw a Bo Shuriken with no spins:
How to Throw a Knife With No Spin
If you want to know how to perform the no spin technique, check out the videos below: