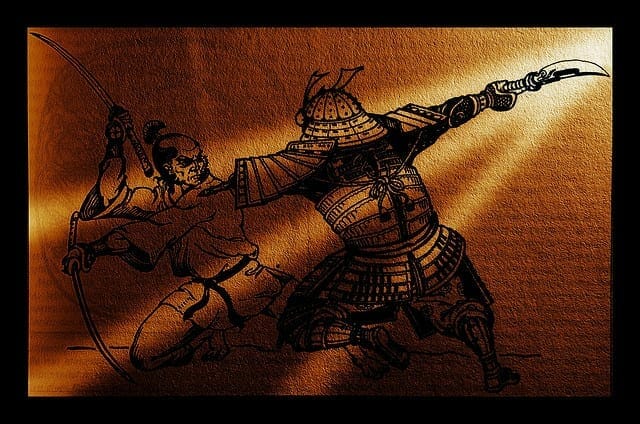 Ninja throwing knives are the sharp bladed knives used for hitting or smashing a particular target. Since ancient times such sharp blades were in use as a large chunk of people practiced ninja fights. This art is still alive after passing through a number of modifications as a large variety of ninja throwing knives having smart designs and shapes are available in the market. So, let us examine some of them for giving a good read to ninja admirers.
This triplet set of throwing knives is a smart addition to your collection as they possess a sleek shape and a rounded loop for carrying it without touching the blades. Additionally, the sharp blades, handy size and the nylon sheath casing rank it in the smart throwing knives category.
A Real Ninja Shaped Knife
The best thing about this triplet is that they are made up of pure black stainless steel that gives them a look of a real ninja shaped knife. Also, its looped edges and slightly sharp blades make a good combination for beginners as they can easily protect their hands from cuts and bruises. Yet, the small size of the knife makes it difficult for good throwers to have a firm grip on them.
But, these amazing pointy blades at such an affordable price make them a good choice for ninja fans as such smart and stylish knives at a reasonable price is difficult to find!
Perfect point knives are a set of three knives with sharp edges and stainless steel blades. Its nylon covering and awesome shape make it an attractive piece to hang it from your belts. Their 6.5-inch size helps to form a good projectile when they are thrown towards a particular target.
The razor edges of the knives makes them the best throwers as you can easily hit a target with moderate force applied. Furthermore, their amazing lightweight quality makes them easy to throw and the durable manufacturing material makes it a good pick for ninja throws. But, this knife is not usually for beginners as it has very pointy edges and needs the expertise to handle it.
The strong and sticking quality of these knives makes them an appropriate choice as you can learn the throwing art after a few practice sessions. So, enjoy the throwing experience with these amazing knives without spending a large sum of money as they are seemingly affordable for all!
A phenomenal balance and in hand size of these ninja kunai knives makes them a good option for practicing as you can carry them easily with you. The 6.5-inch size and circled loops helps in hitting the target accurately. Also, the nylon storage case makes it easy to put them in your backpack while going on hiking trips.
A Bargain Set of Kunai
You must start with this set of knives if you are going to learn the basic tips of throwing as they are lightweight, easy to throw, and not at all razor sharped. So, you can become a master of this art by starting your practice with them and their low price makes them more appropriate for this job. Nonetheless, their pure black color and unknotting nylon back sometimes gives the players a difficult time in acquiring their target.
Well, the price range is quite appropriate, so, we recommend this set to the new comers at throwing ninja art. But, for learned fighters it is definitely not the right pick.
6 inched 12 knives set, half silver and half black makes a good combination for playing and throwing. Their stainless steel material and smartly manufactured shape makes them a good sight for everyone. Similarly, their awesome quality and low price goes hand in hand with each other and gives them a good rating.
Pros and Cons
Best for hitting at kunai targets and cardboard as it reaches the end without flipping. Circled edges provide the space for tying them with ropes and are best-suited options when you are on a camping trip. But then again, due to nylon covering the grip is lost and often you cannot reach a distant target. Also, they often do not stick to the target and breaks when hit for a hard target.
You can have this set if you want to hit cardboard targets at your backyard or if you are training a bunch of immature fighters as it fulfills these requirements. But, for long and hard targets it is a no.
Perfect in balance and shape, these 12 inches long three-piece united cutlery set is the best option for anyone who wants to add an awesome addition to its collection. They are made of stainless steel and provide a definite accuracy for hitting the target. They fall in the category of reliable and stylish daggers that offers you an authentic hit every time you hit a target.
Pros and Cons
Highly sharped, perfect accuracy for distant targets and amazing throw without rotation are the qualities that make them worth buying. But, due to their heaviness they are difficult to handle with less expert people and they usually cannot grip with a rope for longer time.
Boot clips, leg straps, and perfect precision for acquiring targets signals a yes from our side as you easily master the balancing once you are in full form.
You can have a lot of fun while playing with this darts set as they are very light weighted and can be balanced quite easily due to its 6-inch length. Its nylon sheath arms or legs wrap makes them easy to carry with you anywhere anytime.
Watch out the Ninja Darts!
In such an economical price these darts sets are a catch as they can help both the newcomers and the experts to hit a specific target with great accuracy. They offer you a pointed and sharp tip so that you never miss a target and always give you a good throw. But, you have to be careful while using them as if rotated in the wrong direction can hurt you. Also, they should be painted else you can lose them easily while hitting a target in an open area.
In our suggestion, hitting with a lightweight dart is good past time for ninja lovers as it provides them all the awesome ninja qualities. So, yes get them and become an actual ninja fighter.
Final Thoughts
All these amazing throwing knives require a bit of strategy and you can become a ninja fighting expert. So, if you are interested in throwing and hitting targets you should try some of the above-mentioned knives trust us you will love playing ninja-style fights!