Hunting is big news in America, with a variety of methods and game to choose from.  In fact, more Americans hunt than play baseball.  The industry providing equipment and clothing is huge and accounts for billions of dollars in revenue every year.  It supports thousands of jobs and appeals to a wide cross-section of society, with teenage girls being the fastest growing market in sport shooting.
With a nation so committed to hunting, the choice of equipment is astounding.  Whether you prefer to hunt with a firearm or a bow, there is something out there for everyone.
To read more about hunting broadheads:
Should I hunt with Bows or Crossbows?
For keen archers, there is a choice to make between a standard bow and crossbow.  In the most basic sense, a traditional bow and arrow is a flexible staff with a string attached to both ends, where energy is used to draw back the string and release an arrow.  A crossbow is a horizontal bow that shoots bolts or quarrels, which are shorter than a traditional arrow, and is growing in popularity.  This is down, in part, to a relaxation in regulations surrounding the weapon.
The bow remains loaded at all times, allowing the hunter to move about quickly and easily.  The way they shoot allows the hunter to remain in a completely still position, so as not to alert prey to their presence.  Accuracy is incredible and the range is much longer than that of a traditional bow and arrow.  It is easy to see why these pieces of equipment are gaining so much in popularity.
Bolts can be reused, making the use of a crossbow relatively cost effective, and there are different types of crossbow to choose from.  A recurve crossbow features tips that curve away from the hunter and has a longer draw length than that of a more traditional bow and arrow.  A compound crossbow has much stiffer limbs than a recurve crossbow, making them much more energy efficient and providing a quick and powerful release.
The projectiles used with a crossbow come in the form of arrows or bolts, which are much shorter than traditional arrows.  However, they can be much heavier.  They can be fitted with a variety of heads, including a four-sided point, known as a quarrel.  Broadheads are commonly used for their accuracy and penetration.
The Best Crossbow Bolts and Broadheads
Choosing the best crossbow bolts and broadheads can be challenging, with so many available in the market.  Some of these are explored below, to give an idea of what to look for to best suit your needs.
4 of the Best Crossbow Broadheads Review

Rage Crossbow X 2-Blade Broadhead

Rage are among the industry leaders, offering arguably the best mechanical broadhead for crossbows with this model.  Rage broadheads have legendary wound channels and this model is no different.  The entry wounds cause more tissue damage and the blood trails are large.  It offers field point accuracy and has razor sharp blades.
With a huge 2†cutting diameter, they deliver a devastating blow.  Their ferrule Alignment Technology offers an aerodynamic flight and their accuracy is incredible.  They have an improved Shock Collar Technology, which ensures the blades are retained during flight, only opening upon impact.  This is particularly useful for anyone who is prone to accidentally bumping the bolt or broadhead while stalking.
>>>Click here and see the latest deal for the Rage Crossbow X 2-Blade Broadhead<<<
---
Carbon Express XT Dual Blade Serrated Broadhead
These excellent broadheads deliver maximum damage, with an impressive 6 cutting edges creating an enormous wound opening.  They have an aerodynamic profile and are spin tested to give enhanced precision, delivering field point accuracy and maximum devastation.
The ferrule is made from aircraft grade aluminum and the stainless steel blades are razor sharp.  They have a 1-1/8†cutting diameter and are suitable for hunting any game, with both carbon and aluminum crossbolts.  Provided by a reputable manufacturer, these are one of the best crossbow broadheads.
>>>Check out what other customers say about the Carbon Express Crossbow Broadhead<<<
---
Excalibur Boltcutter Broadhead

These broadheads deliver excellent accuracy, even at high range, and cope well with today's hyper-speed hunting crossbows. They are made from stainless steel and offer great durability.  They have a cutting diameter measuring 1-1/16†and deliver bone shattering penetration.
They work well even at long range and can be used on various crossbows, not just those made by Excalibur.  They can be used to hunt various game and fly like a field point, offering a great performance whether you are shooting a deer or turkey.
Excalibur began in 1983 and have built up a very reputable and reliable reputation, making these one of the best broadheads for crossbow hunting.
>>>Check out what other customers say about the Excalibur Boltcutter Broadhead<<<
---
New Archery Products Spitfire Broadhead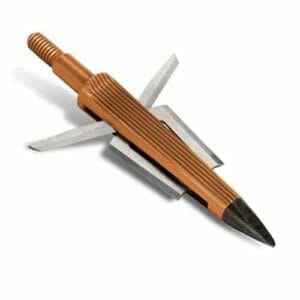 These really are the top of the range when it comes to mechanical broadheads, flying straight with absolute pinpoint accuracy.  Their Diamize Edge stainless steel blades are incredibly tough and sharp, so be careful handling these.  They have an incredibly durable hardened high carbon steel Trophy Tip and they offer a 1-1/14†cutting diameter.
The patented Slimline ferrule, along with patented micro-grooves, improves both flight and penetration.  The patented snap-locking blade system ensures the blades remain closed during flight, only opening upon impact to deliver a devastating result.  This ensures that the super sharp blades remain that way, so as to cause maximum damage upon impact.
New Archery Products is one of the leading manufacturers of hunting equipment and these really are one of the best mechanical broadheads for crossbow hunting.
>>>Click here and see the latest deal for the Spitfire 60-245 Broadheads<<<
---
4 of the Best Crossbow Bolts Review

Carbon Express PileDriver Carbon Crossbolt

These bolts offer the hunter excellent penetration, designed to create maximum kinetic energy which in turn delivers fantastic knock-down power.  The PileDriver is the heaviest bolt from the Carbon Express range and was built with patented Weight Forward technology, which gives greater accuracy.  The front shaft section is made with patented BuffTuff, which is the world's toughest carbon arrow finish.
Each shaft is laser checked for straightness, delivering an accurate bolt, and LAUNCHPAD Precision Nocks give a perfectly controlled arrow release.  They are suitable for hunting even the largest of game and you will not be disappointed with the quality, making them one of the best crossbow bolts on the market.
>>>See the latest price for Carbon Express PileDriver Fletched Carbon Crossbolt<<<
---
Barnett Outdoors Carbon Crossbow Bolts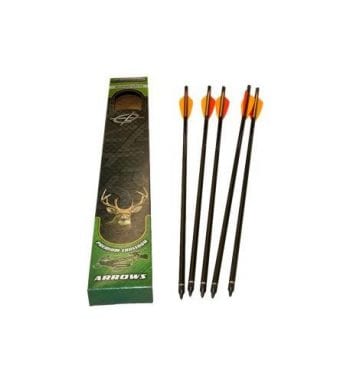 These come from an industry leader and are one of the best-selling bolts on the market.  Crossbow enthusiasts love these incredibly accurate bolts, which feature strong and lightweight carbon shafts.  They are extremely durable and give an improved target penetration.
The Barnett Outdoors Carbon Crossbow 20-inch arrows are compatible with Ghost 350, Penetrator, Jackal and Wildcat C-5 crossbows.  They include a five-year manufacturer's warranty and come with half-moon nocks attached.
Barnett refer to themselves as the 'original pioneer of the modern-day crossbow' and they really do offer excellent performance across their whole range.
>>>Check out what other customers say about the Barnett Outdoors Carbon Crossbow Arrow<<<
---
Summit Archery Crossbow Bolts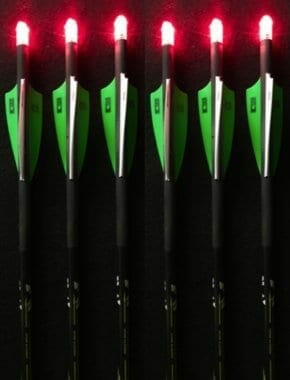 These bolts are suitable for use with any crossbow, weighing up to 175lbs.  They have capture nocks and inserts installed and measure 20†in length.  These carbon fiber arrows are designed to perform at optimum levels of speed and power, with the brass inserts and halfmoon nocks ensuring a consistent strong-to-nock connection with every use.
These arrows fly as straight as a bullet and offer incredible accuracy.  They are extremely durable and very popular with many hunters of different game.
>>>See the latest price for Summit Crossbow Bolts<<<
---
Reegox Carbon Crossbow Bolts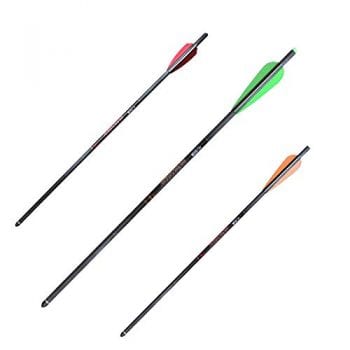 These were designed for any crossbow users who are after consistent accuracy. These 20″ bolts are made of 100% carbon fiber. They are fletched slightly offset with 3†Fusion Shield cut vanes and fitted with an 100 grain brass insert.
They are compatible with these crossbows below:
WR Invader G3
Barnett Whitetail Hunter II
Barnett TS390
TenPoint Invader X4
SA Sports 647 Empire Fever Pro
>>>Check out what other customers say about the Reegox Crossbow Arrows<<<
---
Getting the Best out of Your Hunting Crossbow
Whichever crossbow you use, you must ensure that you use the appropriate amount of draw weight for you.  A crossbow that is great for a man weighing 200lbs, may not be appropriate for a woman weighing 120lbs.  You must also ensure that you do not use broadheads that are lighter than what your crossbow manufacturer recommends, as this may lead to damage to your bow or personal injury.
You must practice as much as you can, ensuring you have great accuracy and build up a familiar feel for your equipment.  It is no good buying the best equipment and finding the perfect spot to conceal yourself, if you then miss every time.  It is also important that you learn how to shoot safely, so as not to endanger yourself or others and to ensure that you hunt in an ethical way.
Always buy your hunting equipment from an established manufacturer, to ensure you do not use unsafe products and suffer an injury.  It can be tempting to save money and buy cheap products but this may not always be the best choice for a hobby that can be quite dangerous if not done correctly.
Remember to look at how accurate both the bolts and broadheads are, as you will require field point accuracy wherever possible.  They must deliver excellent penetration and be suitable for the type of game you are hunting.
You should also double check the hunting regulations for the state in which you are hunting, as they do differ.  Some states do not allow the use of broadheads or even crossbows at all.