Some say the game of darts has its roots in archery, however, the game has evolved, and it is hugely popular and excitingly competitive.
Because of its competitive nature, leagues and events surrounding darts have been formed and planned.
Today, we have the Professional Darts Corporation, and high profile competitions take place, such as the Las Vegas Desert Classic and World Matchplay, among others.
---
Ensuring your Darts Are Always on Course
You may have been playing darts since you were a child, and maybe, today, you play regularly in your local pub. You may have practiced your game so much that you now consider yourself a big shot when it comes to scoring bulls-eyes. You'll know that if you want to play darts seriously, you will have to take your dart practice sessions seriously.
Performing well and winning in darts is having confidence in yourself and the skills you've learned. The idea with practice is to have a plan for what you want to work on and stay focused with it as you work towards a decent throwing technique.
---
Consistency is Key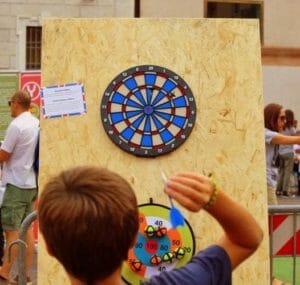 The key to a good throwing action includes consistency, making sure of the stability of the body and shoulders while being relaxed and comfortable. Having said that, there are different styles to throwing a dart which have been successfully used by champion dart players, but each successful player in a championship will have a relaxed, consistent throwing motion.
The dart has to be guided along what is known as a parabolic curve. The dart needs to continue this curve when it leaves the player's hand. To achieve this, the mechanics of your throwing arm has to be correct.
There are dart throwing tutorial sites which will suggest you watch a short video first so you can actually see each dart throwing technique on its own to ensure the dart is on course. You watch one aspect, and then go on to watch the entire movement-arrangement.
Each person ultimately finds their own techniques. Therefore, some techniques will be debatable as people simply find techniques which feel comfortable with them, but which might not work with someone else.
---
10 Ways to Improve Dart Accuracy
We look at 10 ideas on how to improve dart accuracy, bearing in mind that nothing is set in stone.
1. Try different throwing styles to find one that gels with you, and then practice and practice until you are consistent with your throwing action. Find yourself a smooth rhythm where you repeat the same action over and over to propel the dart easily in a straight arc to the board.
2. Darts weigh a mere 25, 26 or 27 grams, or so, which means they don't require much of an effort to get them the 9ft to the board. It is easy to follow through with your stroke if you take a large draw back, and the focus should be to ensure a smooth movement with thrusting your shooting arm forward. Always bring your arm fully forward so that it is totally extended. The forward and backward motion may well feel awkward at first, but will eventually yield consistent results.
3. Find a sight-line as this will help you with your aim. You could, for example, use the tip of the dart while others use a knuckle on the throwing hand to consistently line the dart up properly. The aim of the sight line is to line up your shot consistently every time.
4. Always aim directly at your target. Know your dominant eye and lead your aiming with that eye.
5. Develop the correct stance so you can have a steady arm. If you are right handed, for instance, with your right foot forward stance you will get the best aiming position, and the reason for this is that this stance ensures balance and it also eliminates sideways movements.
6. Always be conscious of your posture at all times and try and avoid hunching over. The idea is to keep your upper and lower body fixed in place. The power used to throw the dart needs to come from your fingers, wrist and arm, and not from your entire body. Legs and feet should be kept in a stable, relaxed position, with one foot forward while your weight is equally balanced. The most important lesson expert darters use is to keep the body still and to use the elbow of your throwing arm as a hinge. Certainly, the angle that you face from the oche line is very important and actually has to do with kinesiology, and when you stand the correct way, you make it easy to line up the eye you aim with, your shoulder, elbow, forearm and your dart with the target of the dartboard. The right stance simply allows you to balance your body, making it easier to throw your dart.
7. You can bend slightly forward towards the board at the waist, to help.
8. The dart should be held at a level position. Don't hold the dart at an angle, but rather keep it pointed towards the board.
9. The grip on your dart needs to be solid and relaxed. Use 2 fingers and your thumb to hold the dart. When you throw the dart, ensure the thumb and fingers leave it at the same time.
10. There are many grips which depend on individual choice. However, if you are having problems with aiming, you may want to try modifying your grip for more consistent releases. Not all grips will be suitable on different dart barrel types, and certainly the longer barrels will require more fingers to be involved, while shorter barrel may require just 2 fingers. This is why it is important to choose the correct dart barrel.
---
Dart Practice Makes the Perfect 180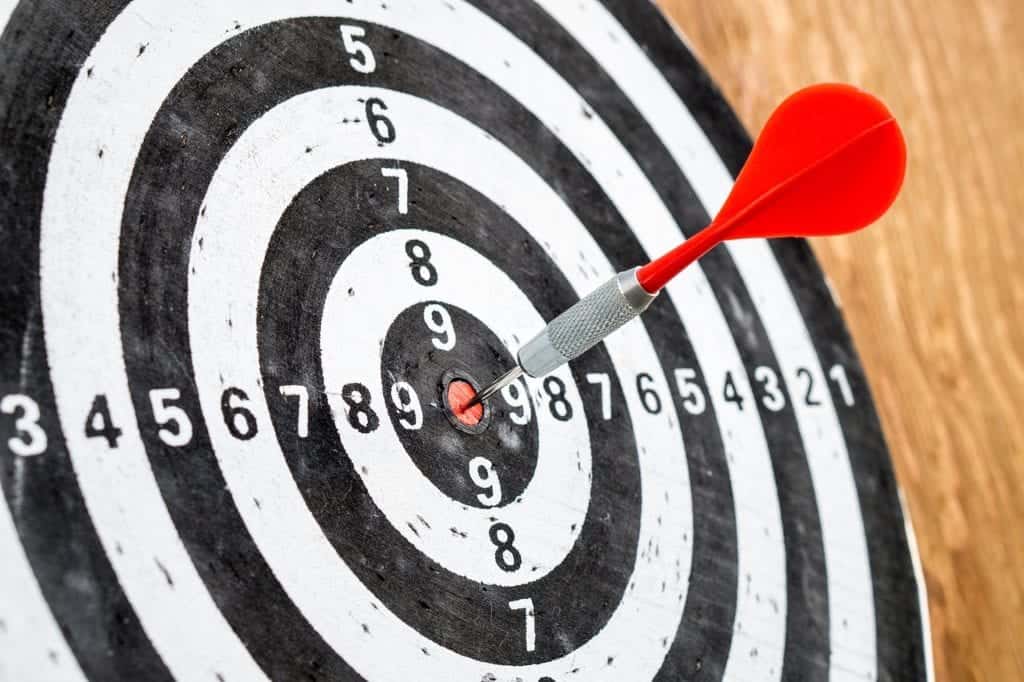 Practising darts is all about consistency and approaching the board the same way every time. Practice should be consistent, as well, and you should try to practice each day of the week. Before long, you'll become familiar with the highest score possible with three darts─180, or more often referred to as a "ton 80'"
Practice is key to improving your skills, and experts have come up with many practice routines for you to try out. The idea is to be concentrated while practicing. Many successful dart players have joined a local pub club to play competitive matches and get you used to the pressure of competition. Keep a record of your scores so you can see if you're improving.
If you're keen to practice darts so you can play competitively, get a cheap dartboard, a set of darts, and get throwing.
Furthermore, experiment with different shafts and flights, take tips from experts, and practice getting your shots right. Most important, have confidence in the decisions you make and pretty soon, your darts will be leaving your hand, straight and true towards your first 180.