Walking, running, hiking and spending time in the outdoors is an exciting and recreational pastime.
You may want to take up these activities for a bit of "roughing it†and head into the wilderness for a day or two. What's great is that all sorts of equipment can be bought to enhance such a trip. Light and compact equipment, such as a compass, firelighter and lighting, can make your trip much safer.
Whenever and wherever you run, you must be prepared for it. Many runners love to wear comfy and reflective running gear after work or on the weekends and head out onto country roads. They appreciate peaceful, cool, night running, as well, and as a runner, you can absorb sights and sounds and can stop to enjoy the scenery whenever you want to.
---
A No-Nauseating, Bouncing-Around Light
A chest light is always a wise choice as it allows for hands-free operation; they're lightweight and have a long battery life. If you're a runner, you may feel adventurous enough to even do a bit of trail running at night, and then you will appreciate a steady, bright light. This is because running in the countryside at night is entirely different than running in the suburbs where street lights light the way for you. A chest light, which offers minimal bouncing because your chest provides a steady platform, gives off a steady beam of light to illuminate the surface ahead.
A chest light is an alternative to a headlamp, and runners who have tried both say it is more comfortable than having a light on your head. Those who have worn the Runner's Goal Chest Lamp say it is so comfortable that one could easily forget they're wearing it.
We're going to look at the X195 Rechargeable Chest Light for walking or running. Its first form of usefulness is that it provides a beam of light that can be adjusted and pointed higher or lower to suit your height.
Let's take a look at some other important features:
---
The CREE LED Bulb – A Bright, Energy-Efficient Light
The X195 comes with a Cree LED bulb. This is quite different than your regular LED torch. If you've been looking for a chest light, you'll want to ensure its a Cree light. The Cree LED chip has been developed to offer exceptional energy efficiency and a brilliant white light.
The chip is a microchip that emits an amazing white light, outperforming any torch. Yes, they achieve a much brighter light, but it lasts much longer, as well, making use of fewer batteries than your regular torch.

>>Click here and check out the latest price<<
---
Three Levels of Adjustable Light
The X195 gives off 195 lumens, providing you with an extremely bright light. And, the beauty of the X195 is that you get 3 levels of light; you don't have to settle for 195 lumens which is the highest setting. With adjustable brightness, you simply turn the light down to use just 98 lumens on the medium brightness setting and 48 lumens on the lowest setting.
---
Your X195 Becomes a Strobe Light
When an emergency occurs, it becomes important to communicate your need, so that if there are any emergency response people close by, they can respond. By having a strobe light, you'll be able to easily communicate the message that you're in trouble.
Your X195 rechargeable chest light can become a strobe light to alert cars and oncoming traffic that you have an emergency situation. All that is required is for you to hold down the power button for a couple of seconds to use the flashing mode. If you require a faster-flashing light, simply press the power- button again.
---
Additional Useful Features:
One Size Fits All
The X195 chest lamp, for running or walking, is one-size-fits-all.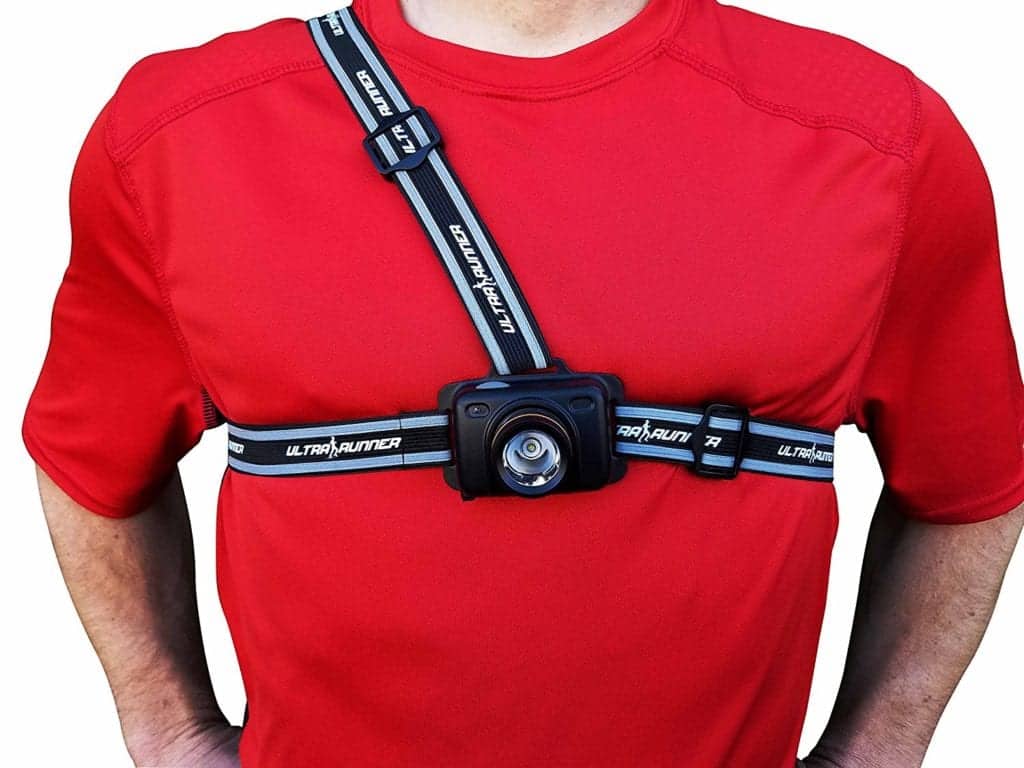 Rechargeable Lithium Battery
The X195 has a rechargeable, lithium battery built-in. The chest light runs on 3 AAA batteries. Having these lithium batteries for an emergency power backup protects you from traditional power loss. Rechargeable lithium batteries are lighter and smaller than lead-acid batteries and stand up well to movement – so they're ideal for runners.
Lithium batteries also stand up well to temperature changes. When they do require a charge, they recharge much faster than lead-acid batteries. They are economical and durable under all kinds of challenging conditions.
4 – 5 Hours of Light
This chest lamp gives you up to between 4 – 5 hours of light on maximum brightness. Set on medium, you'll get 9.5 hours of light, and on the low and flashing settings, you can expect up to about 20 hours of light.
Rechargeable Batteries with a USB Power Source
You won't have to change out the old the batteries with new ones, as they merely require to be recharged with the USB power source which is included with the chest lamp.
Night Running Lighting
With a bright, white light in the front and red lighting in the back, this night-running warning chest light goes a long way to help you to be seen in the dark, providing you with excellent protection.
Casts up to 195 Lumens with 3 Lighting Levels
Being able to cast up to 195 lumens, the hands-free X195 running or hiking light is awesomely versatile with its 3 lighting levels.
Adjustable Straps
A robust, comfortable and convenient flexible strap with adjustable length ensures that it fits snugly and eliminates the need to carry a torchlight when out running or hiking.
Water-Resistant
The X195 has a water-resistant design, making it ideal for walking, jogging and running in all kinds of weather.
---
Final Thoughts:
Many runners like to hit the roads in the early morning or in the evening hours, after work. The X195 Rechargeable Chest Light is an excellent choice for this very purpose, providing an excellent light because it is lightweight, affordable and super bright.
Many runners have tried headlamps and don't like the vice-like grip around the head, whereas, with a chest light, such as the X195, you're unaware of its presence.
Runner's Goal has a number of runner-light variations for runners to put over their shoulders and close to the chest. Taking price, quality and effectiveness into account,  Runner's Goal has done an excellent job in providing runners with the X195 – a quality running light and a comfortable alternative to the irritatingly uncomfortable headlamp. Before you go, make sure you check out the latest deal and reviews on their product page!