Are there any crossbow scopes with built-in rangefinder in the market?
Unfortunately, I couldn't find any scope that already has a built-in rangefinder. But there are other options I found which would work instead of a crossbow scope with a built-in rangefinder. One option is to buy a scope and attach a rangefinder mount so I can put a rangefinder on it. Secondly, I could buy a scope that has range finding reticles.
The first option would entail purchasing a scope, rangefinder mount, and rangefinder. The price range e varies because the price of the scope is so different from manufacturer to manufacturer. A basic one would cost you a couple hundred dollars which would be a lot less than buying a rangefinder with reticle-built in ranging capabilities. Using the rangefinder mount would involve buying the three necessary parts and assembling them to my crossbow. This set up would be effective for sighting and accurately hitting a moving target from 20-30 yards out.
The second option would be to spend more for a Trijicon Acog Crossbow Scope and it has some nice features in its design. It comes with 3 reticle options that will accommodate speeds from 300 fps-450fps, each reticle has bolt stadia lines out to 80 yards providing me accurate shooting every time. This is also the first scope designed specifically for a crossbow which is a first in the market. However, with the hefty price tag, I don't think it is worth it.
Product Review: Crossbow Scopes with Rangefinder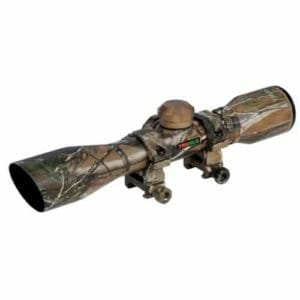 Good scope for the money. I saved 40% on this purchase which made the deal even sweeter. This scope comes with a special range finding and trajectory reticle. It's almost like having a built rangefinder in the scope. Another good thing about this scope is I can have this range-finding feature without spending a ton of money.
I can fasten this scope to a variety of crossbows like Barnett Predator, Barnett Jackal, and a Wicked Ridge crossbow. This is a top-selling point because I can fit this scope on different models of crossbows. This is a money-saving feature because I don't have to buy a specialized scope for each different crossbow I own.
I shot a bunch of arrows using this scope and I was able to shoot accurately every time. I had to really screw down the scope to keep it fastened to my crossbow. If I didn't do this the scope would have come loose. A loose scope makes it impossible to sight in. Another valuable feature is the magnification is great and I don't have to keep putting batteries in it. This could get costly in the long term.
>>>Click here to see the latest deal for the Truglo Crossbow Scope <<<
---
Ultimate Arms Gear 4×32 Crossbow Rangefinder Scope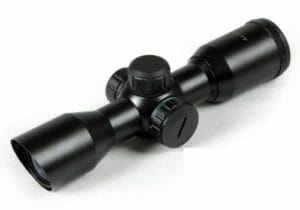 This scope is a goldmine. It is relatively cheap but it performs as well as scopes costing 5 times as much! The package comes with the following features: The scope, low profile 7/8 ring mounts for Picatinny type rails, see-through caps lens, and good windage and elevation adjustments. They have a click value at 100 yards of ¼â€. This scope is built to last as it can withstand heavy recoil time and time again. It is nitrogen filled and it is fully coated. It is shockproof, fog proof, and water-resistant.
I like the fact this scope is multi-coated for lowlight conditions. It has a side wheel for illumination adjustments which is quite handy. I find that the scope's Red/Green rangefinder reticle allows me to estimate the range of the target. This definitely gives me a tactical advantage.
The crosshairs are far enough apart so I can see the various distance measurements clearly. This gives me a clarity of focus between 20 yards and 30 yards. I know exactly what distance I am shooting at. I've used scopes in the past where the crosshairs ran together. It was very difficult to see clearly where one crosshair began and the other one ended. It made it impossible for me to sight any targets. This scope is well worth the price.
>>>Click here to see the latest deal for the Ultimate Arms Gear Scope<<<
Alternative Method-I found an alternative method to ranging reticles. Both Nikon and Leupold make rangefinders that can be mounted to crossbows. There are other companies out there that make mounted rangefinders for crossbows. Electronic ones and non-electronic ones are available.
I can purchase a mounted rangefinder anywhere from $20-$400 dollars. The higher the cost obviously the more advanced the rangefinder will be. This would involve taking the extra step of mounting the rangefinder to the scope.
The scope has fiber optic pins. The holes are configured for different types of game I would be hunting. The bottom hole is marked "belly line.†This marks the distance of the belly to the back of the animal. This is a reasonably priced alternative.
---
Excalibur Crossbow Range Finder Mount
The Excalibur mount has a very good price. I tried to attach the rangefinder mount to my Excalibur 380 matrix but it wouldn't fit. I thought this was kind of strange that I couldn't mount an Excalibur mount to an Excalibur scope. I tried mounting it to my Ghost 410 scope but it wouldn't fit that one either. I called the company and asked them why their mount wouldn't fit these scopes.
They told me this particular mount would only fit one specific type of scope. I expected this mount would fit any scope but this isn't the case. It was specifically designed to tailor fit only one type of scope which is very specialized.
Obviously the only solution is to buy the scope the mount was manufactured for. But despite this limitation, the price for the mount is good. The mount does fasten easily to the scope and it worked like it was supposed to. I found out it does add weight to my crossbow but it isn't a significant amount. I'm fully convinced this would be a viable option to attach this Excalibur rangefinder mount to the scope. This means I would have to purchase the scope that it is specifically designed to fit. Then I would have to make sure the scope fit my crossbow.
>>>Click here to see the latest deal for the Excalibur Crossbow Range Finder Mount<<<
In Summary
There are a few options out there for using a rangefinder on a crossbow. I didn't find any scopes that had built-in rangefinders. There were scopes that had reticle ranging capabilities. There was one on the market for over $1000 dollars. There were also rangefinders that could be connected to rangefinder mounts. The average price for these packages ranged from $50-$400.00.
I found that I could buy a rangefinder that was electric or non-electric. But my best option would be to buy a rangefinder then attach it to a rangefinder mount. This being the most economical choice for me.
I also reviewed two scopes with reticle ranging capabilities and a range-finding mount. The Excalibur rangefinder mount was tailored fit for one scope. This is definitely another option available.