As any keen archer will know, a good deal of practice is required to fire off the best shots. You will also need good equipment and plenty of it! The majority of people who aren't into archery will at least know that you require a bow and some arrows. However, it doesn't end there.
You can get all sorts of aids these days, to help you get the most from your shot. One such aid is a bow release, which comes in various different styles.
---
What Is a Bow Release?
If you find you could do with a bit of help firing arrows with more precision, you can use a bow release aid. This is a mechanical device which uses a trigger, rather than your fingers, to release your bowstring.
They are most commonly used on compound bows, with tabs or gloves being used on the more traditional recurves and longbows.
Using your fingers to release the arrow may cause you to roll the string as you draw it back. Even if this isn't by much, you can still cause your peep sight to be less accurate. Peep sights are not used on traditional bows, which is one of the reasons why you don't need a bow release on a recurve or longbow. You also don't use a rest or sight pins, which can also influence you in your decision to use a bow release.
Essential Read: The complete guide to using a bow release
---
Introducing Different Types of Bow Releases
As with anything, there are different bow release types and the one that is most appropriate for you will depend largely on what you need it for.
Wrist Strap/Trigger Release
You can wear a wrist strap with archery trigger release, which you trigger with your index finger, and they are extremely easy to use. They are the most common type of bow release used by hunters.
They are secured to your wrist by a strap, which can be either Velcro or buckle in style, and also come in either a round or V shape. You can also get padded ones, for the ultimate in comfort. Important for those long waits in the woods when seeking out your prey.
A round, or continuous, wrist strap is quicker and therefore more convenient to put on. You should be able to adjust the length between your trigger and strap, to enable users to get the best fit for their hand. After all, one size won't fit all when you have men and women of all different shapes and sizes enjoying the sport.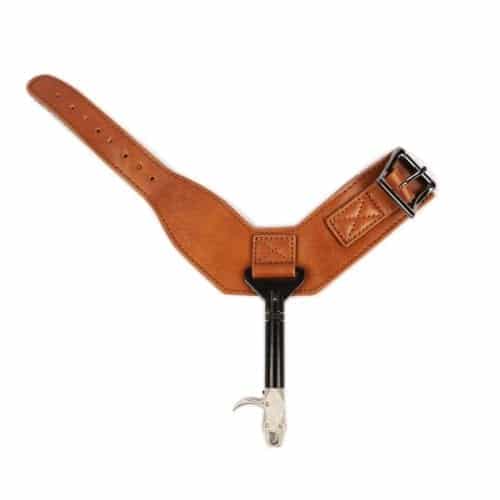 You can also get wrist straps which feature a 360-degree rotating head, which is perfect for minimizing, or even eliminating, bow string torque.
Depending on how you prefer to shoot, you can adjust the trigger tension from sensitive to a more heavy setting using a trigger tension adjustment. The calipers (or jaws) can be either single or dual ball-bearing mechanisms, which are used to move your bowstring as needed. They are very quick and easy to attach to your bow string, which is why many hunters prefer this option.
Handle/Finger Release
You hold one of these devices in your hands, using either 2, 3 or even 4 fingers. They tend to resemble a T shape and are the most popular release aid used by target archers. However, more hunters are starting to use these, as they find them easy to use in the field also.
You will find these release aids a lot smaller and lighter than wrist straps and trigger releases. There are more responsive too, meaning less effort is required to use them. You ca adjust the tension if required and attach to the bow string using either calipers or a rope loop.
Bowhunters that prefer these types of bow string release aids, do so because of their light weight and the ability to leave them attached as they move through the woods or up a tree stand.
A back tension release is a good option for anyone who is a little heavy or quick on the trigger, as it is different to a traditional trigger release. You rotate the device in your hand which, together with the pull from using your back muscles, triggers the release instead of actually pushing/pulling a trigger. It will require more practice and is ideal for the more experienced archer.
Automatic/Hydraulic Bow Release
You use a set timer to pre-set the trigger mechanism on one of these devices, which is particularly beneficial for target archers. These come in both handheld and wrist styles and you are able to delay your shot by up to 6 seconds.
This is a good idea for anyone who requires those extra few seconds to ensure they have their sight lined up accurately, so tournament shooters particularly like these. An archery mechanical release is a fantastic aid for archers of all abilities.
---
Alternatives
Thumbrings are sometimes used for string retention and release in Arab archery. These archers position their arrow onto the other side of the bow, which allows them to properly use a thumbring without interfering with the archer's paradox (the arrow travelling in the direction it is pointed at full draw).
---
Why Use a Bow Release?
Put simply, it will improve shot accuracy. When used, your bowstring will be released much quicker and therefore the amount of torque will be reduced. If you are a target archer and want to compete against fellow keen archers, the use of a bow release aid can give you an advantage.
If you are a hunter, what could be more important than shot accuracy when aiming for that young buck, so full of spirit?
Another good reason to use a bow release is to save your fingers. There is absolutely nothing attractive about calluses all over your fingertips and you don't want to end up having to have them removed because they have got so bad.
---
The Best Archery Release for Bow Hunting
If you are a hunter, you will need to ensure your bow release aid is quiet. After all, there is no point in lining up the perfect shot, only to scare off that whitetail as the release the arrow. You will also need to find one that is very comfortable to wear, for you may be doing so for hours at a time, days even.
Hunters will also be looking to cause as little wear as possible on their string serving, so attaching a D loop to the string is a good idea. This is designed to minimize that pinch on the arrows and will make the serving wear better over time.
You can also attach the release to the bow string by doing so underneath the nock of the arrow, which is a popular choice for archers who have been shooting for years and have yet to adapt to the D loop. However, this puts a lot of stress on the bow and also the arrow, on top of the stress created by the release mechanism.
---
The Best Bow Release for Target Archers
If you are a target archer, including tournaments, you will definitely want a bow release which doesn't wear down your serving. This is because you will be shooting plenty of arrows, over and over again. Handheld ropes tend to wear less on those string servings than calipers.
---
How to Use Your Bow Release
To ensure you use your bow release correctly and get the most from it, you should begin with your hand set up. You must ensure that you hold your hand in the exact same way every time, in order to get the same great results consistently.
If you are using a handheld device, make sure it rests between the two knuckles in your fingers. This allows you to keep the back of your hand flat, allowing you to anchor on your face and keep the string close too. You can then use your peep sight without having to turn your head.
Be sure to not grab the release aid too hard, as you don't want it to rest too deep into your hand. This will make your hand into more of a fist, which will create problems with the rest of your set up, as mentioned above.
Another problem caused by your hand curling into a fist, is that the length your knuckles close at will change. You need to keep this length consistent, so once you have found the best length for you, stick to it and get that hand flat.
Some archers suffer from 'trigger panic' when they get impatient, where they punch the trigger instead of pulling or pushing it gently. If you keep your thumb straight as you bring it to the trigger, you can keep it in the same position and use your back muscles to pull your elbow back and release the arrow more accurately.
This just shows how much an archer has to think about, each and every time he takes a shot!
---
How to Choose the Right Bow Release for You
The best advice here is to visit an archery pro shop and have a chat with an expert. You will be able to test different styles and get a good feel for each one, being able to feel what is right for you. Don't just buy one, buy a couple so you have a spare on you at all times.
According to Steve Tentler, Tru Fire Company owner, "affordability and cost are the two most important factors while choosing bow releases for many archers. They choose either the handheld or wrist model according to the respected costs'.
However, don't let this be the only factor for you. There are plenty of other things to consider as well.
---
Bow Release Reviews
To give you a head start in knowing which bow release aids are good, we have listed our favourites below:
Tru Ball Max Hunter Pro 4 Release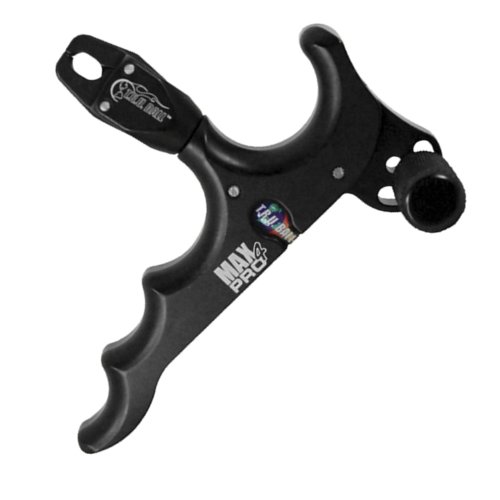 A T handle thumb is the ideal choice for hunters and this one is easy to use and very reasonably priced. It features 360-degree head rotation, to minimize bow string torque and maximize accuracy.
This handheld device is silent when loading, which is another reason it is perfect for hunters. It has a smaller head and jaws for more draw length and increased bow speed. Activating the trigger opens the jaws and letting up on the trigger will close them.
This bow release is adjustable and works by pulling the trigger with your thumb. It is also very comfortable to use and allows you to keep your hand flat against your face, for maximum accuracy with minimal effort.
You can keep it attached to your bow string as you hunt and it works equally well in all types of weather.
>>>Click to see the latest price for Tru Ball Max Hunter Pro 4 Release<<<
---
Tru Fire Release-WriST-Patriot Pt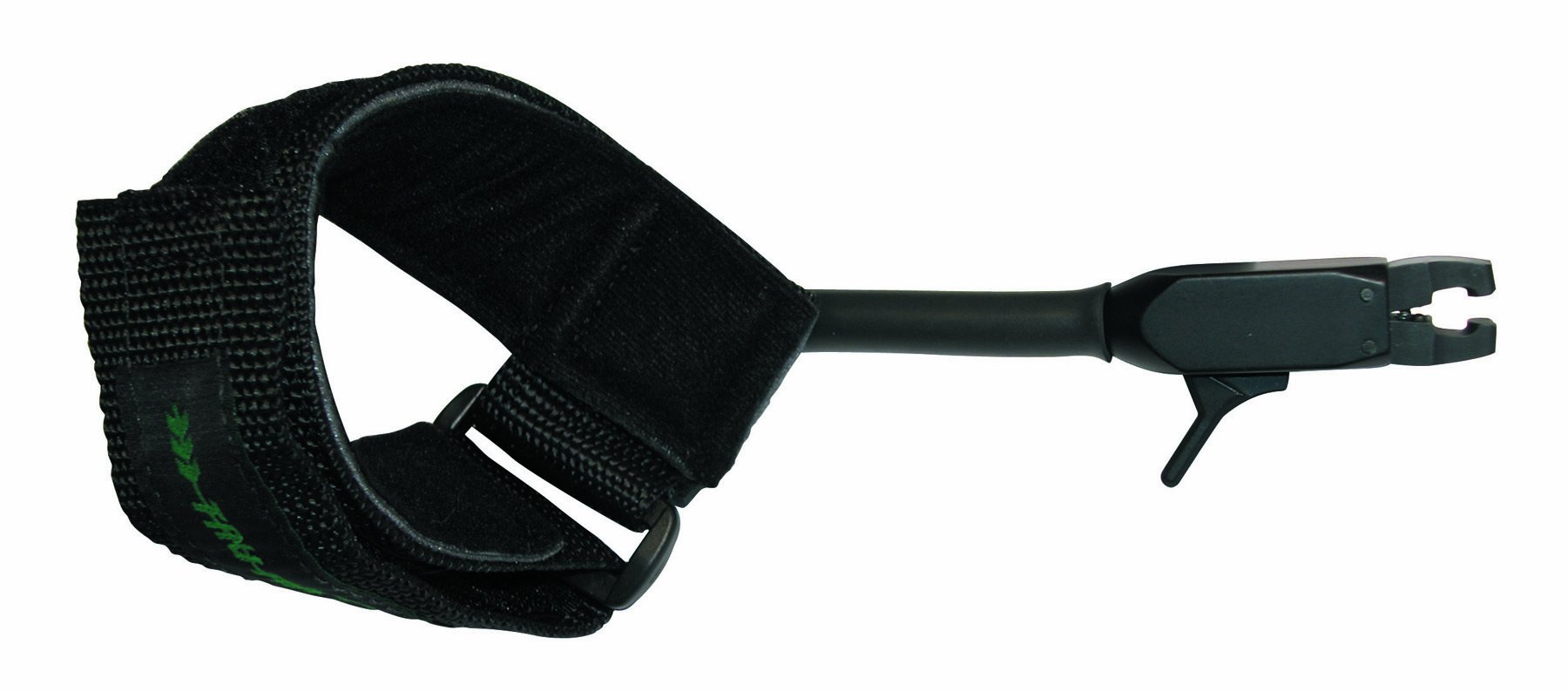 This is a fantastic wrist strap style bow release and is extremely easy to put on. It can be used on either hand and is very comfortable to wear, thanks to the padded black nylon power strap. It really is one of the best bow wrist releases on the market.
It features an economical dual caliper release, which was manufactured and tested in the USA for greater quality. The jaws and trigger are coated, which allows for year upon year of dependability. Users will find it has a very smooth trigger action, allowing them to be fully in control when going for that vital shot.
The jaws will close as you push the trigger forward and it features an adjustable trigger travel. Sited as the 'finest non-Tru-Rotating calipers on the market', you will not be disappointed with this product.
You adjust it to be really sensitive or harder to release, depending on your preference. The majority of the weight is supported through your wrist, shoulder and back, making it lightweight as well as comfortable to use.
This is a particularly good option for anyone not looking to spend a lot and so would suit archers that perhaps don't get out as often as they'd like to.
>>>Check out what other customers say about the Tru Fire Release-WriST-Patriot Pt<<<
---
Tru-Fire Hardcore Buckle Foldback Release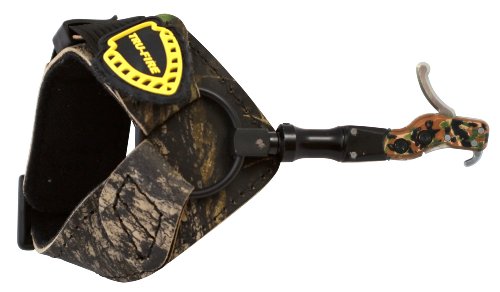 This wrist strap bow release features a fantastic camouflage design, popular with many hunters of all ages. It is one of the simplest and most comfortable straps on the market and can be worn on either hand.
It was manufactured in the USA, giving you peace of mind that it is a top quality item. It features a head that pivots both left and right, at a full 20 degrees, to fully eliminate torque at full draw. This allows you to make a more accurate shot and also decreases wear on your bow string serving.
It has a fully adjustable trigger travel and automatically aligns your center shot, making this is a very low-effort option. It has over 1" of length adjustment, which can be locked in place, and is guaranteed not to slip off the string loops. It also features a swept back trigger.
A spring clip attaches the trigger assembly to the wrist strap, allowing it to be folded back against your wrist when not being used. This is one of the best trigger releases for bow hunting, allowing you to move around easily and quickly and gives you peace of mind that you won't lose it when climbing up a tree.
>>>Click here for more info about the Tru-Fire Hardcore Buckle Foldback Release<<<
---
TRU-FIRE Hurricane HC-EX-BW Extreme Buckle Web Release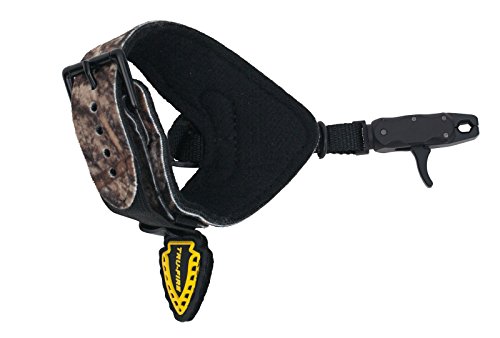 This product also features a camouflage design on the buckle strap and is easier to pull on than V style wrist straps. The length between the head and the strap is adjustable, via the durable ½" wide web connection system.
It also fits both hands and there are no tools required for adjustments, making it a very versatile wrist strap.
This is a modified version of the dual caliper release device and apart from the exceptional features, it is also equipped with the advance spring loaded trigger. This provides greater accuracy and comfort while releasing your arrows. The trigger travel is adjustable and you open the jaws by pulling back the trigger, then close them by letting off the trigger again.
The Hurricane line utilizes a free-floating, self-centering steel roller which does not slide over the jaws, but along the inside of the jaws instead. This patented design makes this one of the smoothest bow releases on the market today.
These heat-treated jaws and triggers are non-stick coated for years of dependability and you won't be disappointed with this very popular product.
This well-constructed bow release is recommended for hunters and target archers of all ages and skill levels.
>>>Click to see the latest price for TRU-FIRE Hurricane HC-EX-BW Extreme Buckle Web Release<<<
---
Allen 153 Archery Caliper Release
This is a very basic caliper bow release, both in look and design. It is at the cheaper end of the market and is ideal for the beginner or someone who does not shoot that often.
It is a very light and delicate bow release, so ensure that you are careful and draw the arrow back carefully. Remember to place your finger behind the trigger, for optimum accuracy.
One of the best features of this bow release is the 360-degree head rotation, allowing you to get a more accurate shot and minimize bow string torque. The T style pivot also reduces wrist torque, so is therefore kinder on your joints.
One of the drawbacks of this bow release is that you are unable to adjust the trigger sensitivity or the length, making it less flexible that some of the market leaders. It features two Velcro straps, so can be a little fiddly to put on.
For the price, this is a very durable bow release and as long as you are not too heavy handed with it, you should get much use out of it.
>>>Check out what other customers say about the Allen Adult Archery Caliper Release, Black<<<
---
Junxing Compound Bow Release
This features an adjustable strap, which is both very comfortable and simple to use. It is made from high-quality, padded brown leather, so it is ideal for anyone who prefers a natural material and a more traditional, classy look.
It has a Posi lock hook up for a quick and efficient attachment to the bow string, making it easy and convenient to use for both target archers and hunters. There are eight positioning holes, making it fully adjustable, and it is very secure once in place, with no see-saw moves.
It has a clamp scattering of 360-degree automatic adjustment and the trigger force can be set to sensitive. The caliper-style release works well, making this a popular choice among many archers, no matter their skill level. It is very durable, so you should be able to use this again and again, making it great value for money.
>>>Click here for more info about the Junxing Compound Bow Release<<<
---
Handle thumb Archery Caliper Bow Release
This great little bow release features a factory turned trigger and measures 7" in length. It has a 360-degree swivel mounted caliper head, which allows for maximum accuracy and ease of use.
The moulded handle with a rubberized gripping surface allows for maximum grip and security and the gun-style curved trigger makes it a comfortable and easy to use device. You must ensure you put your thumb on top of the device to counteract the pressure from your little finger and you use your index finger to trigger the release.
You do not need to apply much pressure at all to use this device, making it ideal for more accuracy and less effort. This ensures you don't wear yourself out, giving yourself muscle fatigue and not wanting to carry on. This makes it one of the best thumb releases for bow hunting.
>>>Click to see the latest price for Handle thumb Archery Caliper Bow Release<<<
---
Allen Compact Thumb Activated Archery Release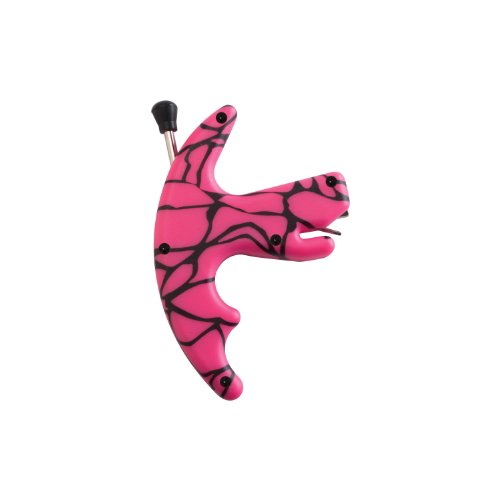 This lovely little bow release is designed for youths or archers with smaller hands. It comes in both vibrant pink and green and features a crisp thumb release trigger.
Using this thumb bow release will ensure greater accuracy and improve your arrow's flight and has a three finger grip for a much easier draw. It has moulded finger grooves, making it extremely comfortable and easy to use.
You can use this device both directly on your bow string or attached to a string loop, making it a flexible option. You can use it with either hand and has been tested up to 75lbs. It has a rugged composite construction and is extremely durable, making this a fantastic purchase for anyone looking for value for money.
This is a good choice for beginners and anyone who particularly loves pink!
>>>Check out what other customers say about the Allen Compact Thumb Activated Archery Release<<<
---
Scott Archery Longhorn Hunter Release
For anyone looking to spend a bit more, this bow release is a great three finger design. It features a camouflage look, so will be very useful for hunters roaming the woods, and uses an easy to use rope connector system, perfect for infinite length adjustment.
It also has an open ergonomic full radius handle, making it easy to grip, and has interchangeable thumb pegs included.
This is the perfect bow release for hunters, due to the design, ease of use and the ability to keep it attached while you climb tree stands. If you prefer target shooting or are practicing on the range, you can simply remove the strap.
This is a great bow release for back tension shooters and will help you to achieve tighter groupings. Well worth the cost.
>>>Click here for more info about the Scott Archery Longhorn Hunter Release, 3 Finger<<<
---
Hot Shot Vapor 4 Finger Release
This lovely design from Hot Shot gives you something with a little bit of colour but still with a camouflage feel to it. It features a full adjustable thumb barrel and is really simple to use.
It has a zero noise internal actuating system, making it perfect for hunters of all game. The automatic closing jaw function works brilliantly and there are no trigger set requirements. This device also comes in a 3 finger handle option and both models have a crisp, adjustable tension trigger.
If preferred, you can attach a wrist sling to it for maximum security while you hunt and it works just as well with either a metal loop nock or a standard rope loop.
>>>Click to see the latest price for Hot Shot Vapor 4 Finger Release<<<
---
Tru Fire Bullseye Junior Release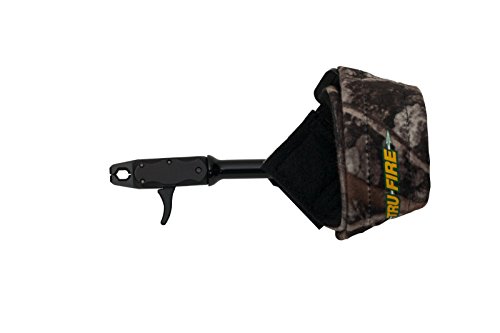 This great bow release has a continuous loop Velcro power strap, with a lovely camouflage design. It comes in a small size and has a wide soft strap for a very comfortable fit, making it ideal for the younger archer.
The jaws open when you pull back the trigger and close again when you let off. It has ad adjustable trigger travel and has two hole length adjustment options. You can use this with either hand and it was made in the USA, ensuring great quality.
This bow release features a 360-degree head rotation and virtually eliminates string torque. This works very well for the younger archer, who benefits from a back tension release.
>>>Check out what other customers say about the Tru-Fire Bullseye Junior Release<<<
---
Carter 2 Moons 4 Finger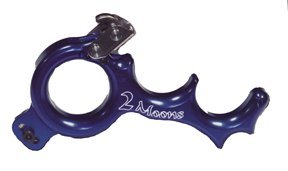 This fantastic back tension bow release incorporates a revolutionary clicker system, which has adjustment unlike anything else on the market. The new split moon design allows you to adjust the length of your clicker in tiny 0.005 increments ranging from .0 to .030.
The rotation of the release is incredibly smooth and is the same after the click as it was before.  Being the first back tension release to offer this adjustable clicker, this is one our favourites.
The speed of the release can also be adjusted 2 degrees at a time, with this new clamping system.  The 2 moons won't disappoint, as it combines these new innovative features with a sleek and relaxed fitting handle shape.
>>>Click here and see the latest deal for the Carter 2 Moons Release<<<
---
Tru Ball Sweet Spot Pro
This back tension bow release features a solid brass body and interchangeable aircraft aluminum handles, for maximum quality and durability. This great little device provides precise back tension at any angle when activated, helping you to achieve the perfect shot.
You push the thumb lever forward to draw your bow safely and release the thumb lever when you have reached your anchor point. You are then ready to begin your back tension and shoot.
The interchangeable handles included are the same ones that were used on the Tru Ball Incredible Release and this release offers great thumb lever safety. This bow release also comes with 2, 3 and 4 fingers options, so you can choose the one you feel most comfortable with. This makes it a great, flexible little product.
>>>Click here and see the latest deal for the Tru-Ball Sweet Spot Pro<<<
---
Carter Evolution Release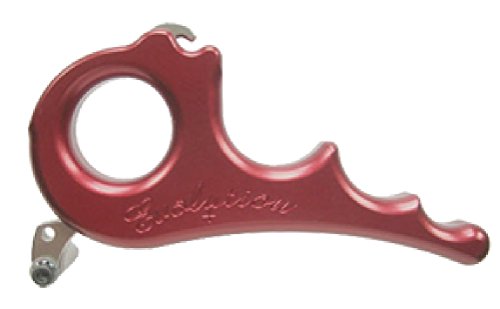 This bow release is one of the pricier options but it comes from a very reputable manufacturer. It has both a 3 or 4 finger release, giving you the flexibility to choose your preference. The full adjustable triggerless back tension release works by pulling through a great amount of poundage than your holding weight at full draw.
No rotation is required and this device is fully adjustable to your bow's holding weight. It is an incredibly efficient bow release, made from top quality materials.
Shooting with a back tension archery release is not for everyone but if that is your preference, this release is perfect for your needs. Due to the high price of this model, it is recommended that you practice first at a pro archery shop with a range, to ensure you are making the correct purchase.
>>>Click here for more info about the Carter Evolution Release<<<
---
TruBall Abyss
This 3 finger bow release is the first of its kind, with a brass thumb activated button release. It uses the same handle as the Fulkrum, with the exact same impact point. It also uses the same Lever Alignment System technology as the Fulkrum. This allows you to use the device without having to worry about what hinge/back tension release to choose.
The Abyss also comes with a completely unique three stage tension adjustment system, so you can accommodate your own specific feel in trigger weight.
The simple locking travel adjustment screw allows you to set the travel to your own preference both quickly and easily. The thumb trigger is adjustable and you will soon find you make cleaner, crisper shots with the use of this fantastic bow release.
>>>Click to see the latest price for TruBall Abyss<<<
---
Finally
Whichever bow release style you prefer, there are plenty of options to choose from and at a price to suit everyone. Just be sure to use one, as they really do make an incredible difference to your shot accuracy.