I have received a lots of email from our readers asking if there is a difference between hatchets, axes and tomahawks. I'm going to answer it here. Let's find out.
What's the Difference Between a Hatchet, a Tomahawk and an Axe?
Hatchets- Are a smaller axe because generally they are shorter and lighter than standard axes. It's a one-handed mini version of an axe. I would use it primarily as a wood chopper but I could generally use it as a multi-purpose tool. In this post, we will go through some of the best throwing hatchets in the market.
Don't kid yourself a hatchet can be used as a deadly offensive weapon as well. Just because it's lighter and shorter it can still cause a live target a lot of damage. Hatchets are generally the same weight and size as tomahawks. Hatchets are designed with a cutting edge on one side the other side is a hammered surface. Hatchets are closer in weight and size to tomahawks.
Axes– These are the Granddaddy of wood choppers. They are longer and weigh more than hatchets and tomahawks and cost more. Their primary use is for two-handed wood chopping. They can cut down trees with larger diameters than hatchets and tomahawks are able to.
They can also be used as offensive weapons with very devasting results. You can use axes as general purpose tools like tomahawks and hatchets.
Tomahawks-  They are traditionally known as weapons of warfare. In ancient times Native Americans used tomahawks as weapons of warfare. Historically tomahawks were used as offensive weapons with the intent to kill humans and other live moving targets.
Tomahawks are small and light like hatchets. They are a smaller version of an axe. Tomahawks are priced in sync with hatchets and less than axes. Tomahawks will function with many uses like axes and hatchets.
The Best Throwing Tomahawks/Hatchets Review
Husqvarna Carpenter's Axe Review

This axe averaged a 4.5 rating from 201 reviewers not bad! The price is a bit higher than the others which seems very reasonable considering the quality of this axe. My axe came packaged very tightly in bubble wrap and it was immersed in air tight plastic cushioning. Head length is 6 ¼'', back of the head 4" and the width of the head is 2". The total length of the axe is 19 ¼". The weight of the axe is 2.2 lbs which is very light for me to carry in my backpack.
This axe is called a Carpenter's axe for a reason. It is very good for carving tasks and wood-working projects. My axe came with a very nice leather sheath and I'm looking forward to using this axe for many wood carving projects. I have camping trips planned for the future to test this axe out on some heavily branched trees. One carpenter carved 4 wood bows (yes 4 wood bows) just using this axe. The axe is a large version of a customized whittling knife. This to me is very impressive that this user was able to carve 4 bows strictly with the axe. This reason alone I would highly recommend any carpenter to buy the axe.
>>>Click here to see the latest deal for the Husqvarna Carpenter's Axe<<<
---
Estwing E24A Sportsman's Hatchet Review

Estwing has been making axes for almost 100 years and they have a fine reputation for making quality cutting tools. Their blades are durable and long lasting. I know owners who have used these axes for years.
The axe head and handle are forged in one piece. The axe is polished to a fine shine. It doesn't cost a lot and it is well worth the price. It is a very durable axe. I will go as far as to say it's the most durable axe on the market. Note that the blade should be sharpened regularly to keep a nice even edge.
>>>Click here to see the latest deal for the Estwing E24A Sportsman's Hatchet
---
Estwing E24ASE Sportsman's Axe Review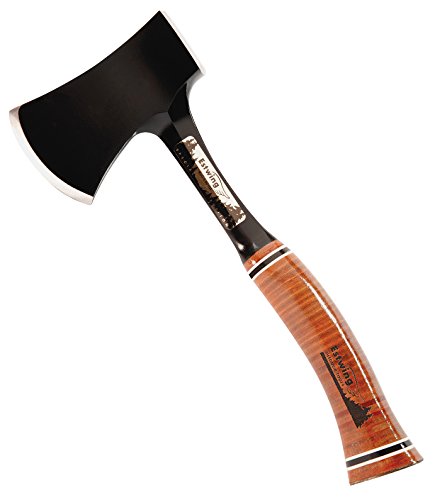 . It comes with a leather sheath. The axe has a black coating covering the head and the upper part of the handle. The lower part of the handle is a shiny wood material. The cutting edge is 3 ¼" and slightly curved. I was happy with the appearance of the axe when I received it. There were no scratches on the blade and the handle was as smooth as silk showing no signs of damage during shipping. The cutting edge was very sharp. Sharpening it is simple and I can get a good crisp edge quickly. The axe felt very balanced in my hand. I'm willing to bet this axe will last for many, many years like many of their other fine products.
We think that this is one of the best throwing hatchets on the market because of its a piece full tang contruction, balanced weight and the long overall length.
>>>Click here to see the latest deal for the Estwing E24ASE Sportsman's Axe
---
Black Legion Camping Hatchet
This axe screams "steal" for a very attractive price and I would be willing to pay more for this quality axe. It's made of carbon steel (Carbon Steel being some of the best material used in axes) and the axe feels like it was custom made for my hand. The blade has a very liberal 4" cutting edge which I was able to sharpen easily after I used the axe for an extended period of time.
The axe shined when I cut down small trees and fat pine logs for kindling. It also doubles as a tent stake driver and a nail driver. The only perceived problem I have with this axe is that it comes with no type of cover to protect the axe blade with. Like one other user said I too would be willing to pay extra money for a blade cover. The investment would be well worth because this axe is solidly put together. The price is unbeatable. This is one of the lowest priced quality axes on the market.
>>>Click here to see the latest deal for the Black Legion Camping Hatchet/Axe
I noticed the blade was dull on my axe when it came in the original shipment. But it sharpened up very nicely and I had a nice crisp edge. One thing to improve the quality of the customer experience would be if Black Legion sent their axes out with sharp cutting edges.
Interested in Camping Axe or Tactical Tomahawk?
If you are interested in choosing the best camping axe or the best tactical tomahawk, check out the articles below:
Camping and Survival: The 8 Best Survival Axes
The Best Throwing Tomahawks Review
Combat Gear: The 7 best tactical tomahawk