If you're looking to become a serious spearfisher, it's important to invest in the right gear to make your underwater hunting trips successful.
This article will give an overview of essential spearfishing gear and factors to consider when looking for the best spearfishing gear.
It will also give product reviews of the various equipment you'll find on the market.

---
Types of Spearguns
1. Reef Spearguns
They're smaller spearfishing guns that measure no more than 50 inches long and require no more than two bands. Reef spearguns are typically used when free diving for reef species over a reef structure with a reachable bottom. Reef species are best used for spot and stalk, aspetto and hole-hunting, not for long range shots. With a reef speargun, you can reel in the fish as opposed to using the breakaway system.
2. Bluewater Spearguns
These larger guns are recommended for freedive spearfishing, areas with great visibility, and no reachable bottom. Bluewater speargunsare also ideal when hunting for large pelagic species and long range shooting.
---
How to Choose a Spearfishing Spear
1. Shaft Material
The two most popular shaft materials are stainless steel and spring steel. If you're going to invest in a stainless steel shaft,make sure that it's hardened to ensure that it does not bend or break easily. Spring steel is typically harder and less likely to bend, but it's prone to rusting. It also tends to break if it gets bent and straightened afterward.
2. Shaft Thickness
Thinner shafts have less band power and will move more quickly in the water, but also slows down faster in the water, making for shorter shots. They are easier to travel with and ideal for smaller reef guns, but keep in mind that they don't penetrate as far into prey and can bend more easily. Thicker shafts may be heavier, but they're ideal for long range shots and when hunting for larger and tougher fish.
3. Shaft End/Mechanism
When investing in a spearfishing shaft, it's importantto know which mechanism your speargun has to find the right shaft cut. American mechanisms will need an American cut measured in inches, while European mechanisms will need a European cut measured in millimeters.
4. Spear Tab Design
You'll find the spear tab where the spear and band wishbone are attached to propel the spear. There are two basic spear tab designs: sharkfin and notched. Sharkfin tabs allow you to attach the spear line without interfering with the speargun mechanism. They're ideal for hunting larger reef fish, but they produce more drag in the water. Notched designs are more cost effective and streamlined to produce less drag, but they can weaken the spear line because this tab attaches the line to the mechanism. Notched tabs are ideal for hunting smaller reef fish.
---
Types of Spear Tips
1. Flopper
The flopper design is ideal for hunting small to medium sized fish that do not have soft flesh. It can secure prey effectively onto the spearshaft because it has abarb that folds down after a target is hit. There are pencil tip floppers that can be easily resharpened and shaped, and are ideal for places where you're likely to hit reefs and rocks. Tri-cut floppers are best used for open-water spearfishing.
2. Slip-Tip
The slip-tip design can be screwed onto your shaft and lessen the chances that your shaft will bend because the tip separates from the shaft when you penetrate your prey to hold it in place. Slip-tips are ideal for hunting larger fish and soft-fleshed fish. If you want to invest in a slip-tip, make sure that your shaft is threaded and compatible.
---
Diving Knives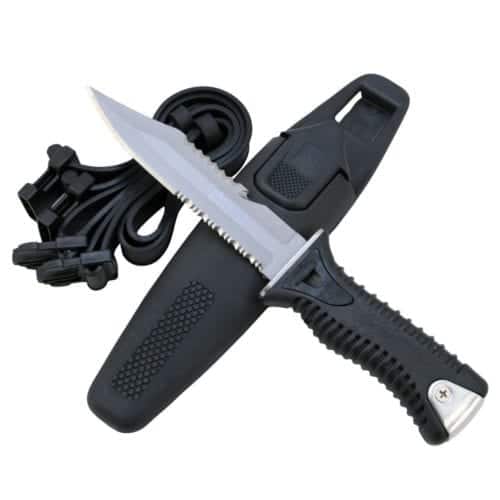 It's important to have a knife with you while spearfishing because it allows you to kill fish quickly and humanely after they've been speared. Look for a dive knife that's pointed with a gripped handle that's easy to hold underwater. It's best to carry your knife in a sheath attached to your arm or leg.
---
Snorkels and Masks
When looking for a mask, snorkel and fins for spearfishing, stay away from bright colors. Opt for inconspicuous colors to give you a more discreet profile in the water. Find gear that is lightweight and comfortable to wear. You don't need a fancy snorkel for spearfishing, a simple J-shaped snorkel will do the trick, just make sure that it's comfortable and attaches to your mask snugly.No need for purge valves or caps. Masks made with a 100% silicone skirt will seal the best.
---
Fins
Spearfishing fins are longer and narrower to give you more power in the water.Choose fins that have a solid, full-foot pocket because open style fins can be a hazard when spearfishing. The stiffness you choose will depend on your weight, strength and personal preference.
---
Wetsuits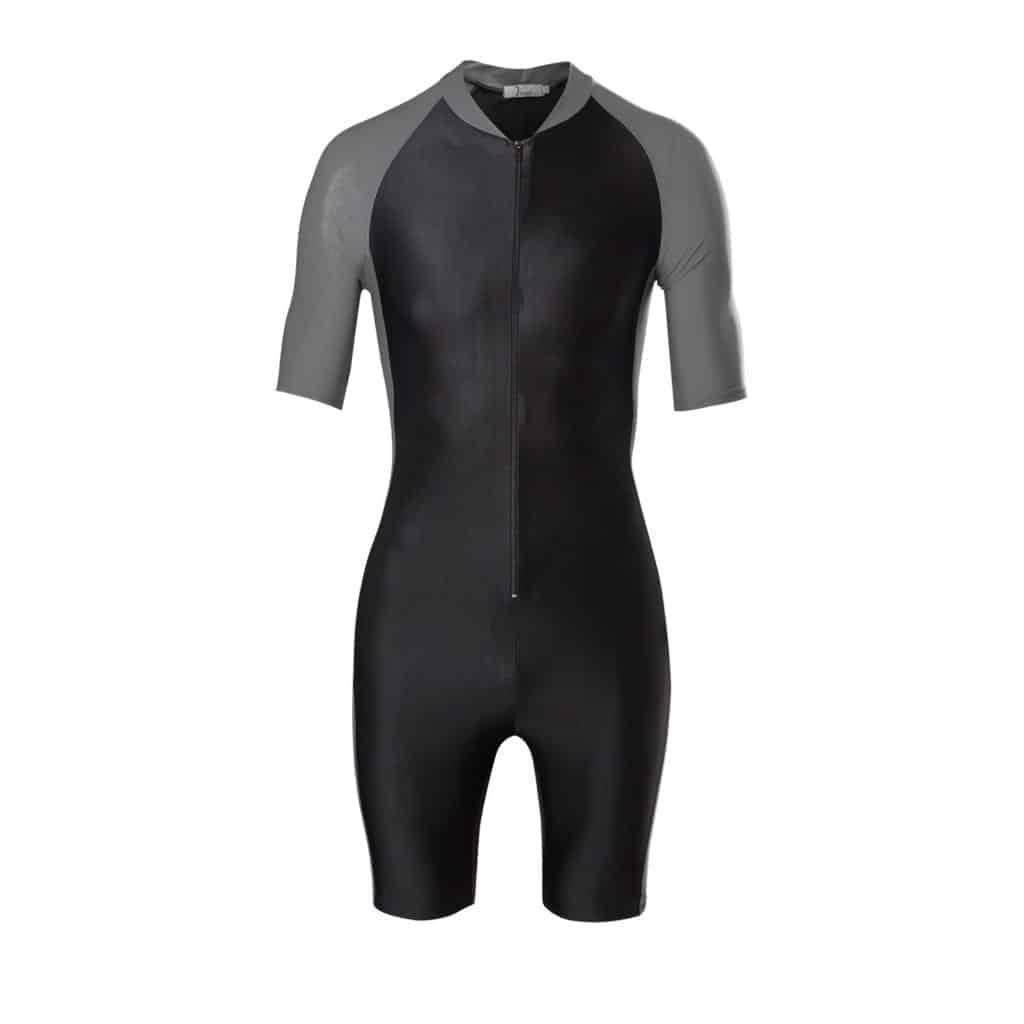 The main purpose of a wetsuit is to keep you warm and protect you from reefs, jellyfish, sunburns and spiny fish. Spearfishing wetsuits will have more insulation and a padded chest to allow you to load your speargun more comfortably. The wetsuit thickness you choose will depend on the water temperatures you intend to spearfish in.
---
Product Reviews
Now it's time to take a look at some of the best spearfishing gear you'll find on the market.
Hammerhead Proteus Speargun
HammerHead's Proteus speargun is versatile, adaptable and capable of adapting to a wide variety of spearheads. It works well with single rock points, tridents, 3-prongs, 5-prongs and spinner tips. The Proteus is also compatible with a single Hawaiian Flopper style shaft or any 6-millimeter threaded shaft. It features a fully railed barrel, closed muzzle, large loading pad, mono shooting line, front-end standard bungee and X-Power Bands with nylon coated Dyneema wishbones and bridles.
The handle has a safety line release and a built-in clip for clipping onto a fish stringer or tagging up to a line. HammerHead even gives you specific fish recommendations for the Proteus: Rockfish, Halibut, Kelp Bass, Sheaphead, Menpachi, Alohehole, Kole, Snapper, Porgy, Fluke, Tautog, Black Sea Bass, Yellow Perch, Walleye and Carp.
>>>Click to see the latest price for Hammerhead Proteus Spearguns<<<
---
Ab Biller Wood Mahogany Speargun
AB Biller's Wood Mahogany speargun comes with a hardened stainless steel double barb rockpoint tip, a 5/16" stainless steel shaft, and two 9/16" rubber slings. Their mahogany guns are coated with three layers of polyurethane. They give you a high degree of accuracy, they're neutrally buoyant, and are quiet weapons underwater. The shaft is interchangeable which gives you the freedom to alter your gun depending on your hunting needs.
You can purchase the speargun in different sizes (from 24-60 inches), depending on the shooting range you want to get out of it. The 24" gun has a 6-foot shooting range while the 60" gun has a 15-foot shooting range.
>>>Check out what other customers say about the AB Biller Wood Mahogany Special Spear Gun Spearfishing Kit<<<
---
Mako Spearguns Spearfishing Traveler Pole Spear
MAKO Spearguns have created a pole spear that's compact and easy to travel with. The three-piece spear measures 6 feet and 7 inches when assembled, and only 27.5" long when disassembled. The interchangeable sections make it easy to store when not in use, and allows you to adjust your spear length. The connectors are supported with a recessed flush screw for an easy release.
The shaft is made with anodized aircraft aluminum that's strong and corrosion resistant. Also, included are a MAKO Spearguns latex power band and a 5-prong cluster paralyzer tip with barbs on each prong.
>>>Click here for more info about the Spearfishing Traveler Pole Spear with 5 Prong Paralyzer Barb Tip<<<
---
Mahimahi Spearfishing Knife
Mahimahi's spearfishing knife has a super sharp tip and pointy finisher. The blade is made out of high quality 420 stainless steel that won't rust if you rinse it in freshwater after use.It features a secure lock to ensure that your knife won't get lost. When the knife is properly placed in the sheath, it will give an audible click to let you know that it's secure. The blade is 3" long and the handle is 3.5". Also, included are rubber straps which allow you attach the knife to your arm or leg.
>>>Click to see the latest price for Mahimahi Spearfishing Knife<<<
---
Seac Sub Spearfishing Combat Mask Snorkel Set
Seac Sub's spearfishing set comes with a mask and snorkel specifically designed for deep spearfishing and freediving. The mask is lightweight, compact and made with tempered glass lenses. The frame is made with an impact resistant polycarbonate with a silicone rubber skirt and strap that ensures a good seal and exceptional comfort. The mask can be easily adjusted with Seac Sub's Pulsar Quick Release Buckles System. The snorkel can bend and spring back into shape without incurring damage.
>>>Check out what other customers say about the Seac Scuba Diving Snorkeling Freediving Combat Mask Snorkel Set<<<
---
Final Thoughts
When it comes to finding the best spearfishing gear, be sure to assess the waters you intend to hunt in and the fish you hope to find. This way, you can find the right gear for your next spearfishing excursion.