The crossbow is a popular weapon and it is one that has roots in history. In the traditional sense these bows were popular because they were easy for almost anyone to use. Crossbows are also a very powerful weapon and deliver a "bolt" with range and accuracy. All of these features made it a useful weapon during combat. Today, the crossbow is still popular with archers, especially those who hunt or shoot for target practice.
Crossbows come in two options, recurve or compound. A recurve crossbow have tips that bend away from the shooter creating a longer draw. This feature will give added speed to the bolt and make it easier for the shooter to draw the bow. This is probably the top reason recurve crossbows are more popular when compared to their counterpart, the compound crossbow. In this article we will discuss some of the best recurve crossbows on the market.
What are recurve crossbows?
Recurve crossbows have many positives when compared to compound bows. First off, they are lightweight which means less arm fatigue when carrying the bow. Recurve bows also require less maintenance than compound bows.   This maintenance includes something as simple as restringing the bow which is a common repair task. If you're a target shooter, a recurve crossbow has amazing accuracy and is easy to dial in for targeting. On the downside, they do require some strength to cock, so you'll need to pull the bow back to get it loaded. They also create noise when they are fired which could impact your hunting.
If you're trying to decide between a recurve and a compound crossbow, it is always best to look at what you need the bow for. If you prefer hunting, a compound crossbow is probably the best bet since it is more powerful and releases the bolt silently. On the other hand, if you're shooting for a hobby, fun or just target shooting, a recurve crossbow is the better option.
---
The Best Recurve Crossbows Review
SA Sports Fever Crossbow Review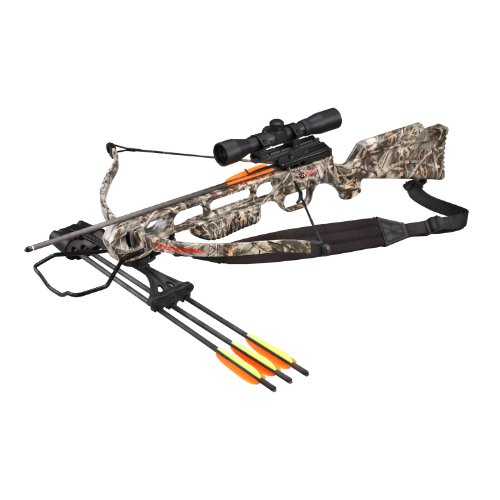 The SA Sports Fever Crossbow is a great recurve crossbow to purchase no matter what your skill level. The crossbow is easy to assemble and can be put together in minutes out of the box, with very little expertise required. The bow draws at 175 pounds and also comes with a variety of accessories.
In fact, many of the accessories this bow comes with pay for themselves like the 4×32 reticle scope, this makes dialing in and sighting your target extremely easy. Overall, this recurve crossbow is great for entry-level shooters and comes with everything you'd need to start your adventure in crossbow shooting. The bow is made well, it is lightweight but feels very durable in your hands. It also features a dipped camo pattern on the outside of the bow and this looks killer!
The SA Sports Fever Crossbow is priced well especially considering the accessories package that includes a scope, a quiver and four bolts or arrows. The rear stock is compact but fits anyone well, it is made to be ergonomic and it just feels comfortable to shoot. The bow shoots 16'' aluminium bolts and can fire up to 235 FPS, it does what it is meant to and hits targets accurately. The SA Sport Fever is definitely one of the best recurve crossbows in the market and you can't ask for much more than that!
>>>Click here and see more details of the SA Sports Fever Crossbow <<<
---
Arrow Precision Inferno Fury Crossbow Review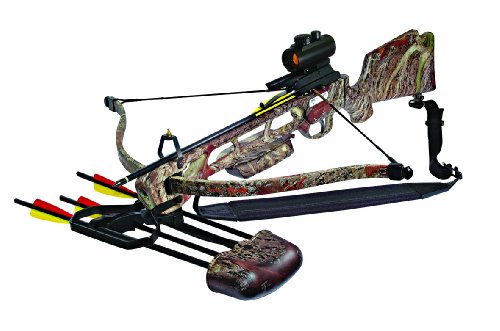 Perhaps one of the more popular recurve crossbow packages out there, the Arrow Precision Inferno Fury Crossbow comes complete with accessories that the novice and expert can use. The package is designed to be versatile enough to meet the needs of a professional shooter while basic enough for the beginner to master. One of the best features of the Inferno Fury Crossbow is its weight.
This is an extremely lightweight crossbow and this means you'll experience less arm fatigue while shooting or packing the bow. The package is an affordable option for those looking to get into the sport or those who want to expand their current equipment. The Inferno Fury features a 175 pound draw and comes with a premium scope. The scope is a 3-dot multi range red dot which gives you excellent accuracy over range. Included in the accessories is a quick detach quiver with 4 bolts.
The crossbow also has a handy and comfortable shoulder sling that is padded for support. The crossbow looks great too and features a fully dipped camo pattern. This truly is an all-in-one package and one of the best available for a variety of shooters. The Inferno Fury Crossbow is priced well and is ready to shoot out of the box with minor assembly.
>>>Click here and see the latest deal of this crossbow<<<
---
Wood Crossbow by Last Punch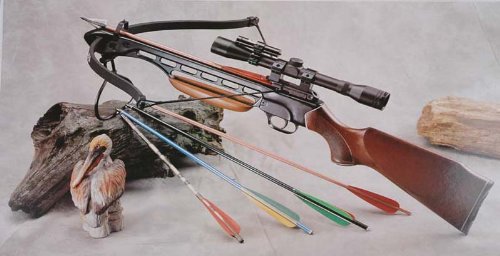 The Wood Crossbow made by Last Punch is probably best designed as an economical option for a recurve crossbow. The crossbow is not the top of the line, but its low price makes it a good choice for someone who is just starting out in archery or using a crossbow. We believe that this is one of the best value recurve crossbows you can find.
The crossbow is made of a solid wood stock, the stock is lightweight but also feels good in your shoulder, it fits your shoulder comfortably and is made to last. The bow will draw 150 pounds and that is more than enough to hunt small game or take out a smaller target.
Overall the Wood Crossbow is well made but is more of a "toy" option. The included scope is a cheaper model but the plus side is that the crossbow will accommodate a better scope if you desire. If you add a nicer scope to this crossbow it can fill the gap of some of the more expensive models and last you for years to come. The Wood Crossbow shoots at over 200 FPS at a range of 110 yards. It also features a safety mechanism for protection while cocking.
This is a nice alternative if you don't want to spend a lot of money, but you still want to try a recurve crossbow.
>>>Click here and check out this value crossbow on Amazon<<<
Summary
If you're shopping for a crossbow, the best option would be a recurve crossbow. There are many advantages in using a recurve versus a compound crossbow including the weight and durability of the bow itself.
Of the crossbows reviewed above, the Arrow Precision Inferno Fury Crossbow was the best in the group. This crossbow is packaged with a good set of accessories and you get a lot of bow for the money. It is a crossbow that fits a variety of users as well, from beginner to expert. You can't go wrong with the Inferno Fury package.
Crossbows are a unique way to experience the sport of archery and with a little research you can find the right model for you! Hope that you find your best recurve crossbow!