When camping, many traditional camp cooks will tell you that they have never looked at themselves as camp chefs but rather as plain, down-to-earth cooks. After all, how creative can a person really be with a traditional grid held over an open fire?
These days, however, with the best portable gas grill for camping, limitations with camp cooking no longer exist. These portable gas grills are economical to purchase, compact in size, lightweight and easy to transport. They're fueled with liquid propane or natural gas.
An important aspect with a portable gas grill is construction, as there will be safety issues with a grill that can topple over. You will have to look at size, as there are portable grills that don't have a large holding or warming tray area, and this can be a drawback if you plan on cooking your entire meal on the grate.
Your regular grill is fine for cooking sausages and burgers, but for large steaks and fish, you want to ensure the temperature-range caters for all foods, including a roast. For this,you will want a rotisserie option.
---
Some Considerations
There are a few other things you will want to consider with your gas grill, such as type of ignition, whether the model comes with wheels for easier transportation, and whether it requires dis-assembling to transport it. Are there detachable shelves with these gas grills and are there those wonderfully, simplistic-type models that just get down to the job without any fuss?
We look at some well-rated gas grills that can ensure you have some amazing choices of food on your next camping trip.
---
1. Keg-a-Que Gas Grill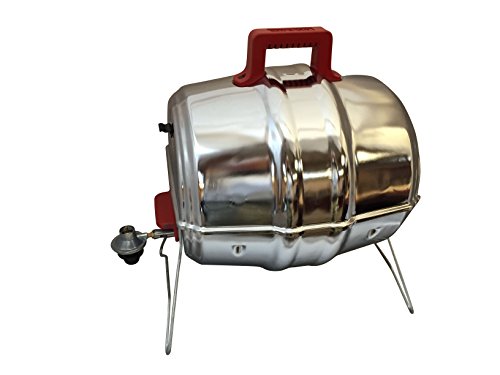 This interesting looking grill with its Red Bake Lite Handles is surprisingly powerful. With its 200 square inch surface, you can comfortably fit a dozen burgers on it. It delivers 9,000-10,000 BTU and is wonderfully portable, especially with its fold up legs. It also has a manual temperature gauge to control your cooking.
The gas grill uses standard 1-pound propane canisters, and its stainless steel burner tube generates more than 640° of cooking heat. The more recent models come with a heat shield that allows your gas grill to be a charcoal grill.
>>>Click to see the latest price for Keg-a-Que Gas Grill with Handles<<<
---
2. Cuisinart Petit Gourmet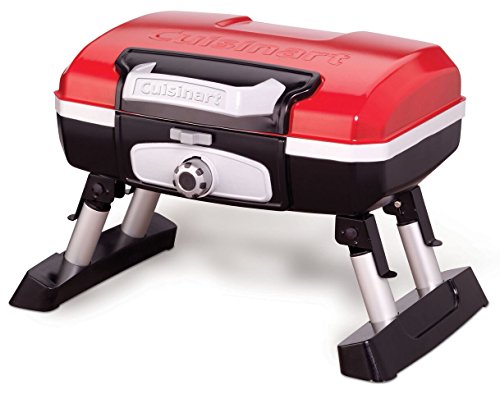 Cuisinart is a name associated with quality kitchen appliances and they have a line of portable gas grills, as well. This little, lightweight unit is immensely portable, but its smallness means it doesn't produce an exceptional amount of heat.
This gas grill is fueled by propane, features a twist start ignition for easy lighting, and comes with a 145-square-inch grilling area. This means it can cook up quite a storm, all at once. It can certainly cope with at least 8 burgers and 8 steaks. With its 5,500 BTU, this stainless-steel burner with integrated lid lock is all you need to ensure you can enjoy some delicious meals while camping.
>>>Check out what other customers say about the Cuisinart Petit Portable Tabletop Gas Grill<<<
---
3. Napoleon TravelQ TQ285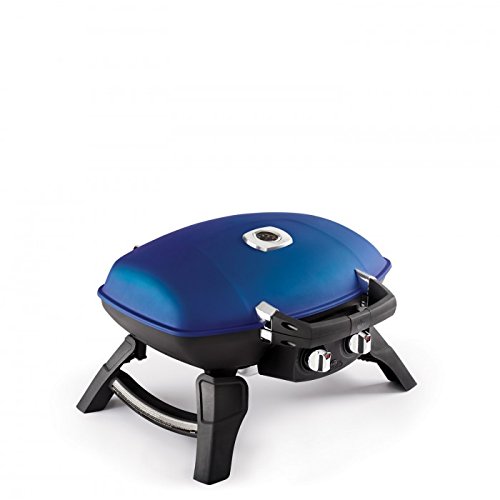 This attractive looking blue 2-burner portable grill with foldable legs has a cooking area of 285 sq.in. With up to 12,000 BTUs, the porcelain zed cast iron cooking grid provides enough space to cook your burgers and sausages – in fact, as many as 18 hamburgers at once.
There is a built in temperature gauge so you can monitor and control the heat of your grill. There is a removable grease tray that ensures easy cleaning. Lightweight and compact, the handles feature a lock that keeps the lid closed tight.
>>>Click here for more info about the Napoleon TQ285-BL Portable Propane Grill<<<
---
4. Weber Spirit E-310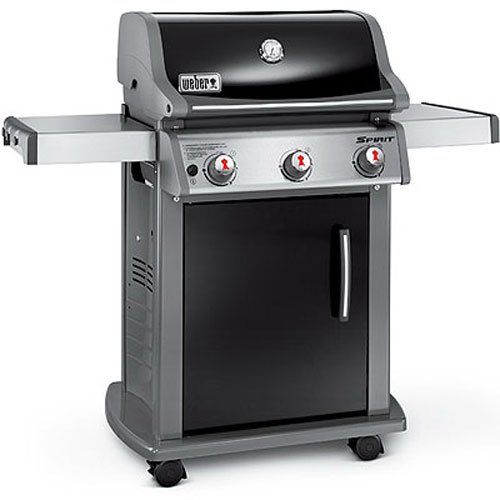 For decades, Weber have made some of the best gas grills, and in recent years, re-introduced their Spirit line of grills. The Spirit E-310 is the heart of this line, being larger than the 2-burner versions. The 3-burner unit has enough cooking space to accommodate a group of 12. The Spirit E-310 can cook up a juicy, beautifully cooked hamburger for nights around the campfire.
Nice and compact, its grilling surface is big enough to cook a complete meal for a group of 12. Designed to last for years, the grill comes with a rustproof, cast-aluminum firebox. With three 10,667 BTU stainless steel tubular burners and a hood mounted thermometer and propane tank gauge, this gas grill is certainly worth a look at in propane grill range.
>>>Click to see the latest price for Weber Spirit E310 Gas Grill<<<
---
5. Coleman Fold N Go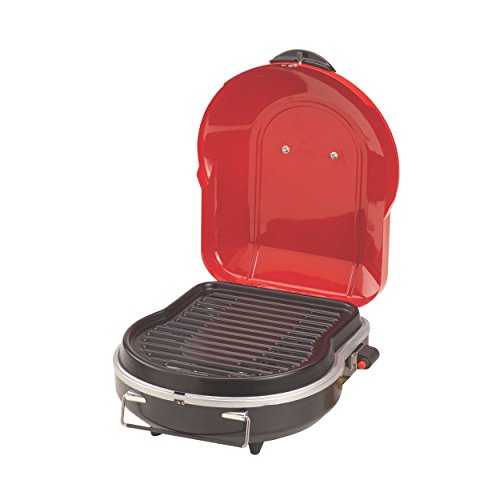 Measuring 16.6″ x 14.5″ x 6.8," this gas grill from Coleman is ready to take with you on all your adventures. The Instastart Grill with PerfectFlow and PerfectHeat technology means you're constantly in control of your cooking performance. This useful, portable tabletop gas grill is so easy to transport and it comes with an easy-to-clean removable grease tray.
It offers a large cooking surface of 105 sq. in. complete with 6,000 BTUs of cooking power, being able to prepare food for up to 6 people. People love its sleek, compact design. The stainless steel burner also provides even heat distribution, and if you have left the matches behind, don't stress, as this Coleman gas grill's InstaStart matchless ignition get things up and running. The grill comes with a carry handle and secure lid latch and makes use of a regular 16.4-ounce propane bottle that is sold separately.
>>>Check out what other customers say about the Coleman Fold N Go Propane Grill<<<
---
6. Camp Chef BB90L Professional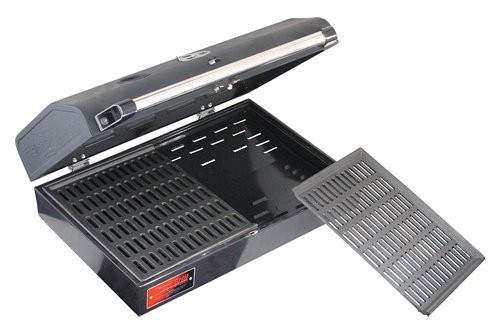 This grill barbecue box with hinged lid from Camp Chef is sturdy and durable. Its cooking dimensions are 16″ x 24″. Camp Chef stands behind the quality of their outdoor cooking products. This gas grill promises flavorsome food with its heat-diffuser plate and cast iron grill grates.
With retractable legs, the gas grill, with 10,500 BTU output, has a patented heat diffuser that converts flame to infrared heat. This ensures meat that is perfectly done with a tantalizing barbecue flavor. The lid damper valve controls smoke, heat and seals in the flavor. A temperature gauge is built into the lid for monitoring your cooking.
>>>Click here for more info about the Camp Chef BB90L Professional Grill Box<<<
---
7. O Grill 600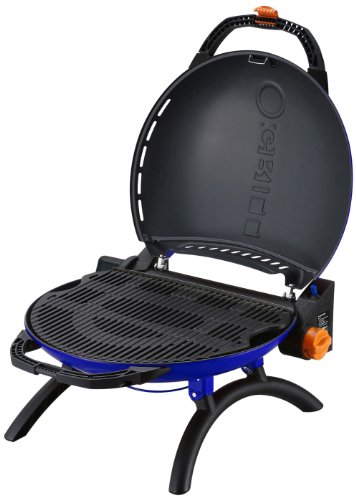 With its clam shell design and retractable legs for easy storage, this portable gas grill also has an ergonomically designed handle for easy, comfortable carrying. This gas grill is ideal for your camping trips and picnic. The gas grill from O-Grill makes use of standard 14.1 oz. / 17.4 oz. propane gas cylinders and will give you roughly 4 hours of usage.
Lightweight, the cast iron cooking grid gives you 225 sq. inches of grilling surface with 0,500 BTU circular stainless steel burner. With dimensions of 22.5 x 24.5 x 18 inches and weighing just 24 pounds, this portable gas grill with auto ignitions comes in some trendy colors, such as red, blue, orange and black.
>>>Click to see the latest price for O Grill 600 Portable Grill<<<
---
Final Thoughts
The enjoyment of good food is a delight, and when camping you want attractive, simple meals in keeping with the casual, relaxed outdoor lifestyle.
The nicest thing about some of these grills is that if you want to prepare a luscious recipe that calls for marinating in wine and subtle flavoring ─ you can. The best portable gas grill for camping ensures you will be able to handle all meals like this in comfort.
There are many good and bad quality portable gas grills, and an expensive grill won't automatically mean quality. To help you in your search, all these gas grills are rated highly, are reasonably priced, and come with features to suit cooking for 1 or 2 people, or for a crowd. Each one will ensure your camping getaway is full of pleasant surprises.