A paracord survival watch is always a superb choice for camping or hiking trips because it's a multifunctional accessory that can get you out of trouble.
These survival watches are an indispensable part of a camping and hiking trip. Paracord was used in World War II for the parachutes of soldiers. The 100% heavy duty nylon 550 cord gets its name from the weight it is able to hold. The soldiers used this cord to build shelters, to tie items securely, and even for sewing.
---
Exceptional Strength on your Wrist
On a camping trip or hike into the wilderness, it's unlikely that you will need the strength of this 550-pound strength military grade paracord. Nonetheless you get the idea of how strong and durable paracord is, and all this power is found in one paracord survival watch.
Gone are the days when a watch simply tells the time. These watches, with paracord watch band, can be unraveled to form lengths of rescue rope for emergency situations. They also come with thermometer, compass, whistle and fire starter.
You've got to do research on these watches and know the pros and cons of each. Some are water- and mildew resistant while some cheaper models may come with some durability concerns. One advantage of most paracord watches is that just 220 feet of paracord only weighs a pound, so all this strength on your wrist isn't going to be a hindrance.
You can see how light your watch will be and in a survival situation this cord can be used in 101 different ways around camp.
---
You'll Want a Watch to Meet Every Challenge with You
You'll also want a watch that can be knocked around and still keep working. You want a watch that can take you through sand, water and severe heat and cold and survive it all. While your heart is still beating you want a watch that keeps ticking.
The reason these paracord watches are so popular because there is so much usefulness and power packed into one small survival tool, and we look at 7 of the best:
---
Survival Bracelet Watch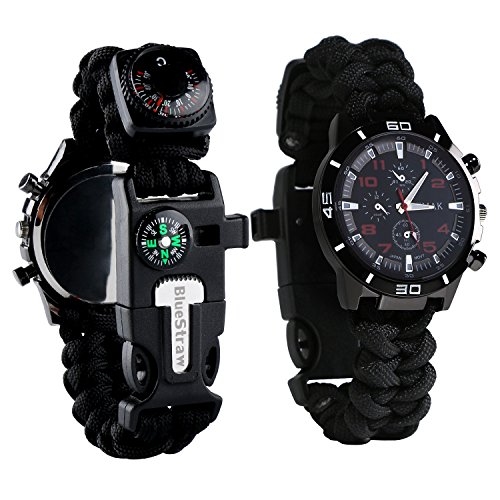 6-in-1 Multifunctional Watch
This watch suits both men and women. The survival watch comes with attractive red-wine colored paracord band. The dial of the watch is black with the same red-wine numerals. This is a 6-in- 1 multi-functional bracelet watch which has been made with durable 7-strand 550-pound parachute cord. The robust watch comes with a 377S button battery which is long lasting. When unraveled it gives you 3 meters of rescue rope. The watch comes with whistle, a thermometer, a compass, fire-starter scraper and paracord. As an adult watch, it is perfect for wrist sizes of 7 to 9 inches and comes in attractive natural colors such as black, blue or camouflage green. A drawback is the fact that the watch isn't waterproof.
>>>Click to see the latest price for Survival Bracelet Watch<<<
---
Thermometer Survival Watch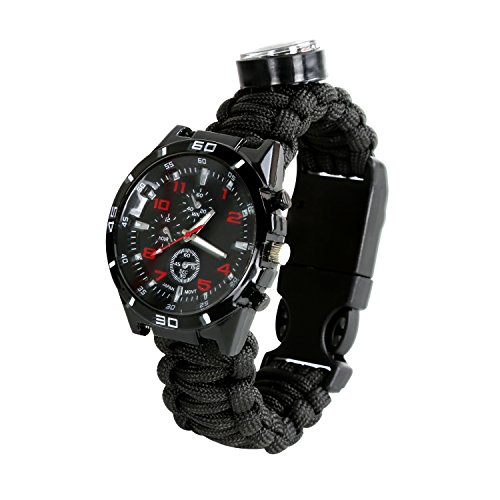 A Waterproof 6-in-1 Watch
This watch comes with a paracord bracelet made from strong parachute cord – military grade nylon ─ that unravels into a 3-meter super strong rope. With a thermometer included in its amazing features, the multi-functional, durable watch is also water-resistant.
It's a 6-in-1 watch which also comes with a useful compass, a whistle, it acts as a scraper and fire starter, and it has the paracord bracelet type band. You simply use the stainless steel fire-striker and rod to get a fire going. All the useful parts of this large survival watch have been tested and found to be perfect for outdoor enthusiasts.
>>>Check out what other customers say about the Thermometer Paracord Survival Watch<<<
---
Ohsen Tactical Survival Paracord Watch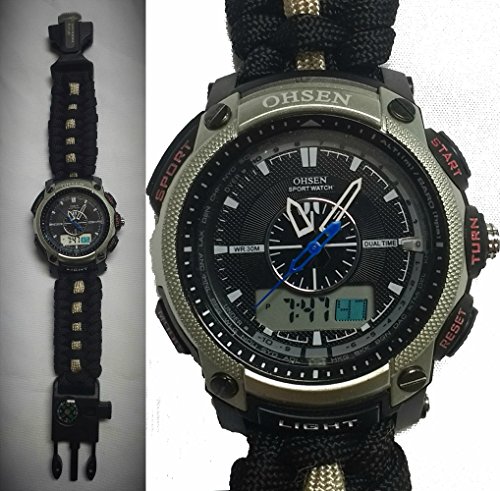 Calendar and Stopwatch Function
This waterproof survival paracord Ohsen Watch by Southern Retail allows you to collect data on your surroundings. The watch has a calendar, as well as a stopwatch function. Simply having this watch prevents you having to pack a host of independent tools.
The watch has a compass for navigating safely out of one place and to the next. It also has a small knife which is handy and it comes with a fire starting kit. This survival paracord watch also has a whistle and a flashlight, too. As a military grade paracord, you feel equipped to take on any adventure with confidence.
>>>Click here for more info about the Ohsen Tactical Survival Paracord Watch<<<
---
Paracord Watch by White Buffalo Trading Co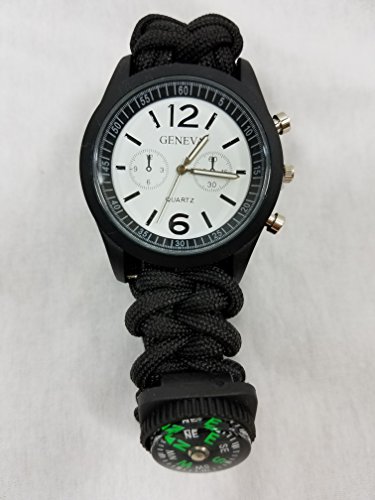 A Survival Kit on your Wrist
White Buffalo is known for manufacturing high quality survival gear for men and women. Outdoor enthusiasts describe the nylon paracord survival watch as 'all you need for an emergency' as it comes with all the features you need to help you out of an emergency situation. This paracord survival bracelet is also a battery run watch. It has an attractive, simple to read analog display face which illuminates to read at night.
You can call this paracord watch a survival kit on your wrist as it combines several survival tools all in one robust, durable piece. The adjustable band of the watch is made of 550 pound military-grade paracord that, when unravelled is more than 12 feet in length. It fits wrist sizes of 7 to 10 inches. You'll find an emergency whistle as part of this bracelet watch, a quality compass and magnesium fire starter and scraper. There is no need to take the watch apart to reach each feature.
>>>Click here and check out the details about the Paracord Survival Watch Bracelet<<<
---
Inlife Survival Watch
Robust 7-Core Nylon Paracord
This Inlife survival quartz watch is an excellent choice for meeting all the challenges with any outdoor adventure. With its round, uncluttered dial, this multifunctional watch with olive green paracord and olive-green numerals comes well equipped with useful accessories such as firestarter scraper, whistle and compass.
Made from durable army 7-core nylon parachute cord to a length of 3.5m to 3.8m, this watch promises to increase your survival chances in an emergency. The watch size is 10.24 x 1.89 x 0.59 inches.
>>>Check out what other customers say about the Inlife Survival Paracord Bracelet Watch<<<
---
Wooboo Survival Watch
6-in-1 Paracord Watch
This survival watch suits men and women. It's a 6-in-1 survival watch which comes with a whistle, thermometer, fire starter and scraper, and paracord. Made from robust parachute cord – army 7-core nylon umbrella rope ─that can be unraveled to form rope of 3 meters, this is a great multi-functional watch for any emergency situation and also just to have around you on your hunting and camping trips.
This army green looks just the part although it is available in other colors such as black, red, blue, orange, khaki and camouflage. The watch weighs just 0.123 kg and measures 10.45 x 1.93 x 0.63 inches.
>>>Click here for more info about the Wooboo Paracord Outdoor Watch<<<
---
Watch by Survival TopBrighttrade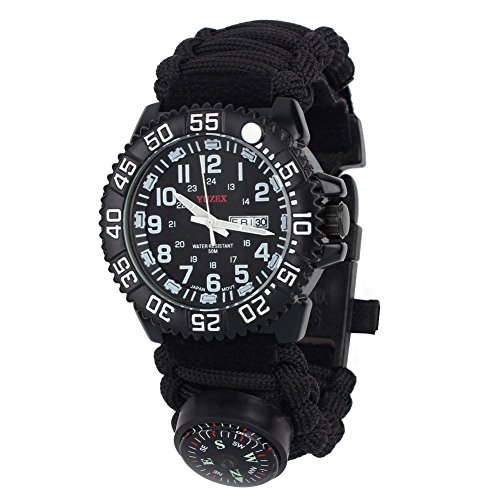 12ft Military Grade Nylon Paracord
This survival water-resistant watch comes equipped with paracord, whistle, fire starter, knife and compass. With its black dial face with white Arabic numerals and stainless steel watch case, you get the feeling that this button or mini compass means business.
For night reading, the watch illuminates a soft light. This multi-functional paracord bracelet watch is perfect for all your outdoor adventures and when the bracelet unravels, you get a 12ft military grade nylon paracord.
>>>Click to see the latest price for Topbrighttrade Paracord Band Watch<<<
---
Final Thoughts
Brochures of wilderness areas might well put the faint-hearted, unprepared, novice hiker off. If you're well prepared, however, from nowhere else can you realize so fully the majesty of nature than walking it.
So, plan your trip now, because with the ultimate paracord survival watch, you've already got some essential tools in one multi-functional tool, and with less to carry and worry about, there's a world of spectacular beauty opening up for you.