Do you need a left handed compound bow?
1) What's the difference between left handed and right handed bow?
A compound bow can be designed to fit whatever hand you're dominant in, meaning, they can be made for either right-handed or left-handed shooters. These bows will not be interchangeable or ambidextrous in many cases. If you're left handed a bow that fits your hand will actually be held with your right hand and drawn with your left hand.
While some people pick a bow based on their dominant hand you can also choose a bow based on your dominant eye.   When you have a dominant eye it means that one eye has a tendency to gather visual input over another. You can test your eyes and determine your dominant eye yourself and this may ultimately be more important that a right or left-handed preference. Later on, we will review some of the best left handed compound bows in the market.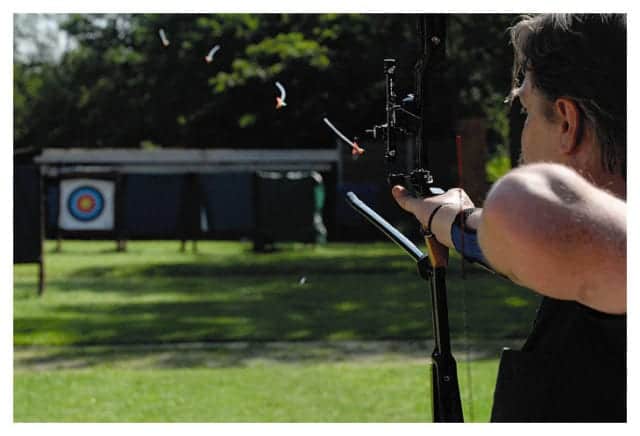 2) Things to look out for when buying a left handed compound bow
When you're in the market for a bow and specifically looking for a model that accommodates a left-handed shooter you'll want to be sure of a few things. First off does the bow handle accessories for left-hander shooters as well? Does the company you're purchasing from have a large range of gear aimed towards left-handed shooters? You'll want to be able to expand and accessorize your bow as much as possible so be sure the bow model and brand can help you with this.
You'll also want to check specifications such as total weight and draw length. Any normal feature you'd look for in a right-handed bow is something you'll want to consider in a left-handed model. The theory and practice behind archery will be the same regardless of the hand you prefer to shoot from, so keep that in mind when shopping for a left-handed bow.
3) Do most compound bow companies make the left handed version?
Many compound bow companies will make a left-handed version of their popular bows however is may be harder to find a left-handed bow directly in stores. Left-handed products are not stocked in the same numbers as right-handed bows so you may want to call your favorite store ahead of time. You may also have to special order a left-handed model.
Check out the video below:
The Best Left Handed Compound Bow Review
---
SAS Rage 70 Lbs 30" Compound Bow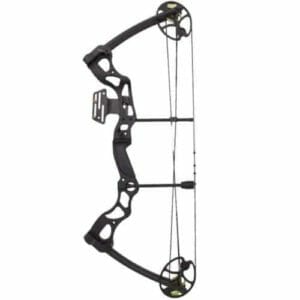 If you want to have the best chance, either as a shooter or as someone who teaches archery, to excel with a bow then you have to start out with a quality bow itself. If you want a bow that gives you the chance to grow as a shooter then the SAS Rage 70 is the bow for you. It has a great combination of stability, quality and is also a well-made product.
Features on this particular model include the ability to fire at 270 FPS with a 30†draw length. This is a compressed ABS bow, this feature on the limbs gives the bow added strength that will also extend the life of the bow. The bow is made well and is constructed of strong material. This bow is amazing in the hands of even a basic shooter. The shooting speed is simply incredible, at 270 FPS you'll take out targets with ease.
The bow has a total weight of 4.4 pounds so you'll find it easy to carry and repeatedly fire even with accessories added on. The Rage 70 is easily adjustable with compressed ABS limb features and a layered limb that can draw the bow up to 70 pounds. Loosening to draw the bow back down is just as easy.
>>>Click here to see the lastest deal for the Wizard Archery Compound Bow<<<
---
Genesis Bow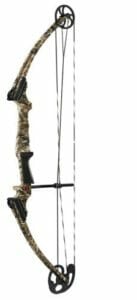 Experience the Official Bow of the National Archery in the Schools Program, this is one of the first compound bows that features a full range of adjustments. This bow offers a flexibility you won't find among other compound bows, it can be adjusted to work for almost any shooter. These bows are designed for new shooters, they are great bows for the beginner shooter due to their ability to adjust and grow with an archer.
A young shooter will not outgrow this bow. The bow features a lightweight aluminium and composite construction which is another plus for the younger archer. The draw weight is adjustable from 10 to 20 pounds. The adjustments are easy to make as well, just use an allen wrench and you're ready to go. The Genesis bow comes in a variety of colors with comfortable grips, they fit a small hand very well and accommodate the left-handed shooter.
Overall a great bow for the price and one that just feels good in your hand, the bow is well balanced and lightweight for even the smallest shooter in the family. The aluminium construction gives the bow strength while keeping the total weight down. All the adjustable features of the bow mean it is a product that will last a lifetime.
>>>Click here to see the lastest deal for the Genesis Left Handed Compound Bow<<<
---
Diamond Archery Infinite Edge Pro Bow

This is one of the more expensive bows on the list however it is also a very high quality product, the bow also comes with several accessories for "out of the box†shooting. A nice feature of the Diamond Archery Infinite Edge Pro Bow is the extended draw length, this allows archers with a longer draw something to be happy about! The bow is very smooth and quiet when shooting as well. Another nice thing about this product is that it can be used for both target shooting and hunting.
The bow performs well on both ends too with a comfortable draw even when the bow is set at its highest poundage. You can also adjust this bow to a wide range of draws so it will accommodate younger shooters or those who are still learning, this bow will grow with an archer as they advance their skills.
The Diamond Archery Infinite Edge Pro Bow can be set for a draw up to 70 pounds but it's still comfortable to fire even at that range. It can be drawn down if you have a younger or new shooter in the family as well. The bow is easy to take care of and you can tell it is made from high quality materials. All of this while maintaining a low total weight. It's a great bow that can be used by a multitude of people.
>>Click here to see the lastest deal for the Diamond Archery Infinite Edge Pro Left Handed Compound Bow<<<
---
Summary
The decision to purchase a bow and get into the sport of archery is one you won't regret. If you're a left-handed shooter you'll find a variety of options out there to aid you in the pursuit of this sport too.
Out of the models reviewed above the Diamond Archery Infinite Edge Pro Bow is one of the best, though the price is a little higher than the other models. Don't let this price point scare you away, this bow is made to grow and adjust with you through your life and interest in archery.