The reason for an archery target is clear – to give the archer something to aim for.  Without a proper target of some description, you could aim for anything you like but it would not give you the same benefits.
A purpose-made target can have a specific design, to enable you to practice your hunting skills or score points.  It can also be made from specific materials, which allow you to re-use it over and over again.  Another benefit from certain types of targets, is the arrow can penetrate without getting damaged.
What are Foam Archery Targets?
Most of the foam archery targets are made of strong and durable polyethylene foam. This foam comes in blocks of different weights and colors. Beware that some of the foam targets are made of layered foam, in which case they are not self-healing. And some of the targets have self-healing property. In this article, we will review some of the best self healing foam archery targets in the market.
The Pros and Cons of Layered Foam Archery Targets
Foam targets in comparison to the other types of targets seem to be the best buy considering they are durable and will hold up well in all types of weather. They can absorb field point arrows as well as razor sharp broad head arrow heads.
Compared to the other archery targets the foam targets provide good value of money. You don't have the extra recurring expense of replacing the "vital†inserts like with the animal type 3-D targets. These targets also can stop broad head arrows by the arrows pinching between the layers of the target. The arrows are fairly easy to remove from the foam targets.
Some foam targets are made of layered foam, in that case the archer needs to be aware of his shooting angle when firing into foam targets. You may want to avoid shooting the arrow into the foam layered target horizontally.
What About Self-healing Archery Targets?
Self-healing archery targets are great for anyone wanting to practice regularly, with a 3D foam target being extremely popular with serious hunters.
While a target archery target is typically circular with different scoring zones marked out, a field archery target tends to be more realistic and used for hunting practice.  You can buy targets that resemble specific game, such as deer, and they can even be life-size.
3D archery targets are shaped to mimic the animal and give the hunter something realistic to aim for, meaning you can hone your skills before aiming for the real thing.  You can transport these targets around with you, so you can position them in a realistic setting such as by a tree in the woods.  They often have a replaceable target area, so you really do get your money's worth.
The best self-healing archery targets in the market are reviewed below.
The Best Foam Self-healing Archery Targets Review
The Foam Archery Target Comparison Table
[table file="https://deadbullseye.com//sites/deadbullseye.com/files/wp-content/uploads/2019/12/table_Selfhealingtarget2.csv"][/table]
Morell Double Duty Archery Target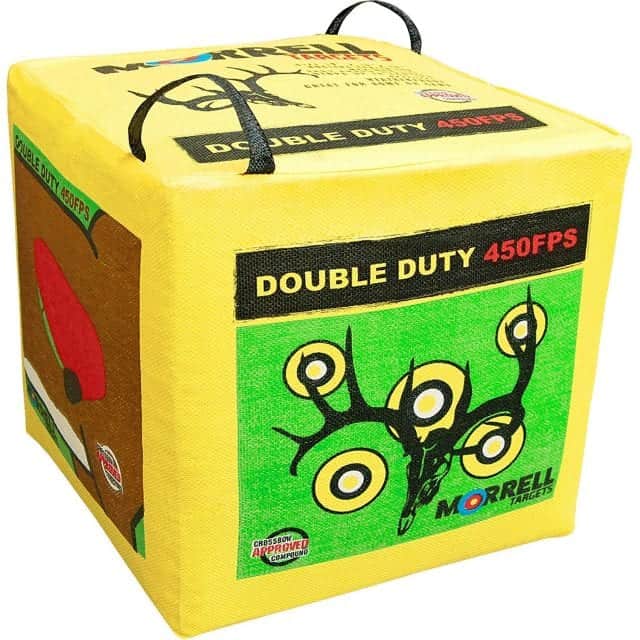 These are made with 100% self-healing foam designed for a crossbow or compound bow.  They are resistant to wear and tear and very durable.  They are also impervious to insects, meaning you will not get anything burrowing inside and destroying the foam with a nest.  They are also reversible, meaning the target will last twice as long as one that is printed on one side only.
The covers are replaceable meaning that the target can last much longer than the usual ones as long as you change the cover regularly. Plus, it features an easy arrow removal function. We have put it on a test and we can't believe how easy it was to remove the arrows!
>>>Click here and check out the latest deal for the Morell Double Duty Archery Target<<<
---
McKenzie TuffBlock Foam Archery Target Review

This Drew Polystyrene target is excellent for general target practice and suits archers of all skill levels, from beginners to the most seasoned of hunters.  It features different target faces of various sizes on the 24†x 11†x 24†block, to enable the archer to choose based on their level of difficulty.
It is recommended that only low poundage bows are used on this block, with a limit of 40lbs set.  It is very lightweight, making it easy to transport, and should be propped up against something to ensure it does not fall over.  This versatile block is printed on both sides, to give greater durability.
The target is Styrofoam encased in a strong plastic bag. One problem with this target is that the actual product may not look like the picture described. The target surface area is smaller than the actual picture shown. However, this is still a very sturdy target. The target may last for a few hundred shots.
>>>Click here and check out the latest deal for the Mckenzie TuffBlock Archery Target<<<
---
Rinehart Rhino Brute Target
This is a great self-healing target which takes shot after shot, without getting bent out of shape.  Rinehart's self-healing foam is legendary in the market and you really are getting a great quality target in this one.  It is suitable for both broadheads and field points, even expendables, and it keeps its density well.
It features 12 small targets on 2 sides, giving plenty of options for shot placement.  There are also 4 sides with larger targets printed on, giving you the chance to hold your aim.  It measures 16†x 16†x 16†and is very popular among archers of all abilities.  It is light and portable, so you will have no trouble taking it out to your preferred practice destination.
>>>Click here and check out the latest deal for the Rinehart Rhino Brute Target<<<
---
Rinehart Woodland Boar 3D Target Review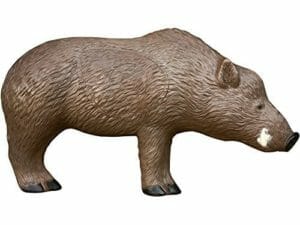 This is a fun 3D foam archery target, designed realistically to look like a woodland boar.  It is constructed from tough, durable material and can withstand hard shots from compound and crossbows.  It features a foam insert and can be used with both target points and broadheads.
It measures 22†in height and 39†in length, so is the size of a small boar, and has a simulated weight of 75lbs.  You can easily retrieve your arrows from this target and it will self-heal to give you many enjoyable hours of use.
This foam archery target is great for the hunter wanting to practice with a realistic-looking target and for anyone bored with the circular boards.
>>>Click here and check out the latest deal for the Rinehart Woodland Boar 3D Target<<<
---
Rinehart 18 -1 Broadhead Target
It has a unique shape in that it's not configured in the standard cube form as the others are. This target has eighteen sides. Each side has a white circle which represents a separate target. So the user has eighteen individual targets to shoot from.
This target is durable and it is long-lasting. It seems like the only drawback was the target tends to rotate to the side the arrow hits. Most people who have used the Rinehart 18 said the self-healing property of the foam works very well. However, the target is sensitive to the seasons and in the wintertime the arrows are very hard to get out.
>>>Click here and check out the latest deal for the Rinehart 18 – 1 Broadhead Target<<<
---
Morrell Yellow Jacket Archery Foam Target
This 3D foam target is block-shaped and features a multi-layered density design.  This enables archers of all abilities to pick their target and gives some variation during practice.  It has an E-Z Tote carrying handle, enabling you to carry it effortlessly.  It is weatherproof; able to withstand rain, cold temperatures, and blisteringly hot days.
It has been designed to be used with broadheads only, so is perfect for the more serious hunter wanting to hone his skills.  You can use both fixed and mechanical broadheads with this target.
>>>Check out the latest deal for the Morrell Yellow Jacket Archery Foam Target<<<
---
Morrell Halfback Deer Combo Target Review

This 3D foam target is designed to stop both field points and broadheads and is 100% weatherproof.  It is not the entire deer but does feature the anatomically correct vitals, enabling the hunter to hone their skills and work on their aim.  It also has a flat back with bullseyes, for a different shooting option.
It features an E-Z tote carrying handle for ease of use and you can shoot at all 4 sides.  This gives incredible durability to the product, meaning you really do get your money's worth.
>>>Check out the latest deal for the Morrell Halfback Deer Archery Target<<<
---
McKenzie Layered Foam Target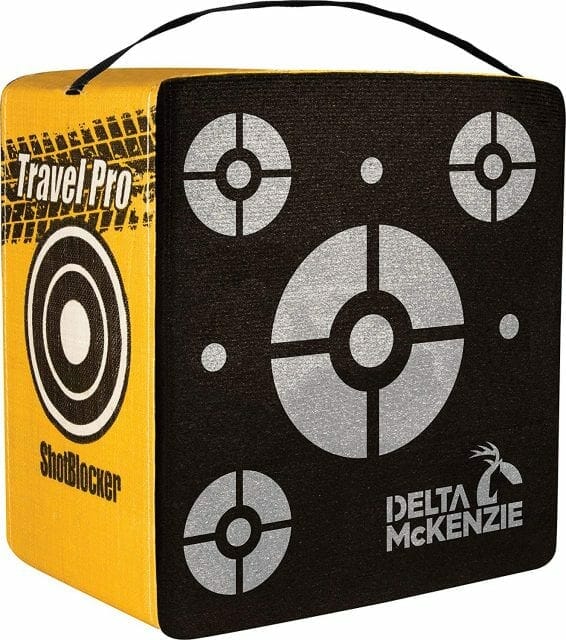 Note that this is a layered foam target. But this target is so good we think that we should also put it on the list. The dimensions of this particular target are 18 inches x 18 inches x 16 inches and weigh 13.5 lbs. This particular brand is said to be the original layered foam archery target. There is the friction caused when the arrow slides between the layers and is stopped. It's a block target that comes in gray and black with 5 white spots in the front giving it a very distinctive look.
It is more of a high poundage target. The target takes arrows from crossbows fairly well but arrows from recurve and compound bows don't seem to penetrate the target very well.
A lot of users said the target lasted very long and held up very well from repeated penetration from arrows. One user even stated that after about 300 shots the target showed no signs of wear. Another review said the target had lasted for years and was still in good condition. The only drawback was that only 2 sides of the target could be shot into.
>>>Click here and check out the latest deal for the other layered targets<<<
---
Conclusion
The foam targets are probably the best type of archery target for the money because of its durability and mid-range price.
The things to look for in a 3D foam archery target include the ability to pull the arrow out by hand, as some will hold onto it too tightly.  The target should completely heal itself once the arrow is removed and it should be able to withstand the sort of arrow that you use.  You also need to ensure the target is weather-resistant, as you will be outside while practicing and unless you're a fair-weather hunter, this could involve a lot of rain or low temperatures.
There are plenty to choose from and they vary greatly in price, so make sure you get one that suits your needs and is easy to set up.  You don't want to waste valuable time and money on the wrong product.