As with any sport, there is a lot of equipment involved. In archery, one piece that is incredibly important to get right is the archery arm guard. This is because if you don't use one, you will soon regret it!
What Is an Archery Arm Guard?
Archers all over the world use an archery arm guard, or a bracer as it is known, to protect the inside of their arm from injury while shooting. If the bow string catches on the arm when released, it can be very painful. Usually made from leather, plastic or even stone or metal, a bow arm guard is worn on the arm that holds the bow and also protect an archer's loose clothing from being caught on the bow string.
If the bow string does catch the inside of the arm, or catches on loose clothing, this can actually cause the arrow to fly off-course and potentially hit the wrong thing. This could cause damage to the arrow or, more importantly, injury to a person.
An archery arm guard is just that, it protects the arm only. However, a chest guard is also worn on occasion and these are more popular with female archers. If the archer wears tight clothing and keeps a larger distance between the bow and the bow string, it is not usually required for them to wear an arm guard.
A traditional arm guard is made from leather and the smooth finish is perfect for when the bow string does catch the arm guard, the arrow will still fly straight. No matter what material the arm guard is made from, it must be comfortable to wear and offer maximum protection.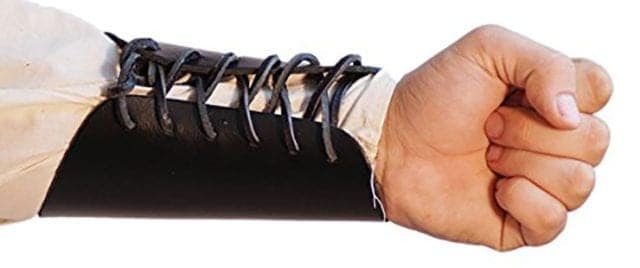 There are many arm guards available to choose from but they are all attached to the arm by a Velcro strap or buckles, depending on your preference. For the archer who prefers convenience, Velcro fastenings are much more popular. This is due to their obvious ease to put on and take off quickly.
Arm guard straps are elasticated, both for comfort and size adjustability. A beginner is advised to wear a particularly padded arm guard, as they usually take time to adjust their positioning and get their shooting style correct.
An arm guard should be a certain length to fit properly. To work out how long yours should be, measure the distance between your wrist and your elbow and then halve it. Add on 2 inches and that is ideally how long your arm guard should be.
Which Archery Arm Guard Should I Use?
This will depend on what sort of archery you do and your size but below are some of the most popular options available on the market right now.
OMP Mountain Man 2-Strap Ventilated Leather Suede Arm Guard
This bow arm guard is manufactured from Suede for real comfort and features a two-strap, Velcro design. It is easy to put on and off quickly and provides a snug, comfortable fit. It is vented for proper air-flow, ensuring you don't get sweaty and ultimately sore underneath the guard. This makes it perfect for all weather conditions.
This arm guard is 7" in length, so do be sure to do your measurements to see if this is the right size for you. Remember, the length is important and you will also need to ensure it fits around your particular arm. If your arm is particularly large, you will need one with extra-long fastenings and this one should be ok for you. However, if you particularly like this one and it is too big circumference-wise, why not trim the Velcro a little to give a tighter fit?
This very popular arm guard is not only comfortable to wear but it is also a very good quality product. Even the stitching is done to such a standard that it does not cause any discomfort to sensitive skin.
>>>Click here and see the latest price for the OMP Mountain Man Arm Guard<<<
---
Santu Cowhide Archery Arm Guard
This is a lovely arm guard, made from super soft cowhide for maximum comfort and a really natural finish. This makes it ideal for anyone who favours all natural products, preferring them over synthetic materials such as plastic, and it also smells beautiful! The material is thick and durable, making it excellent value for money, and it has a lovely smooth feel to it. This is important for ensuring the arrow does not fly off course.
This archery arm guard is approximately 8.5" in length and the same in width. The four straps are adjustable, meaning this is suitable for any sized arm. It is a very light product and convenient to put on and off. It is very easy to transport around with you, slotting into your archery kit bag with no bulkiness whatsoever.
Although this is a fairly long arm guard, the material is light enough to bend over to shorten it, making it suitable for anyone willing to do this to get the correct length. However, if you are a little nervous and feel the need to protect more of your arm, this could be a great option for you unfolded.
There is no ventilation with this arm guard, so you may get a little sweaty underneath. Just be sure to remove it now and then, to allow your skin to breathe.
>>>Click here and see the latest price for the Santu Cowhide Archery Arm Guard<<<
---
Tarantula Sleeve Wrap Armguard
Don't let the name of this one put you off, for it really is a great product. Made from tough material, this is a very durable arm guard and also lightweight for comfort and convenience. In fact, it is so durable the company offer a lifetime guarantee, meaning they will fix or replace anything required. Forever.
This is quite a large arm guard, at 8" in length, so if you have shorter arms then you will need to buy a shorter one. There are three elastic straps and buckles and it is stylish to look at. The straps are adjustable, so you can wear this either on your bare arm or over loose clothing for safety. You don't even need to unbuckle it to adjust the straps, although you can if you prefer.
The padding on this arm guard protects your arm well but it is thin enough not to interfere with your shot. After all, the main thing is that your arrow flies straight. Be sure to remove this every now and then to let your skin breathe, for it is not ventilated and made from synthetic material.
>>>Click here and see the latest price for the Tarantula Sleeve Wrap Armguard<<<
---
OMP Youth Armguard
This lovely little arm guard is just perfect for younger archers, or even for adults with a small frame. Measuring just 6.75" it is the ideal size for smaller arms and it comes in a variety of bright colours, to particularly appeal to a younger archer.
It features two straps and is made from Nylon. It has a hook and loop quick adjust with no pull-through fastener, making it simple and quick to put on and alter as required. This is particularly useful for younger archers, who may need help with some other models.
It is a very basic arm guard but it does protect young arms well, allowing youths to practice with confidence as their arm is protected well. It is good value for money and is a great introduction to wearing an arm guard, without being too bulky and taking too much getting used to feeling-wise.
Many young girls in particular will love that it comes in pink!
>>>Click here and see the latest price for the OMP Youth Armguard<<<
---
Allen Molded 4-Strap Archery Armguard
This is a different style of archery arm guard, designed to protect the full length of both your forearm and bicep. This makes it perfect for anyone looking for that extra bit of protection, for whatever reason.
It features four adjustable straps, with easy release buckles for convenience and ease. It is a lovely, lightweight guard with a great camouflage design, making it very popular with hunters. Manufactured 100% in the USA, this great quality option gives you real peace of mind that your arm will be fully protected for years to come.
This arm guard is very soft, making it comfortable to wear and kind to your skin. In fact, it is so comfortable, you may even forget you are wearing it. Just be sure to remember you are, for you don't want to turn up to dinner with it still in place!
It isn't the biggest arm guard, so be sure to measure up properly to see if it will fit your arm. If you would prefer to cover your whole arm and this is a little on the small side for you, it may be a good idea to either invest in a larger one or buy two separate guards.
>>>Click here and see the latest price for the Allen Molded 4-Strap Archery Armguard<<<
---
Finally
Whichever archery arm guard you choose, be sure to do your homework and think about what is most important to you. Do you simply want to protect your forearm from bruising, or do you want it to be stylish and lightweight too? One of the biggest factors is comfort, so be sure to factor this in when making your choice.
It may be a good idea to visit an archery pro shop and try some different styles on, to see what feels best and how you feel in different manufacturers, styles, etc. If you are a hunter, you may want to think about going for a camouflage design, to ensure you blend into your surroundings as much as possible. However, if you are a target archer, the look of it may not matter much. That will simply depend on your own sense of style.