For the outdoor enthusiast or prepper, a survival saw can be immensely useful for cutting wood or bamboo needed for starting a fire or for building a shelter.
The first question when deciding to buy a saw for survival purposes is to look at why you want the saw, what kind of environment you're going into, and how you intend using it.
You'll certainly want to look at the saw's reliability and whether it can stand up to harsh conditions. Other things, such as portability, weight and cost will also need to be factored in.
There are many different kinds of saws used for survival, camping or hiking purposes. Some of these saws are small, lightweight and portable, such as the saw blade on a Swiss army knife, while others are much larger and heavier.
---
What Saw's Suited for Your Task?
When deciding which saw to buy, there are 3 main categories: bow saws, folding saws and pocket chain saws. These saws all have their own unique pros and cons and you will have to take an in-depth look at each one to get the right one for you and the task at hand.
The pocket chain saw, for instance has a downside in that it requires both your hands to get it to function. This can be frustrating, particularly when you're caught in an emergency situation where one of your arms and hands is injured and out of action.
One saw might be good at cutting logs, another might be good at handling green and dry wood equally well. A folding saw is light and compact, so it's great if you're on a hike or require it for a backup option. Having backup tools in your gear is critical for survival as tools fail.
Let's take a look at some good survival saws on the market. They are all excellent choices for whether you're hiking, camping or fighting for your life in an emergency situation.
---
Bahco Laplander Saw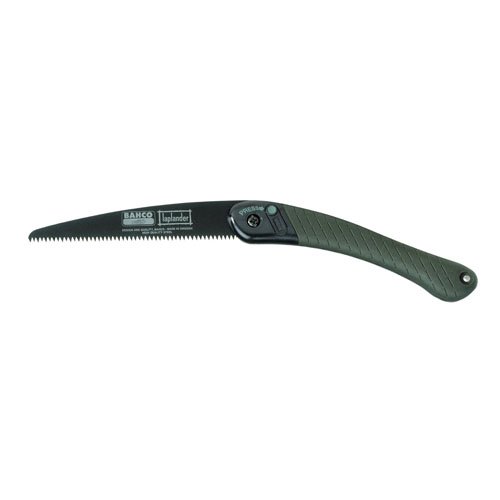 Lightweight and Compact
Weighing in at just 6oz, this general-purpose folding saw is made in Sweden and has a plastic handle for good grip. When the saw is fully closed, it will measure 9'' and its 16'' in the open position.
It comes with a safety lock so that it doesn't accidentally fold in while in your hand. Its teeth point both forwards and backwards, so you can cut using pushing and pulling strokes.
Little Effort Involved
You can cut both green and dry wood, as well as bone and plastic. The saw comes with a safety lock for lock-in and lock-out. The blade of this saw has been coated to protect it from rust. This is a saw more than capable of performing each cutting job with ease and little effort.
>>>Click to see the latest price for Bahco 396-LAP Laplander Folding Saw<<<
---
Tutent Steel Wire Saw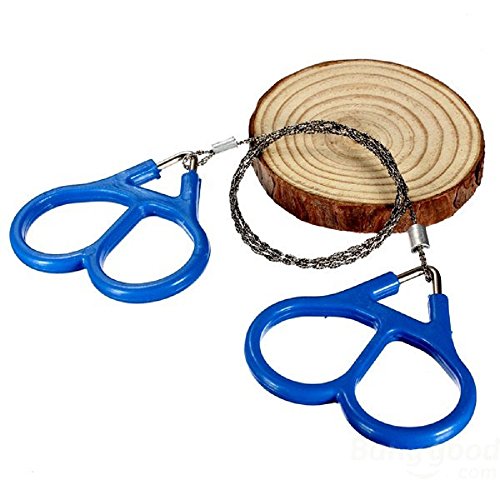 Convenient, Practical tool for Outdoor Activities
Tutent's focus is on the outdoor market, providing customers with the best products and services. Made from steel, wire and plastic and weighing in at 22g and 70cm long, this convenient, practical tool is an ideal companion on your outdoor excursions.
With 2 holders and saw tooth, it is sharp and effective on hikes, for camping and in an emergency situation.
Can be applied to Different Materials
Portable and easy to use, the saw can tackle wood, bone, soft metal, rubber and plastic. The plastic ring design handle is designed to be gentle on the user's hands.
>>>Check out what other customers say about the Tutent Portable Survival Steel Wire Saw<<<
---
Silky Gomboy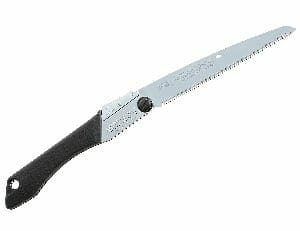 A Smooth Cutting Action
The Silky brand is synonymous with superior quality products, and their 9 ½'' blade hand saw with an 8.5 teeth per inch configuration provides hikers and preppers with a superbly smooth cutting action. The saw cuts with notable speed, tackling green and dry wood equally well. Silky makes use of their own proprietary MIRAI-ME technology which means smooth sawing or cutting.
An Ambidextrous Tool
The replaceable blades, made from alloy steel, are impulse hardened to create a harder, durable cutting point. The textured rubber-padded handle suits both right and left handers. The saw comes with a carry case and offers excellent, good-value quality.
---
Corona Folding Saw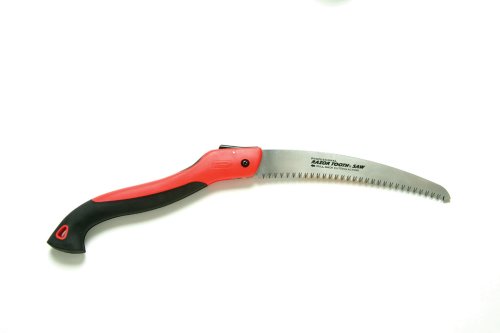 Sharp Curved Blade – Incredible Cutting Performance
This quality folding saw is looked upon as a best-seller with its extremely sharp curved blade. The blades are replaceable via a single screw. The blade is 10'' long and the folded saw's length is 12''. The saw features a safety locking switch for both the folded and unfolded position. The saw cuts on the pull action, with each tooth on the blade being individually whetstone-ground and sharpened at 3 angles. This is what makes the saw so excellent on all types of green or dry wood.
Ergonomic Handle
The hard-plastic handle is easy on the hands with its contoured shape, so you're not likely to battle with blisters with the saw's large handle. The blade release is found on the back of the handle.
>>>Click to see the latest price for Corona RS 7265D Razor Tooth Folding Pruning Saw<<<
---
Chain-Mate Pocket Chain Saw
Carbon Saw Teeth Plough into Wood
If ever there was a convenient, portable saw to haul out at a moment's notice, this is it. The field-tested carbon teeth cut effectively into all types of wood and remain sharp, outperforming other saws. Two web handles are attached with steel clips to a saw chain. Weighing in at just 4oz, for this nifty little saw, gathering firewood and getting it ready for a fire is never easier.
Easily Attached to Belt
Lightweight, portable and with carbon steel teeth, this saw is made in the USA and comes complete with pouch and belt clip. The Chain mate camping saw is something everyone should have when looking for a survival chainsaw product displaying excellent craftsmanship.
---
UST SaberCut Saw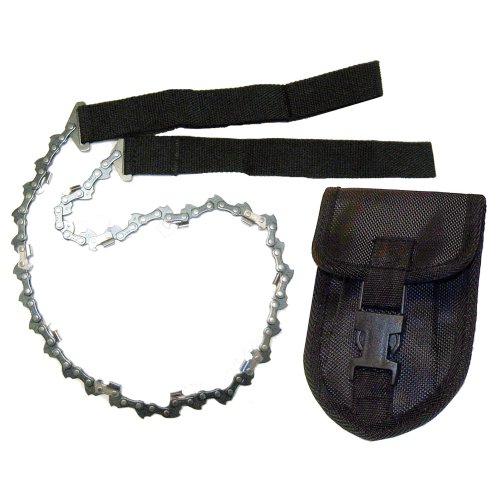 Bi-directional Non-Binding Blade
UCT, since 2010, is part of the company Revere Survival who have been manufacturing survival equipment since 1936. The SaberCut saw from Ultimate Survival Technologies tackles green and dry wood well with its bi-directional, non-binding blade. People who use both the Chain-Mate and the 6oz UST SaberCut saw say that you have to use quite a lot of energy to cut through wood with these saws, something you may not have in a survival situation.
Attractively simple, the saw's 2 web handles are attached with steel clips to a saw chain. The chain can be sharpened when the teeth do eventually get dull from use.
Lifetime Limited Warranty
With its 24'' blade made from black oxide coated carbon steel, this saw is also lightweight, making it great for hiking. The saw comes with a carrying case with hook-and-loop closure. The SaberCut saw comes with a lifetime limited warranty.
>>>Click here for more info about the Ultimate Survival Technologies SaberCut Chainsaw<<<
---
Felco Folding Saw
Hard-Chromed Steel Blade
This 5.5oz rust resistant saw, 14'' in length, is capable of cutting branches up to 4'' in diameter with its high-quality, hard-chromed steel blade. The 6'' blade, thinner on the top and thicker on the bottom, prevents binding and clogging.
Non-slip Handle
The ergonomic handle of this folding design saw makes light work of the job at hand and is made of non-slip material. The set and shape of the teeth prevents sap-build, and the parts of this saw can be replaced.
>>>Click to see the latest price for Felco F-600 Classic Folding Saw<<<
---
Final Thoughts
You can see from these recommended saws that they come in different forms, sizes and abilities. You can take a curved blade or straight blade, a chainsaw or folding saw, and a left or right-handed saw. Quality, reliability, ease of use, durability and portability need to be uppermost when you do your research.
Pros and cons come with each saw, but what is looked upon as a disadvantage to one might not be the same for someone else. It all depends on your circumstances – where you are and what you need your saw for. All these saws have been selected specifically because people liked what they offered, and each one in its own way is a strong contender for the best survival saws you can find.