Over the years, bowfishing has gained popularity among both archers and fishers. Today, you'll find a wide array of bowfishing gear that allows you to hunt fish successfully. The main piece of equipment you'll need for bowfishing is, of course, a good bow. One of the most popular bow types for fishing are recurve bows.
This article will give an overview of the differences between using a recurve and compound bow, factors to consider when investing in a bowfishing recurve bow, and product reviews of some of the most popular models on the market.
---
Recurve Bows Versus Compound Bows
First, it's important to outline the key differences between recurve bows and compound bows for bowfishing. Recurve bows are generally more affordable than compound bows, which makes them a popular choice for bowfishing. They can be brought on extended fishing trips because they're lightweight and easier to carry around. You can buy recurve bows that are specifically designed for bowfishing or convert your hunting recurve bow into a bowfishing bow by mounting a special reel. Recurve bows also have a consistent draw weight.
Compound bows are still easy to maneuver in a boat, but they are often bigger and heavier than recurve bows. They can project arrows at faster speeds, andlike recurve bows, they have a consistent draw weight.
---
Factors to Consider
Draw Weight
With regular hunting, you usually draw an arrow a few times a day, but with bowfishing, you may find yourself drawing up to 50 times a day. It's important that your draw weight is not too heavy to ensure that you won't get tired out quickly from drawing. Look for bows with a draw weight between 35-50 pounds.
Sights
For regular hunting bows, sights help to improve your aim and accuracy, but for bowfishing, sights are not recommended. Because you'll be aiming at targets under the water, you'll have to deal with refraction and depth. In which case a sight will not always help improve your aim.
Compatibility withBowfishing Accessories
Although you can use your hunting recurve bow for bowfishing, it's recommended that you dedicate a bow specifically for bowfishing. There are kits available to convert your recurve bow into a bowfishing bow, but it's recommended to get a bow that can accommodate specialized equipment. For example, a bowfishing recurve bow needs to have stabilizer holes drilled in to attach bowfishing reels or reel seats securely. A bow used for fishing is subject to harsher conditions and needs to be set up with the proper equipment to fish with effectively.
---
Product Reviews
Now, it's time to take a look at some of the most popular bowfishing recurve bows you'll find on the market.
AMSBowfishing Recurve Bow Set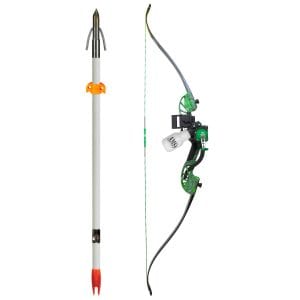 The fishing recurve bow set include one riser, two bow limbs, one bow string, a bowfishing reel kit and three fishing arrows. The bow has a length of 60 inches and a brace height of 7.5-8 inches. It has a draw weight of 18-40 pounds, which is optimal for bowfishing. The draw length and draw weight can be easily adjusted with the hex key and instructions that are included with the set.
This right-handed recurve bow is made with a heavy-duty riser. It also features a tidal wave arrow rest. The AMSbowfishing set is highly recommended for beginners.
>>>Click here for more info about the AMSFishing Recurve Bow Set<<<
---
PSE Kingfisher Bowfishing Kit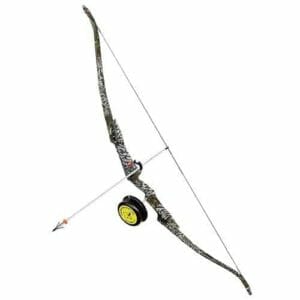 The PSE Kingfisher bowfishing kit comes with a right-handed recurve bow, front mounting reel, 50 feet of 80 pound test line, a 31" solid pointed fiberglass arrow, and a Snap Shot arrow rest made out of high-grade aluminum and stainless steel.
The recurve bow has an all-season camouflage design and has been specifically designed for hard shooting. The PSE Kingfisher bow has an optimal draw weight of 45 pounds.
>>>Click to see the latest price for PSE Kingfisher Bowfishing Kit<<<
---
Muzzy Recurve Bowfishing Kit

Muzzy's recurve bow features a lightweight magnesium riser that's not only strong but also reduces vibrations. The bow has a total length of 58 inches and a draw weight of 40 pounds.Also, included with the bow is a fish hook rest, finger guards, a bolt reel mount and a Muzzy XD Pro reel that's pre-spooled with 150 pound line. Although a reel is already included, you're able to replace it with a different bowfishing reel more suitable to your fishing needs.
Overall, this the Muzzy recurve bow and bowfishing kit is affordable, compact and recommended for beginner to advanced shooters.
>>>Check out what other customers say about the Muzzy Recurve Bowfishing Kit<<<
---
Southwest Archery Spyder Xl Takedown Recurve Bow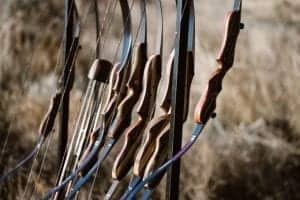 Southwest Archery's Spyder is an extra-long takedown recurve bow that measures 64 inches in length and has a draw length of over 29 inches. The bow comes in 3 pieces but all you need is an allen wrench and stringer tool for assembling the bow, string and arrow rest. Since the draw string is adjustable, you're able to choose the proper draw weight for bowfishing and your size. To ensure that you shoot comfortably, the hard edges of the riser and limb pockets have been rounded off.
The limbs are also reinforced with limb tips and are compatible with fast flight. The Spyder XL is also available in both left and right-handed models.
>>>Click here for more info about the Southwest Archery Spyder Xl Takedown Recurve Bow<<<
---
Fin-Finder Sand Shark Recurve Bow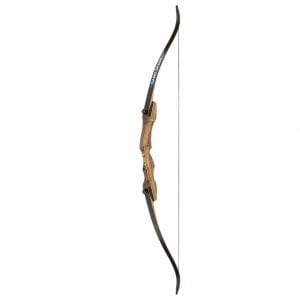 This Fin-Finder recurve bow is a three-piece takedown that measures 62 inches in length when assembled. It features high-rise aluminum limb pockets, a heavy-duty sight and plunger and stabilizer bushings. Each riser is made with hard maple/purple heart woods and a water-resistant finish to ensure that your bowfishing bow can hold up in even the toughest conditions.
The Sand Shark recurve bow has a draw weight of 35 pounds and a suggested brace height of 7.5-8.25 inches. Also, included with this bowfishing bow is: Dacron string, a Hydro-Glide arrow rest, Hydro-Shot finger savers, string silencers and a Fin-Finder drum reel.
>>>Click to see the latest price for Fin-Finder Sand Shark Recurve Bow<<<
---
Final Thoughts
Keep in mind that it takes time and practice to become a successful bowfisher. Shooting targets underwater can be tricky because you have to adjust your shot for depth and displacement of the fish from your view above the water. When it comes to investing in a bowfishing recurve bow, keep in mind it's draw weight and compatibility with specialized bowfishing equipment. Be sure to thoroughly research different models to find the bow most suitable to your fishing needs.