When people think of slingshots, what comes to mind is the basic y-shape frame with a band that's considered more of a fun toy than a serious hunting weapon.
However, now slingshots have been redesigned to kill prey effectively. They've become popular hunting weapons because they are compact and easier to carry around than most firearms or bows.
Not only that, but they can be used with a wide array of ammunition. This article will give an overview of using slingshots for hunting, factors to consider when choosing the best hunting slingshot, ammunition choices, and product reviews of the most popular slingshots you'll find on the market.
---
Slingshots for Hunting
With a slingshot, you can easily kill small game such as squirrels, rabbits and birds from a 30-meter range. Some slingshots can even be modified to shoot arrows to kill larger game.
Because slingshots are smaller than bows or guns, you can maneuver more easily through the bush. Slingshots are also silent weapons, which reduces the chances that your location will be revealed.
Out in the wild, slingshots are a great survival companion because you can find ammunition easily. You can use rocks or large nuts from trees.
Aim is key to ensure that you hunt with your slingshot effectively. When hunting with a slingshot, it's important to accurately hit game in the head. Headshots ensure that an animal will die instantly.
If you shoot small game in the body, they will start to bleed internally, and in most cases, the meat will be ruined. Small game such as squirrels or rabbits can still run away after being shot in the body and cause them pain.
When hunting with a slingshot, it will be close to impossible to land a headshot while your prey is on the move. You'll have more success once your prey has stopped to rest. For a successful hunt, patiently wait for prey near their homes.
---
Factors to Consider
1. Frame Material
Slingshot frames are generally made out of three materials: wood, plastic and metal.
Wooden frames are usually made with the classic Y-shape design with a rubber band attached to each fork. Be aware that wooden frames don't last long in outdoor environments because they can be easily damaged by rain or snow.
The quality of plastic frames will vary based on the type of plastic used. Modern plastic frames such as glass filled nylon are one of the most durable types that you'll find on the market.
Overall, plastic frames are the most economical choice. Metal frames are lightweight and sturdier than wooden and plastic frames. They're often more expensive, but you can find aluminum or steel slingshots that have plastic or ergonomic foam handles, making them more cost effective. It's also important that your frame is smooth to the touch to ensure that your fingers stay comfortable.
2. Band Type
Modern slingshots are made with either rubber tubing or flat bands. Rubber tubes are long lasting and recommended for hunting slingshots because they will hold up well during extended trips.
You can find rubber tubing of various diameters and thicknesses to find the tube that's compatible with your slingshot and desired draw weight.
Flat bands tend to wear out more quickly than rubber tubes, but they're easier to draw and can project ammo faster and more accurately. Their rapid snapback speed is what causes the fast projectile speed. Flat bands are recommended for self-defense purposes.
3. Handle
When shooting a slingshot, a good grip will be one of your biggest assets. A comfortable grip will allow you to shoot more accurately and reduce wrist and hand fatigue.
The best hunting slingshot design will have a contoured handle that's ergonomically designed to fit naturally in your hand. Another useful feature is a screw-cap hollow handle that allows you to store ammunition, spare bands or other survival gear.
4. Sight
Having a sight on your slingshot can greatly improve your shooting accuracy. Sights are recommended if you're using your slingshot for hunting since you'll be shooting at smaller targets from far distances. Most hunting slingshots will be equipped with a sight.
---
Product Reviews
Now it's time to take a look at some of the hunting slingshots you'll find on the market.
1. High Velocity Hunting Slingshot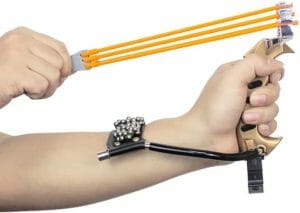 This hunting slingshot has a solid steel frame with sturdy, extra-wide forks that are easily adjustable.
The aluminum alloy frame has a marble-like finish and an ergonomic molded handle grip that's comfortable and easy to hold. The strong bands are of with high-quality rubber to ensure that each shot you make will be powerful and accurate.
Be aware that the band length is not ideal for shots beyond 30 feet. Also, included is a flashlight shelf, wrist rest and 50 steel ammo balls to get you started.
Check out this high-velocity Hunting Slingshot Kit on Amazon
---
2. Barnett Cobra Outdoors Slingshot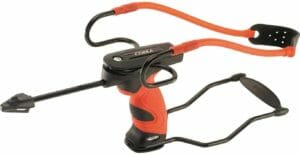 Barnett's Cobra slingshot was designed to increase your shooting accuracy with a front stabilizer and sighting system. The detachable wrist brace adds strength and stability to your shots while the sight improves your aim. It has a soft touch contoured grip for comfort out in the field.
The Cobra is made with magnum power bands that make it one of the most powerful slingshots on the market. The slingshot also includes a full shooting guide.
See the Barnett Cobra Slingshot on Amazon
---
3. Professional Laser Hunting Slingshot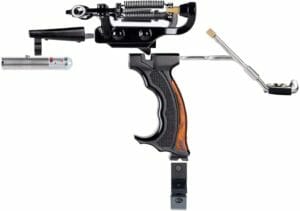 This laser slingshot features an infrared laser sight that helps you find a precise aiming point on your targets. It's made out of high-quality aluminum alloy and a porcelain camouflage design that won't fade.
The three rubber bands are short, so you cannot draw a full arms-length, but they still deliver enough power for serious shooting. Also, included is a few steel balls for ammo and a flashlight that allows you to hit targets when the sun goes down.
This ROCHAN Slingshot has an infrared sight
---
4. Outdoors Adjustable Hunting Slingshot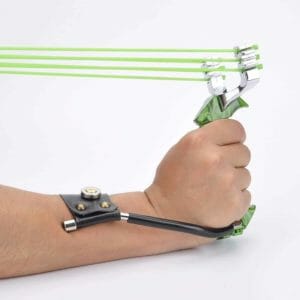 This high-quality slingshot features an adjustable, solid steel frame with extra-wide forks for stability.
The handle has an ergonomic pistol grip that allows you hold the slingshot comfortably.
The band is made out of surgical quality latex rubber that's heavy duty and gives each shot enough power to kill prey.
Also, included with this Mythic Outdoors slingshot are a replacement rubber band and 75 steel balls for ammunition. The company also offers a lifetime 100% money-back guarantee to keep you satisfied.
You can buy the NOBONDO Slingshot here
---
5. Professional Powerline High Velocity Slingshot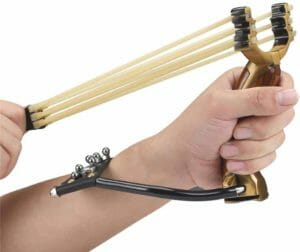 This hunting slingshot is recommended for hunting, fishing, outdoor competitions and fitness.
The durable frame is made out of aluminum alloy and features a smooth ergonomic handle with finger grooves to give you a comfortable grip. It has two strong rubber bands that give you a great initial velocity and power.
This slingshot weighs only 12.32 ounces, and is small enough to fit into pockets and bags. Also, included are a flashlight holder and a tool set mount.
Check out the NISPOTDOR Professional Slingshot on Amazon
---
6. Outdoor Life Adjustable Hunting Slingshot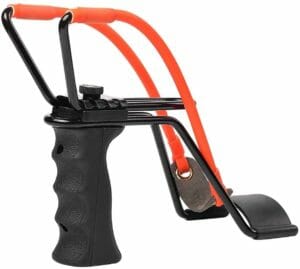 Outdoor Life's hunting slingshot features a solid black stainless steel frame with extra-large forks. It's easy to adjust, all you need is one big, steel screw.
The slingshot also has an ergonomic non-slip handle that's comfortable and easy to hold. This hunting slingshot suits any shooting style and is compatible with any size shooter.
The bands are made out of high-quality rubber and built for power. Also, included is a wrist brace for extra shooting stability.
Find this Outdoor Life Slingshot on Amazon
---
7. MoreFarther Professional Hunting Slingshot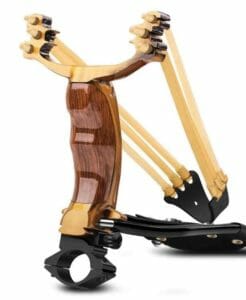 MoreFarther's hunting slingshot has a whole metal body design with a wrist support frame for extra ejection intensity.
The slingshot features a magnet design for ammunition reserve, allowing you to replenish ammo, such as marbles, quickly and more efficiently. Its flashlight/laser stents design allows you to shoot targets at night.
MoreFarther's professional hunting slingshot also comes with two different rubber band models (three-strip and two-strip), a screw key for adjustments, and about 200 steel balls to get you started.
You can find the MoreFarther Hunting Slingshot here
---
8. High Velocity Hunting Laser Slingshot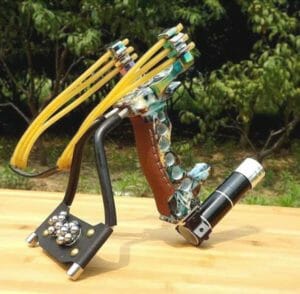 This professional slingshot features a die-casting aluminum alloy frame with an anti-skid rope, a comfortable handle, and wrist support.
It comes with 3 high-tension rubber bands that give your shots the speed and power you need. This high-velocity hunting slingshot has enough power to kill small game.
The slingshot measures 4.33 inches wide and 6.69 inches high. Also, included is a wrench tool, flashlight and 100 steel balls to get you started.
Buy this High-Velocity Hunting Slingshot on Amazon
---
9. Wisdoman Professional Hunting Slingshot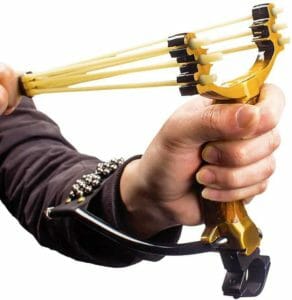 Wisdoman's hunting slingshot features an anti-rust stainless steel frame with die-casting aluminum alloy and a comfortable handle with finger grooves.
Attached to the handle is a leather wrap for wrist support. It has six strips of high-tension rubber band to give you power and speed for any shot. Also, included are two replacement rubber bands and 50 steel balls.
The Wisdoman hunting slingshot measures 6.5 inches in height and 4 inches wide between the forks.
Check out this high-velocity Hunting Slingshot Kit on Amazon
---
10. The Scout Hunting Slingshot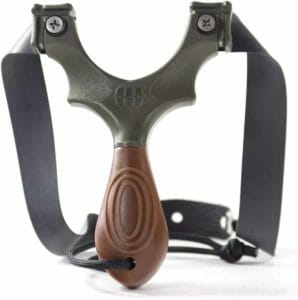 The Scout is a 100% American made slingshot that allows you to make modifications for shooting versatility with the FlipClip band attachment.
It comes with an unattached single layer of medical latex bands that can be easily replaced if you want to try out different band types.
The durable frame is made out of polycarbonate to withstand heavy use.
The handle features an asymmetrical palm swell that allows any sized hand to hold it comfortably. Also, included is a leather pouch.
You can buy the Scout Hunting Slingshot here
---
Slingshot Ammo are Important Too
The beauty of slingshots is the wide array of ammunition you can use to hit targets with. This section will give an overview of popular ammunition choices when using a slingshot for hunting.
Glass Shot/Marbles
Glass ammo is commonly used because it's affordable and widely available. They have a diameter of 1/2 or higher which most people find easier to hold than ammunition with smaller calibers. Their bright colors also make them easier to spot while in flight.
Glass shots give shooters a high degree of accuracy, but the low density of the glass does not make them the most effective ammo for hunting.
Steel Shot
Steel balls are an excellent choice for hunting because they can be used effectively to kill small prey. Steel shots range in size from 1/4, 5/16, 3/8, and 1/2, but the larger calibers will be heavy duty enough for hunting. They have an even, round shape that's close to impossible to destroy.
They can be reused over and over again, all you have to do is recollect them with a strong magnet. Be aware that steel shots have the tendency to ricochet, so they should not be shot against hard surfaces.
Lead
Lead is a high-density material that's used as heavy ammunition among hunters. Lead balls can be expensive, but you won't need calibers over .50 for good hunting ammo.
Hunters with small budgets will usually opt for chopped wheel weights made out of lead because they're inexpensive and have a high enough density to give you powerful shots.
They may give you high power shots, but lead ammo also has negative environmental and health implications. When soft balls hit hard surfaces, they can deform quickly and leach into the ground.
Stones
To shoot stones successfully with a slingshot you must find ones that weight about 0.49-0.71 ounces and approximately 1 inch diameter.
It's important to find stones with a round shape to gain as much momentum as possible. Be aware that your slingshot needs enough space between the fork ends and a pouch approximately 4×1.5 to shoot stones effectively.
Clay
Clay ammo is not only inexpensive to make, but it's also biodegradable, doesn't ricochet and leaves no shards. However, they have a lower density than glass, so you will need clay balls that are 1 inch diameter or more for serious shooting.
Like with stones, you will need a larger pouch and enough space between the fork ends to shoot clay balls effectively.
Hex Nuts
They are more cost efficient than steel balls and still give enough power for short distance shooting. Hex nuts must be placed in the center of your pouch to give you optimal shooting accuracy.
---
Final Thoughts
Slingshots can be a powerful hunting weapon when it comes to killing small game, as all it takes is the right slingshot, ammunition, and practice to learn proper techniques. When it comes to finding the best hunting slingshot for your hunting needs, keep in mind slingshot design and the type of ammunition you intend to use.