5 Great Sharpeners to Keep Your Pocket Knife in Tip-Top Condition
Every outdoor enthusiast understands the importance of a great pocket knife and knows just how useful it can be in accomplishing the many tasks that come with being in nature or other outdoor settings. Pocket knives have been around for millennia and were popularized by farmers, lumberjacks and other outdoorsy types during the frontier era.
A highly versatile tool, the pocket knife is used for cutting, sharpening, whittling, gutting fish, making kindling, opening cans and many others. In fact, if you are looking for a multi-purpose tool to help you survive in the great outdoors, then you cannot go wrong with a pocket knife. However, as with all other tools, pocket knives need to be kept in tip-top condition in order to ensure that they work optimally. To ensure this, you will have to keep your pocket knife well maintained and sharpen it on a regular basis.
Read on to find out what a pocket knife sharpener does and discover a few great options that you can use to keep your pocket knife looking good and working great.
What is a pocket knife sharpener?
A pocket knife sharpener is a maintenance tool that is used to keep the different blades on your pocket knife sharp and in good working order. Pocket knife sharpeners tend to be smaller and more compact than regular knife sharpeners. This is because hunters, fishermen, campers and other pocket knife users do not want to lug around large sharpeners while outdoors.
There are several types of pocket knife sharpeners. These include;
Sharpening stones
Electric sharpeners
Sharpening steel
Guided sharpening systems
Sharpening stones: This is the traditional and most common way to sharpen knives and other cutting objects. Sharpening stones are typically made from diamond or ceramic and are usually two sided with rough and fine grit sides. Sharpening with a stone involves grinding your knife at an angle to the stone until it reaches your desired level of sharpness. Traditional sharpening stones were large and bulky but today's options include compact sizes that can fit into pockets and backpacks.
Electric sharpeners: This type of sharpener uses current to drive a grinding wheel or belt to remove metal and sharpen your knife in a matter of seconds. Because it works so fast, it is important to keep an eye on sharpening progress to ensure that your knife is not damaged.
Sharpening steel: This is a steel rod that is coated with ceramic or diamond. It is used to realign dull knife edges by grinding them into the desired level of sharpness.
Guided sharpening systems: This system uses a variety of sharpening rods that have been mounted on a device that allows for optimal sharpening. Guided sharpening uses rods that shift in angle to accommodate the sharpening motion in order to ensure that you achieve the result you are looking for. This system is great for multi-purpose sharpening as it can be used for kitchen knits, pocket knives, axes and even fish hooks. You can learn more about how this system works:
Tips for choosing the right pocket knife sharpener
Use the following tips to find the best pocket knife sharpener for your particular needs.
Consider portability/size: Since you are most likely to be using your pocket knife outside or on the move, it is important to choose a compact size that will not add too much weight to your backpack or pocket. Your chosen sharpener should also be easily portable without sharp ages or other dangerous features that might harm you.
Choose a sharpener that is suitable for your pocket knife type: Are you using a knife with a serrated blade? How many types of blades does your pocket knife have? What metal is your pocket knife made from? The answers to these questions should help you narrow down on a sharpener that will best suit your needs.
Determine your budget: Pocket knife sharpeners come in a variety of sizes, materials and others. Some are as simple as a sharpening stone, while others are complex devices with a variety of sharpening rods and other features designed to improve functionality. Ensure therefore, that you choose a sharpener that fits your budget in addition to meeting your specifications.
Once you've decided that you're ready to buy a sharpener for your pocket knife, you need to find out which options are available in the marketplace. Below are a few reviews of some of the best pocket knife sharpeners on the market;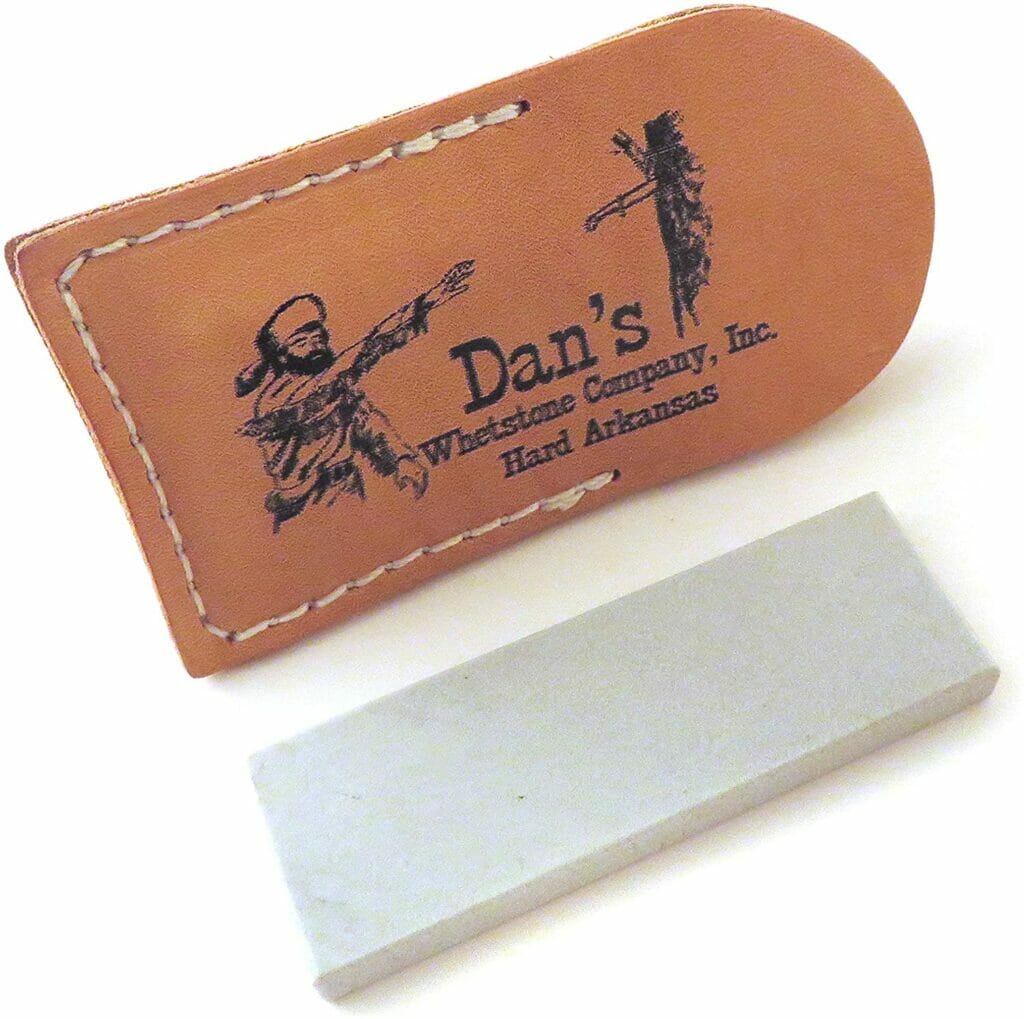 Coming in at a tiny 0.09 pounds and dimensions of 3*1*0.5, this sharpening stone is as compact and lightweight as they come. It has the following great features:
Fine grit that can be used to sharpen any cutting tool and ensure sharp and clear edges.
Genuine Arkansan stone mined in the central Kentucky Mountains.
A clean leather pouch for storage when not in use.
A variety of natural colors such as grey, white, black and color combinations of these colors.
Extremely hard surface which allows them to be used to sharpen wooding working tools and other purposes.
Pros
A hard and fine surface ensures that they produce finely sharpened tools.
A low price of only $13.
Easily portable due to its tiny size.
Durability thanks to its super hard surface.
Cons
Due to its extremely tiny size, it might not be suitable for large sharpening projects.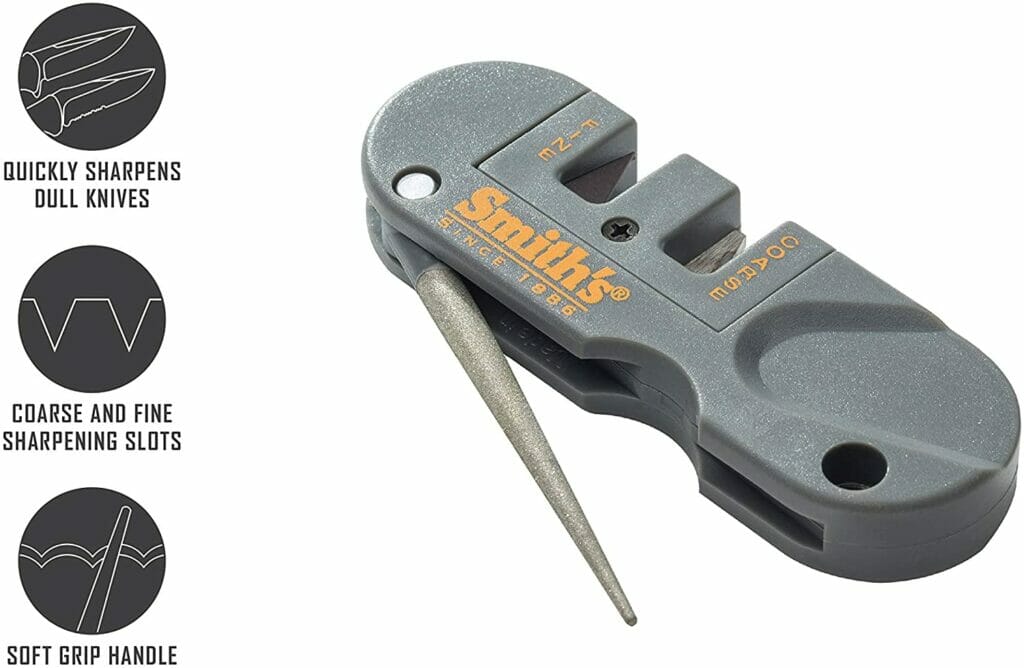 Another lightweight and compact pocket knife sharpener, the Pocket Pal is another great option when it comes to easy and efficient sharpening on the go. It has a tapered, round diamond coated sharpening rod that can be used on both smooth and serrated edges. Thanks to its preset sharpening angles, users are guaranteed efficient sharpening without damage to the knife's surface.
This sharpener has carbide blades and stones that provide quick sharpening (between 8-10 minutes) and a fine finish.
Pros
Quick sharpening and a fine finish.
A lanyard is available which can be attached to a key ring for easy portability.
Dual action through the use of carbide and a sharpening rod.
Cons
Preset sharpening angles might not be suitable for people who prefer to set their own angles.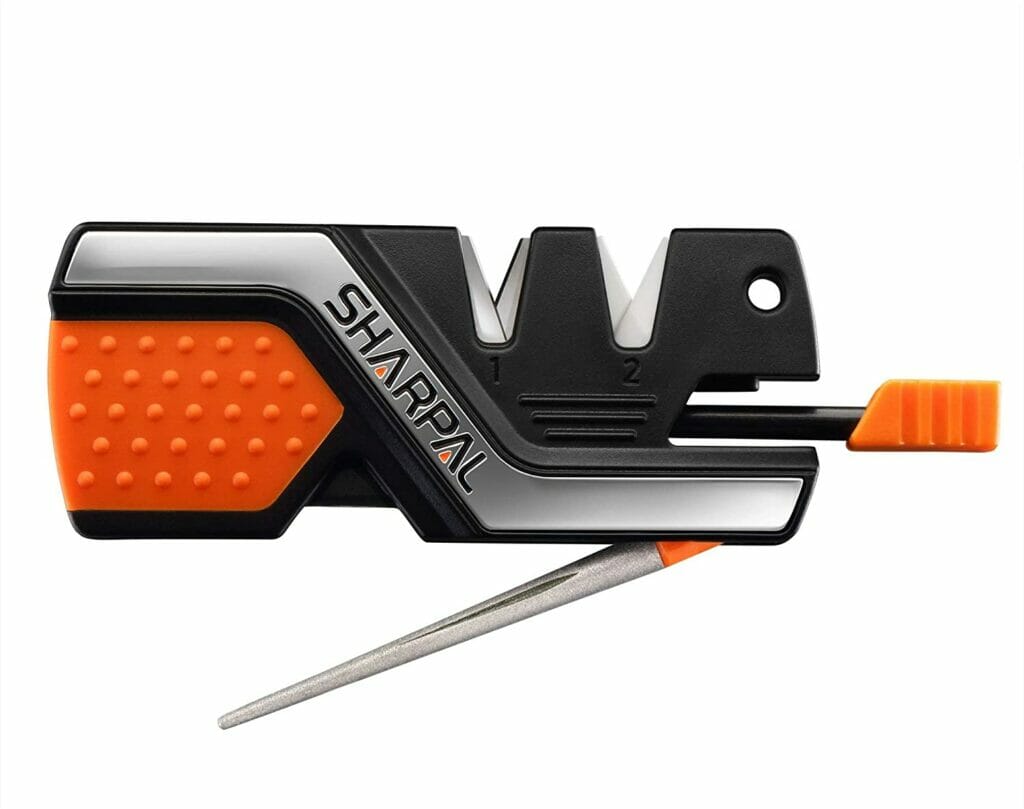 A truly multifunctional tool, this sharpener comes with a fire starter, carbide and ceramic slots which have passed the 10,000 times use field test, a whistle and diamond sharpening rod, sharpening serrations and an emergency whistle.
The sharpening slots are made of highly durable carbide and ceramic which have been demonstrated to provide long term use. A surface rubber coating allows for a strong but soft grip, allowing for efficiency sharpening with minimal risk of injury.
Pros
Demonstrated long use and durability.
Multifunctional with tools for sharpening both flat and serrated blades, lighting fires and calling for help.
Ease of use.
Great price of only $9.99 on Amazon.
Cons
Aggressive filing might end up damaging your blade but this can be countered by reducing your filing intensity.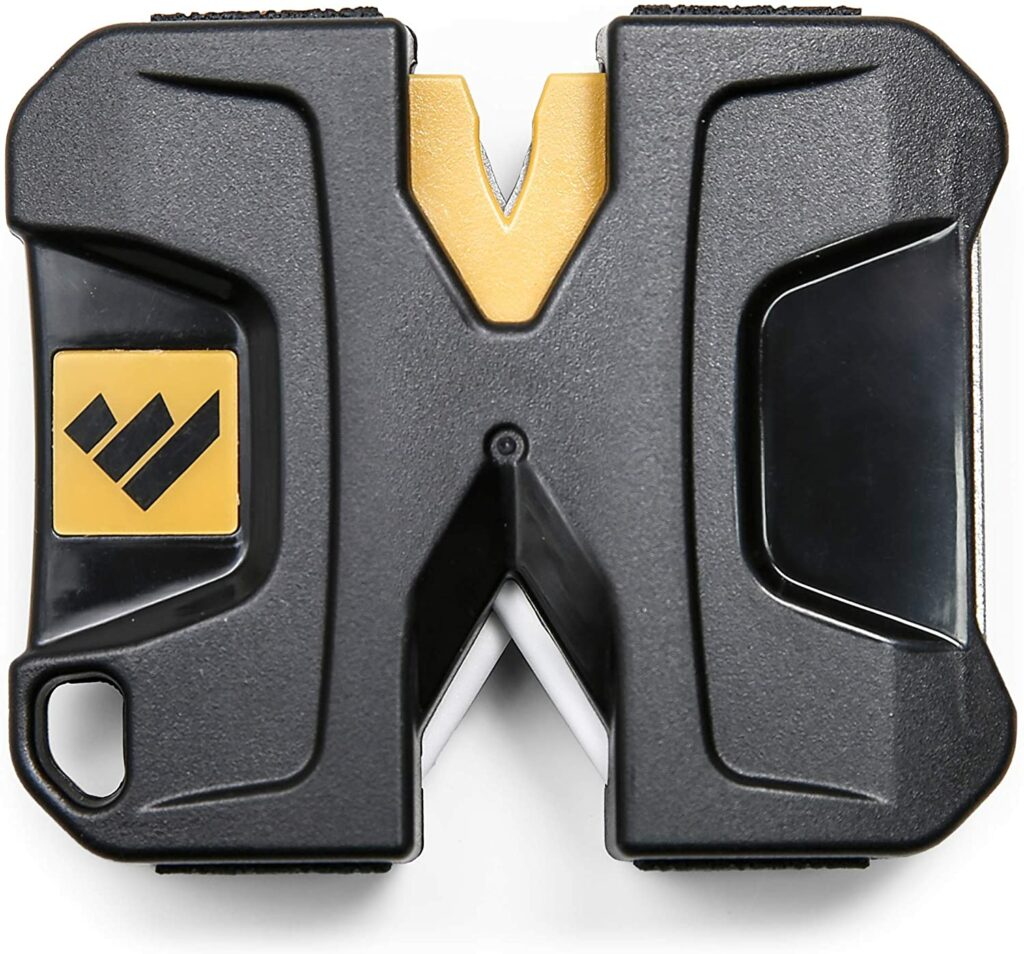 As one of the tinier and cheaper pocket knife sharpeners on the market, this tiny device still manages to pack a punch when it comes to efficient sharpening with sharp and even edges, controlled sharpening, portability and the ability to sharpen different tools such as pocket knives, axes and fish hooks.
Made of stainless steel, it is extremely hardy and durable and can withstand hard use for many years.
Pros
Comes with high quality carbides to restore dull edges and ceramic rods to provide a fine finish.
Highly durable thanks to its stainless steel exterior.
Small size ensures easy portability.
Can sharpen multiple tools including knives, axes and fish hooks.
Cons
It does not sharpen serrated blades.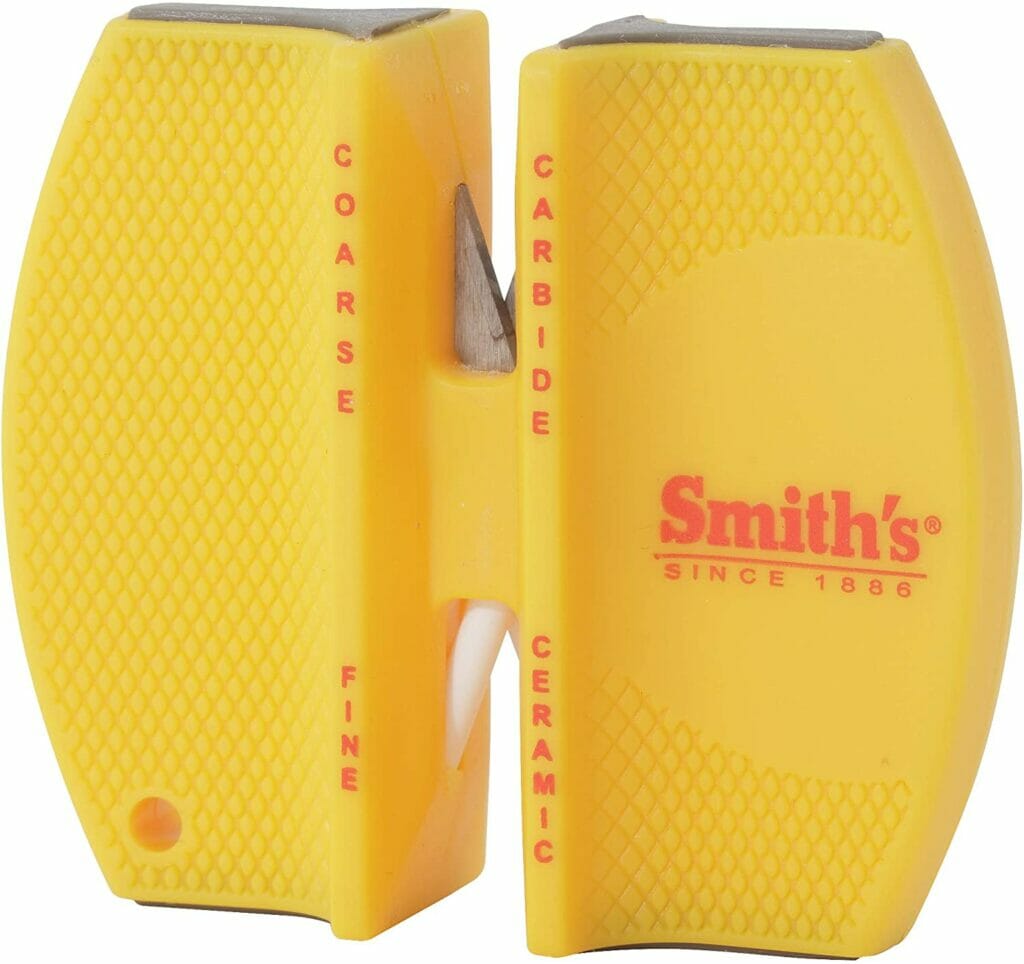 This brightly coloured and unique looking sharpener is among the most popular options on Amazon. Featuring two tungsten blades and two ceramic finishing rods, it ensures that you can restore edges on dull knives and achieve a fine finish in as few as 4 strokes.
Weighing in at just 1.6 ounces, it is portable, durable and safe to use thanks to non-slip rubber fit. It also has a lanyard hole to ease portability and reduce risk of loss.
Pros
Preset blades ensure the perfect sharpening angle at all times.
Bright color means that you can easily locate it in bags and on surfaces.
Rubber feet ensure added safety so that your hands do not slip when sharpening.
Can be used on a wide variety of blades including; pocket knives, kitchen knives, shears, serrated blades and fish hooks.
Cons
This sharpener is too fragile for heavy duty knives.
Pocket knife sharpeners are a great way to ensure that your knives work optimally and that they are in tip top condition. However, in order to ensure this, you will need to choose the right sharpeners, and especially those that are durable, portable and easy to use. By choosing a sharpener that works for your particular pocket knife, you can ensure that it stays in tip top condition and that it serves you for many years to come.