Do you know why ninja stars are used? What are the types of ninja stars available? Well, ninja stars are commonly used weapons in the martial arts of Japanese and there is a variety of ninja star's available. But the popularity of this weapon has turned it into the game and every other person is willing to try this; the equipment's efficiency and your skills of executing it in the proper manner are the two strongest pillars of this game.
The interesting factor about ninja star is that they can easily be made by taking two piece of paper and twisting it in a twisting fashion regardless in vertical as well as horizontal direction. So, you're being curious about how to throw it efficiently without going through with the complex steps then scroll down for reading the basic and advance techniques of throwing ninja.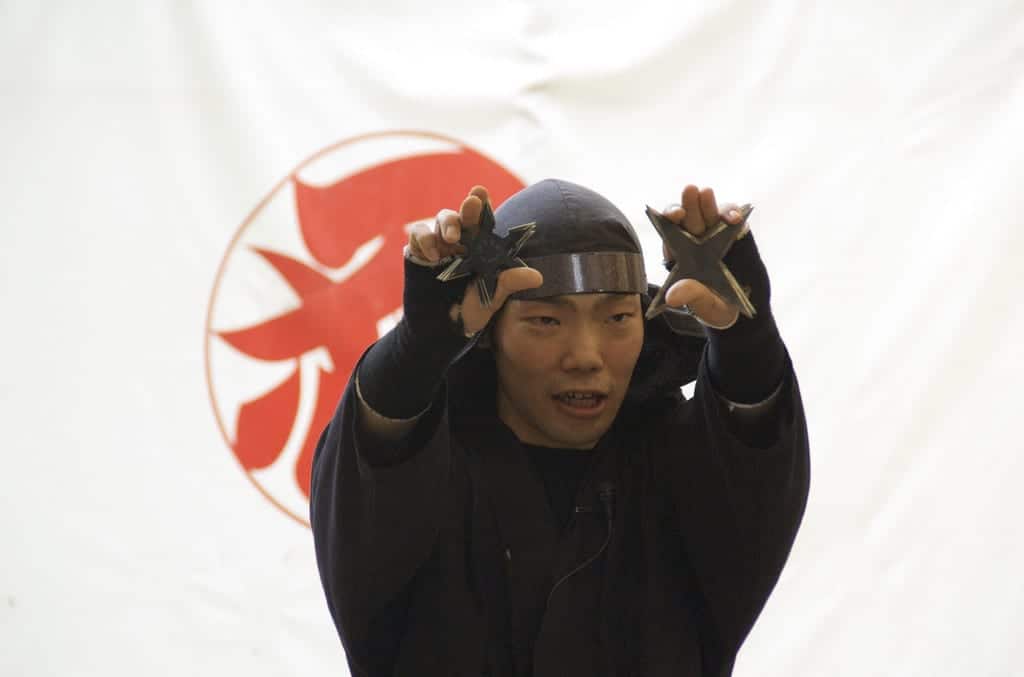 Ninja Star Throwing basics

Before going directly towards the technique, just keep some basics in your mind especially direction of ninja stars while throwing it. As we're keenly concerned with the techniques of throwing Shuriken (ninja stars), so, there are two types of executing direction namely, vertical and horizontal. You're confused in choosing the direction of Shuriken in a start?
Vertical direction is much simpler and easier as compared to the horizontal direction for beginners and horizontal direction is excellent for advanced personals. Do you ever notice a difference in throwing Frisbee in horizontal direction than vertical direction? Definitely, you got it right; you may feel more difficulties while handling the Frisbee in a horizontal one than vertical direction.
Similarly, this concept is also implemented in the execution of ninja stars. So, take a look at the brief description about basic and advance techniques of throwing ninja stars.
Here's a very useful video that teaching the ninja stars throwing technique.
Vertical Ninja Star Throw – Best for Beginners
If you're a beginner and don't know about the tactics for an accurate throw then, basic guidance is about to reveal over here so that you can make simultaneous moves for throwing ninja star while reading this article.
Grip the ninja star appropriately
Gripping is the first step in throwing the ninja star accurately; although, there are many ways are designed for all the lovers of this sport but the simple and easy method of holding a ninja star is to grip the Shuriken in between your index finger and thumb and only use the tips of your fingers. Do you know why you should be holding the ninja star from your fingertips? Basically, it provides more power, driving more towards accurate results.
Shape, size and weight of ninja star is also very important while maintaining gripping, griping farther or closer form the center are the two main important concerns for the ninja star because if you grip farther from the center then, the accuracy will be reduced but if you grip closer to the center then, you have to put much effort for releasing it. So, you should keep all these aspects in your mind while deciding the technique for holding it.
Your posture is the chief key behind the success of your execution of ninja star. Align your ninja star above your head level and stand straight. Use your opposite leg for producing leverage in your position by placing it forward like if you have gripped the star in your left hand then forward your right leg. Just remain calm and maintains patience, you might find difficulty in starting but keep practicing it. Keep your body relaxed and keep your focus on your star execution.
Now, you're about to release your first star; so, extend your arm downward and forward above the head and keep your arms straight so that the Shuriken should be executed properly. Start jerking your wrist just after releasing the star has been the most important trick to be implemented for better results.
Another factor that drives your star fly released and executed properly is to shift your weight from corresponding legs; when you're starting to make the appropriate position for release of the star, your weight should be rested on your backward leg and when you release the star, and your weight should be shifted in your forward leg.
Regular practice and being motivated are the factors that can make you master in this sport; hence, for achieving the best result in your first attempt, try all these steps precisely and carefully.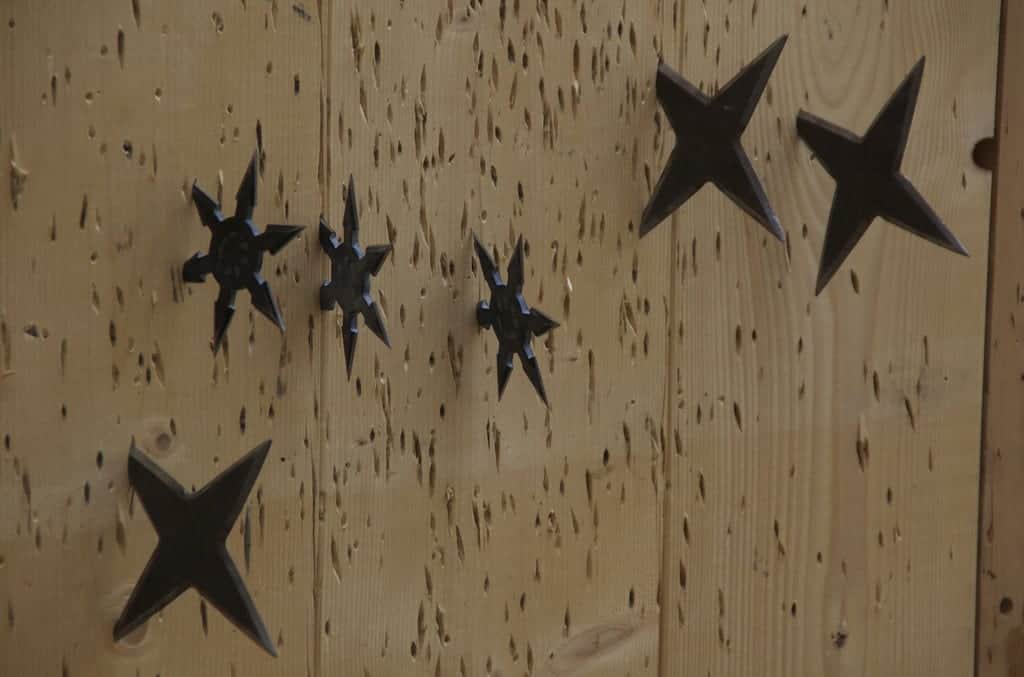 Horizontal Ninja Star Throw
As described before, horizontal throw is designed when you become expert in using the vertical technique; mostly users also suggest that the horizontal throw is specially designed for all the advance practitioners. But you should also be familiar with this technique as well, so that you can implement in your future.
The entire technique is same as vertical throw but there are some differences which should be elaborated here so that you can get the guidance for progressing towards the advance level. Hence, read some important instructions for raising your level to the advance one.
Place your same side leg forward, such as, if you've selected the right arm for releasing the star then keep your right leg forward.
Arms should be placed closer to the body and immediately, shake your arms after releasing the star.
Weight should be shifted according to the rule of the vertical throw.
Star should be gripped horizontally.
For projection of the star at a distant target, increase the angle of your elbow by lifting them upward.
Don't forget to perform the flicking motion after releasing the star.
So, these are the major considerations for horizontal throw and it'll help beginners as well as advance practitioners.
Common Mistakes by Beginners
After taking all the inevitable steps for the perfect release of a ninja star, sometimes you might fail in shooting a star to the target. Why all this is happening? Find the answer of this query in below listed mistakes,
Wrist flicking motion not performed
Improper stance
Gripping of center from too close to the center
Weight inappropriately shifted
Arms either not straight or not close to the body