Big, old trees are an adventurous playground for children. A big sturdy tree will bring out the climbing enthusiast in every child, providing kids with tree-mendous fun and excitement in these natural adventure playgrounds.
Tree climbing isn't only for children, as it's a recreational and professional activity for adults, as well.Therefore, it's important to know how to climb a tree with a rope in absolute safety. Tree climbing with ropes is part of the job for foresters and arborists who make use of these ropes to keep themselves secured as they trim and cut branches from trees.
This means that these ropes have to be trustworthy. They are your lifeline as a short fall can put you out of an arborist job forever. With tree climbing accessories, such as ropes, harnesses and helmets, you can climb to the crown of the trees and ensure your safety. When looking to buy a tree climbing rope, foresters know that the rope needs to be long enough so that half its length is greater than the tree they are climbing.
There are two main types of ropes─static and dynamic. Dynamic ropes stretch to absorb the impact of a falling climber while static ropes hardly stretch at all, making them efficient in certain situations, such as ascending a rope.
---
Do a Tree Climbing with Ropes Course–for Safety's Sake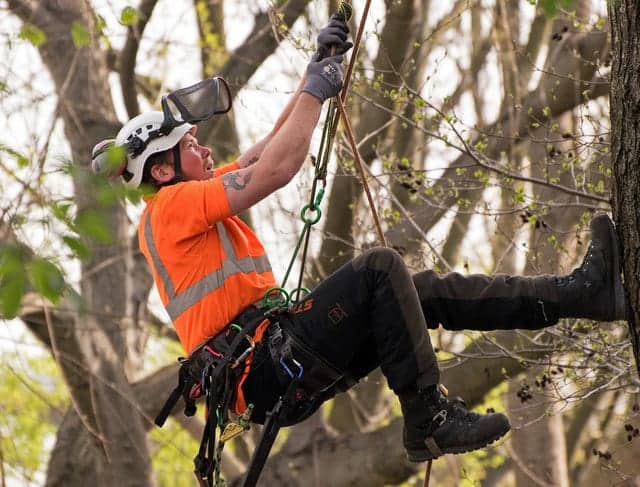 Always inspect your rope before a climb. This you'll learn on a basic tree climbing course which will teach you the necessary skills to climb big trees making use of the proper equipment to ensure safety. For a novice, it is difficult to identify hazards and how to handle safety equipment by yourself while climbing trees.
On these courses, you won't just learn to climb up and down on a rope but how to move through the treetops. You'll learn about the main knot (the Blake's hitch) and how to go about buying your own climbing gear, so that you can climb trees for leisure or for professional purposes with complete safety.
These tree climbing ropes come in different diameter sizes, and can be anything from 10mm to 13mm. Contrary to what many people believe, the smaller diameter ropes which are lighter in weight, are actually harder to grip. This is because the exterior sheath of the rope has a tighter weave. Climbers using these thinner ropes have to resort to wearing latex coated gloves if they don't want to have their hands shredded and they want to improve their grip considerably.
---
Follow the Rules and Stay Safe
Technical tree climbing is a fun, relaxing activity and the skills required are easy to learn so that just about anybody─regardless of their age─can learn how to climb a tree with a rope. When used in conjunction with the TCI system, the safety protocols ensure nobody falls from a tree and gets seriously hurt. Tree Climbers International is a worldwide organization of people who love climbing trees. TCI has written safety and training rules which have now been adopted by tree climbing schools around the world.
Tree climbing courses must always be reputable and credible. Taking a hands-on class presented by a skilled, trained instructor can be invaluable because you can be shooting questions at your instructor and get them answered there and then. If there isn't such a course offered in your area, look at a reputable online manual which comes with a DVD to show you how tree climbing with a rope is done.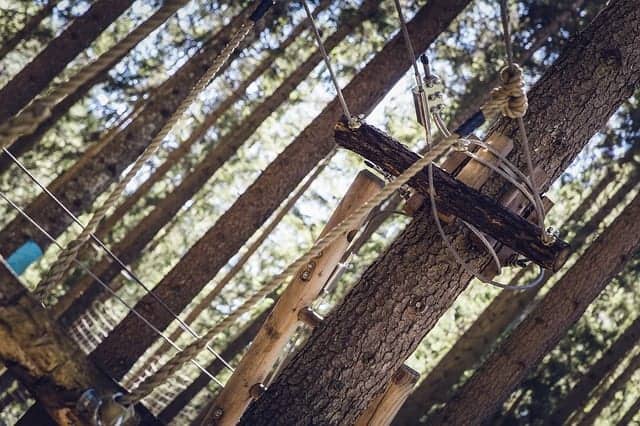 With recreational climbing, there are some basic techniques of how it's done. DRT, or doubled-rope technique, is a basic tree climbing technique which is used by beginner climbers looking to climb trees of up to 100 feet. SRT or Single Rope Technique is the method used for climbing trees which grow beyond 300ft. You'll loop the rope over a branch making use of a throw line and bag and then you'll put on a harness and helmet and attach yourself to the climbing system with sturdy knots.
---
Let's look at some excellent tree climbing rope available to you:
12-Strand Arborist Climbing Rope, 1/2″ By 150′ Blue Ox Rope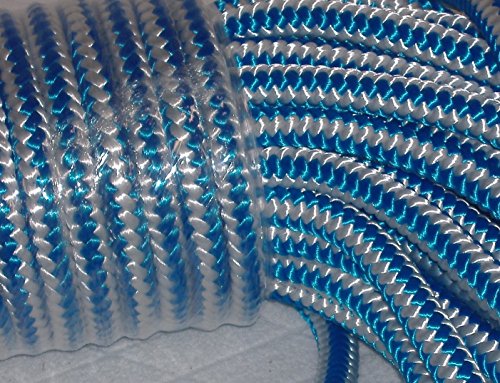 These sturdy climbing ropes are produced by Blue Ox Rope. The company specializes in premium arborist ropes for the tree industry. The company also carries a wide range of MFP, polyester and nylon ropes. Blue Ox Rope sells different sizes and types of rope to accomplish different jobs. Their 12-strand Arborist climbing rope is highly resistant to hand abrasion, twisting and sunlight. It offers approximately 8000lbs of tensile strength and offers good knot retention.
This 1/2" by 150ft rope is made in the United States and user reviews only give positive results, saying that the rope is excellent, of a high quality and to be highly recommend. One user even referred to the rope as being as strong as an ox.
>>>Click to see the latest price for 12-Strand Arborist Climbing Rope, 1/2″ By 150′ Blue Ox Rope<<<
---
Hunter Safety System Reflective LIFELINE System – New for 2015 (Single)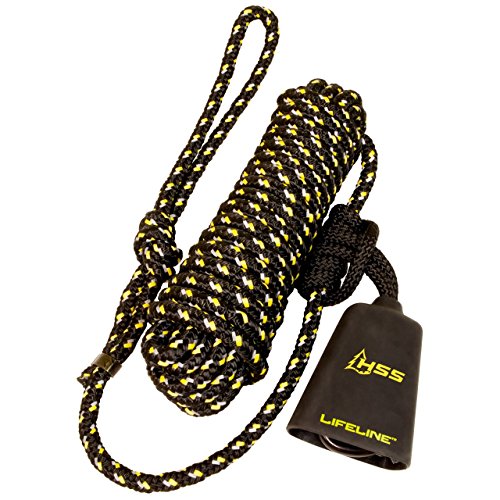 The Hunter Safety System company has some 16 years in the industry. They receive many glowing testimonials from customers who acknowledge how wonderful the company's safety system products are. With this tree climbing rope from Hunter Safety System you can be safe. The reflective material lights up and the rope is also versatile for tree stands of up to 30ft.
Along with the robust rope, you get a Recon Carabiner and Cowbell sound dampener which eliminates clanging sounds. Tree climbers who have used this rope found it to be an exceptional heavy duty lifeline which doesn't tangle. Most users say that the rope comes as a highly recommend safety rope.
>>>Check out what other customers say about the Hunter Safety System Reflective LIFELINE System<<<
---
GM CLIMBING 20ft / 50ft Accessory Cord Rope Double Braid Pre-Cut
This climbing rope is particularly designated for outdoor recreation activities such as climbing trees or for professional tree climbing jobs required by arborists. The rope is high-abrasion resistant and it is flexible and soft enough to easily tie knots. The rope is super firm and sturdy and is double braided. The rope offers resistance to moisture, and its high-tenacity polyester material guarantees super strength.
While most users love the rope and give it a good rating, other users are disillusioned with the rope, saying that while it is marketed as climbing rope, it doesn't have UIAA or International Climbing and Mountaineering Federation certification to guarantee its safety.
>>>Click here for more info about the GM CLIMBING 20ft 8mm Double Braid Accessory Cord Rope Fluorescent<<<
---
Final Thoughts
There is so much to tree climbing ropes─ it's impossible to mention everything. This is why research is so important. You'll pick up information on climbing rope weights, lengths, types of ropes, and safety aspects.
Having the right equipment, as well as being properly trained on a reputable tree climbing course, is essential for safety, and then this activity is enjoyed thoroughly and is highly satisfying.