When shooting using a crossbow, you will find that an additional rangefinder accessory goes a long way to help you improve your accuracy. Beginner shooters need all the help they can get to help them improve their shooting skills, and gain confidence when they are hunting. Our team set out to find if there exist crossbow scopes with rangefinder in the current market.
After careful comparison, we came up with the top five crossbow scopes with rangefinder. Read on to know more about rangefinders in general and why we highly rank the five crossbows in the sections below.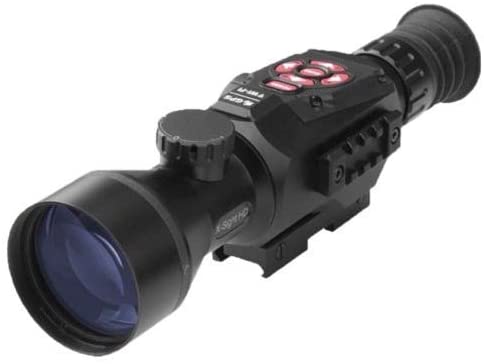 The ATN X-sight range finder is for serious hunters who hunt down big game. It has night vision capability and wireless HD streaming to connected smart devices. With these features, you can record your hunting trip and share it with your friends later. The ATN X-sight also comes with an inbuilt ballistic calculator for both short-range and long-range shots and a smart range finder with smooth zoom adjustment.
To enjoy these features, however, you have to be ready to pay more. Be prepared to cough up quite a huge chunk of cash to enjoy the benefits of the ATN X sight rangefinder.
UUQ 4-16×50 Tactical Rifle Scope
This high-end scope gives the hunter a wide viewing angle and great vision even during the night. The magnification ranges from four to 16 points making this scope great for shooting targets over long ranges. The attached electronic range finding reticle eases vision on your eyes by allowing you to vary the brightness up to five different levels.
You can mount the scope using the 22-millimeter rails that fit on 22 or 11-millimeter rails common on Picatinny and Weaver crossbows.
This high-end scope packs advanced features. Experienced hunters who want to take advantage of the tactical advantage it offers are best suited to use it. The many features might take some time to learn, but once you get comfortable using it, you will find that it is a great tool for normal shooting, rapid shooting, and shooing at moving targets.
Truglo Crossbow Scope 4X32
The Truglo scope is one of the most adaptable scopes. It fits on multiple crossbows including the Barnett Predator, the Barnett Jackal, and the Wicked Ridge. The multipurpose nature of this scope makes it a favorite for hunters who own more than one crossbow. The Truglo crossbow has a very efficient magnification and is sold at a very affordable price. Since it is not powered by batteries, there are no additional costs when you begin using the scope.
The only weakness we found with this scope is mounting. You should be very careful to ensure that you tightly screw it down before you begin shooting with the crossbow. Failure to hold it down firmly causes it to loosen after a few shots, which can distract your vision.
Ultimate Arms Gear 4×32 Crossbow Rangefinder Scope
This scope comes with compatible mounting equipment that guarantees that it fits snug on the crossbow you mount it on. You also get a protective lens cap and a cleaning kit to help you keep the lens free from dust and any debris.
The Ultimate Arms Gear scope performs well in both low lit and well-lit conditions. During our tests, we found that the two color options come in handy when using the scope. The red light option works best for shooting during the day while the green light option will help you to brighten up your shooting field of view in low-lit situations. You can also adjust the angle of elevation, which has a click adjustment value of 100 yards for every ¼ inch.
Excalibur Crossbow Range Finder Mount
The Excalibur range finder mount is designed for use with specific models of crossbows and rimfire rifles. Surprisingly, the mounting does not fit on some models of crossbows from the same manufacturer. As such, ensure that you test this range finder for compatibility with your crossbow before buying it.
What is a rangefinder and how is it used on a crossbow?
A rangefinder is an additional accessory that helps the shooter to estimate distances when using a crossbow. Estimating distances between the point of shooting and the target you are aiming for is an integral part of shooting using a crossbow. It helps you to account for factors that can affect your accuracy, such as gravitational drop, as the arrow moves towards the target.
Excalibur has designed this mount to withstand brutal use. It comes with a shock reduction system at the base that works to prevent damage from recoil after firing. The rails that hold the range finder in place make it easy to fix and remove it. This gives the hunter the advantage of easily mounting the range finder when they want to use it and removing it when it is no longer in use.
What are the different varieties of rangefinders found in the market?
Rangefinders come in different shapes and sizes. Some have more capabilities than others do. High-end rangefinders boast of a wide variety of useful features such as night vision capability and military grade markings to help improve on accuracy. Some low-end rangefinders are sold at lower prices and still pack some beneficial features.
Crossbow with Rangefinder Buying Guide
When looking for a rangefinder, you need to balance between what features are essential to you and your budget. For instance, there is no point in spending a lot of money for a military grade crossbow mounted rangefinder with night vision if you only shoot during the day. The sections below list some of the features that buyers who are in the market for crossbows scopes with rangefinder should consider before settling on which they should buy.
Accuracy
The first point why you are buying a crossbow scope with range finder is to help you improve on accuracy. For this, you need to try out different crossbows before you decide on which one to buy. When shopping for crossbows on online stores, the product reviews from users may influence you to buy a crossbow, which is not right for you. Note that each hunter has a different shooting technique that works for them. One user's great experience with a particular crossbow may not be the same for you.
Size and weight
The size and weight of the crossbow also play an important part when you are selecting the shooting tool you will be using to hunt. You need something that you can comfortably carry around without getting tired.
The size of the crossbow should fit in your arms and allow you to make movements easily so that you can easily adjust our aim. Moreover, consider how you are going to carry the crossbow. Many hunters prefer crossbows that easily fit or attach to their hunting gear for easy hauling.
Durability
The crossbow you buy should have the ability to withstand use in tough conditions without getting broken or damaged. Crossbows are quite expensive and the additional rangefinder accessories add to the cost. Look out for the crossbows that are resistant wear and tear.
You should also remember that the durability of the crossbow would also be determined by how well you care for it.
Magnification
The magnification capability of the rangefinder plays a big role in assisting you to shoot at targets that are located far from you. Varying the magnification should be easy. You don't want a situation where the target you want to shoot moves away before you have adjusted the magnification on the rangefinder.
After scouting the market and trying out different crossbows, we were impressed by the many choices available. We selected the top five that awed our team. Read on to find out which these are and why they give hunters the best hunting experience
Related Questions
Are rangefinders good in improving accuracy?
Rangefinders have the ability of improving a hunter's accuracy by a great deal. Some high-end rangefinders have the ability to measure accuracy up to half a yard ranges. Laser range finders are the most accurate rangefinders you can find in the market. Rangefinders that have night vision capability are great for shooting in the night and in low-lit conditions.
What makes a good rangefinder?
A good rangefinder is the one that combines multiple features to help you improve your shooting accuracy. Such features are a wide view, angle compensation, and illumination for low-lit conditions. Water-resistance is also a nice additional feature that helps the rangefinder to last a long time after use in the tough weather conditions that hunters deal within the woods.