What are tactical tomahawks for?
A tactical tomahawk is a lightweight, tactical axe. They have been used historically by Native Americans and other Western cultures. The tool seems to have been adapted from the Native Americans who used sharp, wedge-shaped stones attached to a longer handle. These primitive tools were helpful in everyday chores such as cutting or even hunting.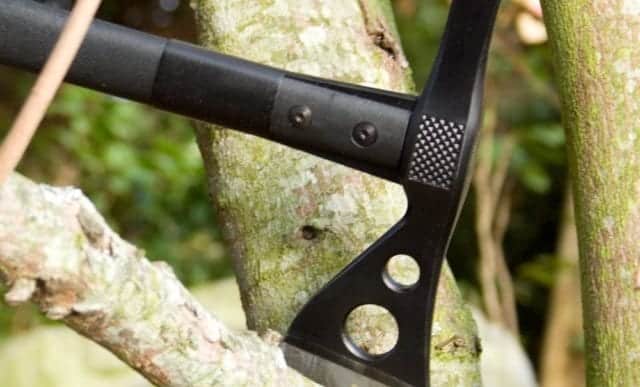 The tool was modernized by the Europeans who added the metal blade. This modification improved the tools cutting ability and made it a more efficient weapon overall. The durability of the tomahawk was also improved with these technological advancements. Today, tactical tomahawks are a great addition to your arsenal. They offer the cutting ability of an axe but they're also lightweight and easy to weld.
A tactical tomahawk has military applications including self-defense and breaching capabilities. They can also be used to cut things, dig, chop or splitting. This is a tool that's designed for multiple uses and multiple jobs, this means it is especially beneficial in a combat situation because it is so versatile. Here we will review a range of best tactical tomahawks in the market.
Tactical tomahawk vs Traditional axe
A tactical tomahawk has a lot more benefits when compared to a traditional axe, for one they are a lot more lightweight. A lightweight tool means they can be easily carried and welded. They are good for close combat fighting as well. Since it is easy to carry and maintain, the tactical tomahawk can been a great, multi-function tool.
Axes on the other hand are a lot larger and thus, heavier. They can be more of a burden to carry, especially if you're trekking or walking through dense brush. The single best feature of a tactical tomahawk is its weight – since it is a compact tool you can easily take it with you on a hike or canoe trip.
The weight can take away from some of its "chopping" ability but that's about the only con to the tactical tomahawk. In general, you won't be using the tomahawk for intense chopping or cutting. It is designed more for general tool use and defense than anything else.
The tomahawk has also been a weapon that has evolved over time, since the tomahawk has this history, it has proven its usefulness. Since they are so lightweight, you cannot use them to split larger pieces of wood but they can be used to chop brush and smaller kindling. They are also very good for field dressing game when you are hunting. A tomahawk can also be used for throwing – just like a throwing knife. We will show you a few of the best tactical throwing tomahawks later on.
Another advantage to a tactical tomahawk is that they are fairly inexpensive, a quality tomahawk will also last you for years to come. They are made to be durable so you'll be purchasing a tool that will last you a lifetime, especially if you opt for a higher quality model.
The 7 best tactical tomahawks review
More details on each individual tomahawk on the below.
United Cutlery UC2836 M48 Ranger Hawk Axe Review
The United Cutlery Ranger Hawk Axe is a great tactical tomahawk. United Cutlery is a great brand and they have constantly improved their products over time. This is a company that seems to listen to its customers. The price on this model is also nice, it keeps the tomahawk affordable without skimping on quality. The Ranger Hawk Axe is made out of a higher grade steel but manages to keep its price point competitive. In this model, United Cutlery has upgraded the metal blade, using 7cr17 stainless steel.
The handle comes wrapped with 550 paracord which is great! It gives you a secure grip on the handle while adding a feature that many users do in their own time – wrapping the handle. The United Cutlery Ranger Hawk Axe also comes with a military style compass, the only con to this accessory is that it is made out of plastic and it does not seem to be very durable. However, the compass does work very well and has been used when navigating, it has been accurate.
The Ranger Hawk Axe also looks nice, it is designed with a military type, tactical look featuring a two-tone olive drab color. The handle is also very strong and made from fiberglass reinforced material.   This is a quality product for the price.
>>>Click here to see the latest deal for United Cutlery Ranger Hawk Axe<<<
---
Browning Shock N' Awe Tomahawk Knife Revew
The Browning Shock N' Awe Tomahawk is just the kind of tool you'd expect from Browning. The tomahawk is made very well, it comes pre-sharpened so it is ready to use straight out of the box. The Browning tomahawk also comes with a Kydex case, this means you can carry it right in your gear or hang it from your belt loop. Browning has really made this tomahawk easy to integrate into your current system or gear.
The only con is that the wrapping around the handle is very stiff, but this will soften up with use. This wrap is meant to add to the grip of the weapon but it almost makes the handle more slippery at first. Once the tomahawk has been broken in, it is a joy to use. The blade is balanced perfectly and it is made of high quality metal. The best part about this tomahawk is the price point, it matches the quality of other higher priced models while staying within an affordable range for the average user. The blade holds up well to all manner of uses from throwing to chopping. It is a good, all around tomahawk for the casual user.
This tomahawk also makes a good tactical throwing tomahawk. It has a good balance and the handle is gripping. We tried in on a wood target and it sticks very well.
Click here to see the more detail for the Browning Shock Tomahawk Knife<<<
---
SOG SK1001-CP Tactical Tomahawk Review
SOG is known for making a quality product and that hasn't changed with the SK1001-CP Tactical Tomahawk. This is a lightweight tomahawk designed for a fast carry or bug out. The tomahawk also has a lot of features packed into this simple design. The handle has been wrapped with reflective paracord, this gives you the ability to grip the tomahawk but also adds functionality too. The handle carries survival gear like a ferrocerium firestarter rod, there's also a nail puller and a hammer head.
On the opposite end you get the sharp, durable blade. This is a survival tool, first and foremost and SOG has put a lot into the design to meet that need. This is also a tomahawk that has been tested in the real world and that means you get a product that is field tested for your needs. The blade is strong, sharp and forged to last a lifetime of use. SOG makes a product you rely on, it's the brand that is used by the military and police. With those credentials you know you're purchasing a quality item. The price is also very good when compared to other tomahawks.
We have never tested this tomahawk on throwing before. But some of the users said that the SOG is great as a tactical throwing tomahawk.
>>>Click here to learn more about the SOG Hawk<<<
---
Sog Specialty Knives F01TN-CP Tactical Tomahawk Review
SOG has made another fine tactical tomahawk in the F01TN-CP, however this isn't one of the strongest models available. That doesn't mean the F01TN-CP can't stand up to its fair share of abuse though. This tomahawk is strong and the blade is made very well. It's very useful for a breaching or entry tool. The tomahawk comes equipped with a spike that's very good for punching through doors or other obstacles, it will also split smaller pieces of wood as well.
Overall, the F01TN-CP is a versatile tomahawk, it can be a good addition for your kit whether you're trekking, hunting or just using it for the intended tactical benefits. The face of the tomahawk is sharp and it will keeps its edge even through repeated use and abuse. The F01TN-CP is designed to be an extraction or breaching tool, not a fighting tomahawk. It does still have advantages for self-defense but the main purpose of this tool is entry. Overall, this is an excellent tomahawk for the price. Some customers have reported breakage with the handle, however, SOG will replace the handle if you send it back in. In most tests, the F01TN-CP stood up to a variety of abuse, so it is designed to handle the everyday wear and tear. You can't beat the design and the price point.
>>>Click here to see the latest price of the SOG Tactical Tomahawk on Amazon<<<
---
SOG Specialty Knives & Tools F06P-N FastHawk Tactical Tomahawk Review
SOG F06PN-CP Fasthawk tomahawk is a smaller model when compared to some of the other tactical hawks on this list. This is, of course, by design which makes the F06PN-CP Fasthawk a lighter item. It also means that the tomahawk is easier to fit into any gear or scenario. The SOG F06PN-CP Fasthawk is made of 420 stainless steel to give you a durable, long-lasting tool for a variety of applications. The blade itself is 2 inches and has been designed to resist corrosion. It is also impact resistant.
Like many of the tactical tomahawks listed in this article, the F06PN-CP Fasthawk features a no-slip grip on the handle. It is made to fit perfectly in your hands. Weighing in at just 19 ounces, this tomahawk is ready to pack anywhere and because it is so compact it makes a great tool for field dressing game in the back country. The head of the tomahawk is made to not only be useful as a cutting edge but to give you an option to use the end as a blunt tool. This is really helpful when hammering or prying something. The F06PN-CP Fasthawk can also be used as a breaching tool when needed. Overall this is one of the better models SOG produces due to its lightweight design and price.
>>>Click here to see the latest price of the SOG F06P-N FastHawk<<<
---
Columbia River Kangee T-Hawk Review
A tactical tomahawk is a great tool and can be used for a variety of purposes, the Columbia River Kangee T-Hawk is no different when it comes to handling all of these and more. The Kangee T-Hawk has a nice SK5 carbon steel blade with a spike on the other end. The best thing about this particular tomahawk is its durability, Columbia River has manufactured the Kangee T-Hawk from a single slab of carbon steel – this approach gives the blade more strength over its lifetime. It also feels very natural in your hand, this is mostly due to the great ergonomics of the curved handle and finger grip. All of these elements combine to give you complete control while welding the tomahawk. This is also one of the best combat tomahawks due to this durability and the curved handle design.
The Columbia River Kangee T-Hawk comes with a Kydex sheath, perfect for storing your tomahawk safely and securely in your gear bag or hanging from your belt loop. The Columbia River Kangee T-Hawk is well balanced, well made and priced extremely well considering the quality. This is a tactical tomahawk that will meet all of your needs and exceed all expectations. It is definitely one of the favorites in this list. For all those tomahawk throwers, this could be one of the best tactical throwing tomahawks in the market. It has the single-piece steel construction which is widely used in making throwing knives. This improves the balance of the tomahawk when it is thrown.
>>>Click here to see the latest deal of Kangee T-Hawk<<<
---
Smith and Wesson SW671 Extraction and Evasion Tomahawk Hatchet Review
A great tomahawk from a proven brand, the Smith and Wesson SW671 is a well-designed piece of equipment for extraction and defense. This is a tactical tomahawk at its finest, not for chopping so much as splitting or shaving wood. It can also be used to field dress game if you're hunting. The handle feels really good in your hand and the balance is also nice. When it comes to deploying the tomahawk or actually swinging it, the weight is perfectly offset to your hand to help it carry through to your target. The hand is also designed for three different hand positions to give your different leverage, depending on the activity you're using the tomahawk for.
The Smith and Wesson SW671 can't really be described as a lightweight combat tomahawk but it is very good for dispatching and extraction. It does what it is designed to do and is well made, it is very hard to ask for anything more than that. The Smith and Wesson SW671 is sharpened right out of the box but may require more of an edge depending on your preference. The blade is made of 1070 steel and its made to last. A very good tomahawk for the money.
>>>Click here to more detail of the Smith and Wesson Extraction and Evasion Tomahawk Hatchet<<<
Summary
You have no shortage of choices when it comes to purchasing your best tactical tomahawk, the key points to look for include the material the blade is made out of, is it high quality steel? You'll also want to check the weight and grips. Many tomahawks come gripped in paracord which is a nice addition.
In reviewing the tomahawks above, the Columbia River Kangee T-Hawk was the obvious favorite, the Kangee T-Hawk was made of quality materials and was made to last. It also felt the best in your hand and had the best balanced weight. Overall, the favorite among all the tomahawks we reviewed.
Some of the cons included the price, it was a little more expensive on average, but it still remained competitive when considering the alternatives. If you are looking for a good tactical throwing tomahawk, make sure you choose one that has a good balance and a good grip.
Finally, the best way to choose a tactical tomahawk is to decide if you want to use it for extraction, tactical or as an all-around, every day tool. If you decide on a use that will give you a better direction for making a final decision on your purchase.