The survival axe is critical to my existence in the high country. When I go camping or backpacking in the deep backcountry, I could find myself in circumstances where a freak summer storm blows in. Obviously I didn't expect a snow storm to interrupt my trip. But because I have a survival axe it will come in very handy for me to survive this trip. Quickly the temperature drops leaving me in a real need for a warming fire. So what would I do? I would pull out the survival axe and cut down some branches to get a fire rolling. Later on, we will run through some of the best camping axes in the market today. Hopefully you can also find your best axe for camping.
Why Do You Need a Survival Axe for Camping?
The burning branches could keep me from getting very cold and uncomfortable in a deep temperature freeze caused by the snow. I may be stuck in the storm for a day or two. I may run out of food because of this delay. My camp axe would come in very handy to kill some small game like a rabbit or squirrel. I would then skin the game having food to eat to keep me going in the middle of the storm.
Here's a video on how to use a hatchet or hand axe in the wild. Check it out.
Another scenario the axe would benefit me is on a camping trip. I maybe camping in an area where stick or wood gathering is at a minimal or it's just not convenient for me to go scouting around looking for fallen wood. What would be a good alternative to this issue? I'm surrounded by trees with low lying branches. They could be too thick for me to break off. So I pull out my axe and chop down those limbs and then gather them on the ground. Now I can chop them up in to smaller sizes and have myself a nice campfire. These are uses where a survival axe would come in handy.
The Best Camping Axes and Survival Axes Review
Picture
Model
Overall Length
Features
Price
GERBER Bear Grylls Survival Hatchet
9.45 Inches
Grippy rubber handle
Full tang construction
Nylon sheath
MTech USA Camping Axe
11 Inches
440 stainless steel blade
Rubber handle
Nylon sheath
Estwing E24A Sportsman's Hatchet
14 Inches
All steel construction
Leather grip and sheath
Full tang construction
Schrade SCAXE2L Survival Hatchet
15.7 Inches
Titanium Coated 3Cr13 Stainless Steel
Hammer Pommel
Estwing E44A Camper's Axe
16 Inches
Steel blade
Sheath Included
TEKTON 3284 Fiberglass Camp Axe
14 Inches
50% fiberglass handle core
Soft non-slip rubber handle grip
Fiskars X7 Hatchet
14 Inches
Low-friction blade coating
PermaHead insert-molded head
Shock-absorbing DuraFrame handle
Zippo 4-In-1 Woodsman
21 Inches
Polymer handle with saw blade storage
Saw blade included
Heavy tent stake mallet
Tent stake puller
More review below for each individual survival axe
GERBER Bear Grylls Survival Hatchet Review
This hatchet (a scaled down axe) is constructed very well. It has a 3.5" blade with an overall length of 9.45". The hatchet is a one piece construction with the blade and handle configured with no screws or welds. This is practical because if I want to chop up some firewood. I won't be concerned with the head and handle coming apart after a long period of chopping wood.
The rubber handle feels very steady in my hand. In any kind of condition I wouldn't worry about the hatchet flying out of my hand. The only drawback to the rubber handle in my hand gets rather sweaty. This makes the grip uncomfortable and slippery. But this being a small inconvenience. This hatchet follows in Gerber's tradition of making durable and rugged hunting products.
The hatchet is definitely not designed to chop down trees but is good for chopping logs for firewood. The only weakness with this hatchet is the nylon sheath. I have to unroll the sheath then pull out the hatchet. To re-pack the hatchet I need to unroll the sheath and then put the hatchet in. The sheath then has to be re-rolled to secure the hatchet in the sheath. This is very time consuming and awkward. But apart from that, this camp axe is highly recommended.
>>>Click here to see the latest deal for the Gerber Bear Grylls Survival Hatchet<<<
---
MTech USA Camping Axe Review
The axe is compact at 11 inches long. It's black with a two-tone blade. The handle is made of black rubber and it fits nicely in my hand. I maintained a very firm grip with this axe. It comes with a black, nylon sheath kit that snaps together in 2 places. It has a belt that I can loop to my pants. But the loop broke after a little while. The sheath design should be more durable so I can hang the sheath on my pants and I don't have to be concerned it will break so easily. This issue can easily be fixed with a design that will attach to my pants making the sheath last for many seasons.
The axe has a reasonable price tag which was a pleasant surprise for me. I was able to chop through a 3 foot diameter fallen tree which took me about 30 minutes. I had to use a lot of elbow grease because the axe is not even a foot long. But I was satisfied the axe chopped nicely through this 3 foot piece of wood.
I really appreciated the fact the axe blade was in very sharp condition when I unpacked it from the original packaging material.
>>>Click here to see the latest deal for the MTech Camping Axe<<<
---
Estwing E24A Sportsman's Hatchet Review
Estwing Hatchey is definitely one of the best camping axes in the market. This is a very handsome axe made of an all steel construction. It is constructed as one piece. The steel is 1055 Carbon Steel that is heated to ASME safety requirements. Another plus is Estwing has been producing fine cutting materials since 1923 in the United States. The leather grip really felt comfortable. My grip was firm the entire time I used the hatchet. The blade has a generous 3 1/4 "cutting edge. The hatchet is a solid 14 inches long. The shiny metal contrasted with the brown leather grip makes for a very nice appearance. This is one of the finest looking hatchets I have seen. I saw on Amazon this hatchet was a number 1 selling cutting product. This testifying to the quality products Estwing has produced for almost 100 years.
One weakness I noted from a review was that the user's leather handle rotted off. The leather is very dry underneath the polish protecting it. The polish will crack and chip leaving holes in the polish. Water will leak through and ruin the leather. The leather will rot and fall off. I liked a solution one reviewer suggested to beat this problem. I would take this hatchet and sand off the polish covering the leather handle with 100 grit sandpaper. I would sand the leather until its white. Then I would use Fiebing's Neatsfoot oil and saturate the leather handle with it so it would be protected from the elements. This hatchet is well worth the asking price.
>>>Click here to see the latest deal for the Estwing E24A Sportsman's Hatchet
---
Schrade SCAXE2L Survival 15.7-Inch Hatchet Review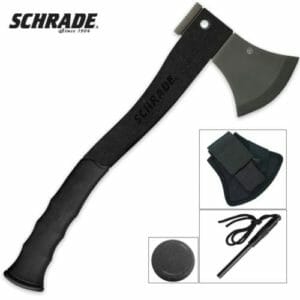 This hatchet is priced on the higher end of the scale. It is designed with a Titanium coated 3CR13 Stainless Steel head. It is the longest hatchet I found so far. The length is 15.7" which is ideal for me.
Some reviews said it was a one arm hatchet to use for chopping wood. I disagree with this because I find using two hands on this hatchet gives me more control when I swing down to chop the wood. I can put more force into the swing when I make contact with the wood. The benefit of this is I can make deeper cuts into the wood upon impact. My cutting time is shortened.
The handle is made of black rubber and it is filled with glass fiber. The handle grip is very definite and firm. The metal cutting edge is soft which makes scratching and dinging up the blade that much easier. This is acceptable because the blade is so easy to sharpen. The company sends a sharpening stone with every package. This saves money because now I don't have to purchase a sharpening tool.
The hatchet is solidly built and is very mobile and easy for me to carry on backpacking or camping trips. The blade cuts through the wood effortlessly. One reviewer complained that the blade on his hatchet scratched too easily. The blade is so easy to sharpen it will take care of this problem.
>>>Click here to see the latest deal for the Schrade Survival Hatchet
---
Estwing E44A 16-Inch Steel Camper's Axe Review
What can I say about this is an Estwing axe? This axe is durable and I know will be the last one I buy because it will last a lifetime. I read one user saying she got her axe used in 1976 and it's still working fine. Another user said He has chopped wood with his for years.
I like this about Estwing they are very consistent in making quality products. This axe hasn't changed much in its design in more than 35 years. This axe is 16" long and comes with a long lasting steel blade. I know I can chop down trees with 8"-12" diameter trunks. This is superb for an axe this size. It even comes with slits cut into it so I can carry it on my belt. You can't beat that! The cutting edge lasts a very long time.
I have put this through a lot of abuse and it keeps going strong. This axe has Estwing's signature one piece design. It has a generous 4" cutting blade which holds true and cuts deep into the wood. The backside, of the blade, has a dandy hammer for driving tent pegs into the ground. It's nice to have 2 tools on one axe. This is one of the best camping axes on the market today. I recommend this axe to any serious camper!
>>>Click here to see the latest deal for the Estwing E44A 16-Inch Steel Camper's Axe
---
TEKTON 3284 Fiberglass Camp Axe Review
Interestingly enough one of the buyers said this axe price had doubled since the time he bought his. He went on to say the price of the axe fluctuated greatly. I find this to be a downside but not one that would prevent me from purchasing the axe. If you are interested in getting one of these, make sure you check the price every now and then.
The axe is red forged with a heat treated steel head. The length of the axe is 14 inches. This axe came in very handy on my numerous camping trips. It's good for cutting small trees and hammering tent stakes. Its core is filled with 50% fiberglass. The rubberized handle gives me a very nice grip. The axe handle is designed to prevent my hand from holding the axe improperly. By holding the axe handle properly I can avoid long term pain to my hand. The blade was dull upon arrival of the package but with some good sanding the blade developed a good edge. Also the fiberglass handle will not shrink or crack like wood. Giving the handle a longer life.
>>>Click here to see the latest deal for the TEKTON 3284 Camp Axe
---
Fiskars X7 Hatchet Review
The axe has a low price tag and its diameters are 14"x7". I found it interesting that this hatchet has a feature no other hatchet comes with. Like an aluminum baseball bat the power to weight ratio increases as I swing this hatchet. The result is my swing speed increases multiplying the cutting impact through the wood. There is a cover for the blade. The molded axe head is designed so the head won't come flying off during cutting. The handle is made out of rubber but I found my hand slipped a little bit while using the hatchet. The hatchet worked well for me cutting firewood.
One user had a very negative experience with this particular hatchet that is worth mentioning here. He tested his hatchet on some termite riddled elm and pine wood. This wood was very soft and should have been easy for the hatchet to cut right through. The user had no trouble cutting the dead wood. After taking about 2 dozen swings, he noticed a 1/16" deep dent in the blade. Remember this is a brand new blade on the hatchet. He went and grinded down the blade edge evening it out. He went back to swinging away on the 4" diameter dead wood. He noticed a second 1/16" deep dent in the blade. He went back to his grinding wheel smoothing out the cutting edge to make it even. This is definitely a weakness but there is an explanation for this problem. I think he just received a fluky hatchet which otherwise isn't the norm for this quality line of hatchets.
>>>Click here to see the latest deal for the Fiskars X7 Hatchet
---
Zippo 4-In-1 Woodsman Review

This tool is unique and the name tells why. It's a 4-in-1 tool construction. There is no other design quite like this one on the market. There are two saw blades included in the package.
The handle is made of polymer and the blade is stainless steel. I am able to store the blades inside a compartment built within the handle. The axe cover doubles as a handle when I am sawing with the tool. The 4 tools- in-one concept is a real money-saver for me. I don't have to purchase these 4 tools separately. The price for this product is reasonable. Also I don't have to bring along 4 separate tools with me on a camping trip. This could the best axe for camping if you want to lighten your camping bag.
Here's a video of using the Zippo 4-in-1 camping axe
Like I stated earlier in this review the price for this 4-in-1 tool is reasonable. I don't have to carry 4 separate tools with me which would take up extra storage room. The 4 tools in one construction is also a substantial money saver.
>>>Click here to see the latest deal for the Zippo 4-In-1 Woodsman
---
Have You Chosen Your Best Camp Axe?

I have reviewed 8 different products in this article. The products vary in price range and have different features for specific functions. Each axe or hatchet has its own unique design. The benefit of having a survival hatchet in the wild is beyond description. It could mean the difference between life and death in extremely adverse weather conditions.
Any one of these products would be a wise investment. Personally I prefer the Estwing products over all the others. Why? Because they are durable, reasonably priced and they will last a lifetime. They have been making hatchets since 1923. You can't beat their experience.