One of the most important aspects of hunting is remaining unnoticed by your prey. Hunting blinds have gained popularity because they not only keep you hidden but also offer you a bit of comfort out in the field or forest. They're essentially tent shelters that are camouflaged to keep you hidden.
This article will give you an overview of the importance of hunting blinds, factors to consider when buying a hunting blind, and product reviews of the most popular models on the market.
---
Purpose of Hunting Blinds
Hunting blinds keep you disguised in any given hunting ground. They ensure that game will not spot you as easily and increase your chances of a successful hunt.The best hunting blinds will not only be portable but also give you maximum concealment throughout the hunting season.
If possible, it's best to place the hunting blind uphill from where you anticipate your prey to come from. Other recommended spots for hunting blinds include food plots or water sources. For effective execution of a hunting blind, be sure to place it in a spot that will blend in with the natural surroundings.
---
Factors to Consider
Size
Invest in a hunting blind that will fit you comfortably and give you enough room to make a good shot. For example, if you use a bow or prefer standing, look for a taller blind. Don't buy one that's too big or it will be difficult to carry and set up in the bush and may stand out enough to deter game.
Design
Camouflage designs are recommended to blend in with the natural habitat more easily. Be sure to choose a color scheme that matches with the terrain you intend to hunt in.
Good Sight Lines
Make sure that your hunting blind has enough visibility and shooting ports for guns, bows and even cameras. However, you do not want blinds with overly large windows because game, such as deer or antelope, can look through them easily and see you.
Durability
Your hunting blind should be durable enough to be left out in the bush all season long. It's important to leave out your hunting blind for the entire hunting season so that animals become used to it in their habitat. For your comfort, consider investing in a waterproof or water-resistant hunting blind to ensure that it can stand up to all weather conditions.
Scent Containment
Hunting blinds with scent control fabrics are recommended because game are less likely be deterred from your unfamiliar scent.
Noise Reduction
Hunting blinds made with Velcro or zippers can cause unwanted noise while hunting. Considering investing in a hunting blind that has zipper-free windows and entrances.
---
Product Reviews
Now it's time to check out some of the most popular hunting blinds on the market.
Ameristep Evolved Ingenuity Hunting Doghouse Ground Blind
This Ameristep Doghouse Hunting Ground Blind is ideal for firearm and bow hunting. It's a ground steel spring blind that's portable and gives you compact concealment. It features shoot-through mesh with a gun port and Realtree Xtra camouflage pattern. Also, included are high wind tie downs and a carrying backpack. When assembled, it measures 60 inches in width, 60 inches in length and 66 inches tall, and weighs only 204.8 ounces. Be aware that only three sides of the tent have screen windows. For taller people and hunters that like to shoot while standing, the windows may feel useless since they're fairly low to the ground.
>>>Click to see the latest price for Evolved Ingenuity 1RX2S010 Hunting Doghouse Ground Blind<<<
---
Ameristep Care Taker Hub Blind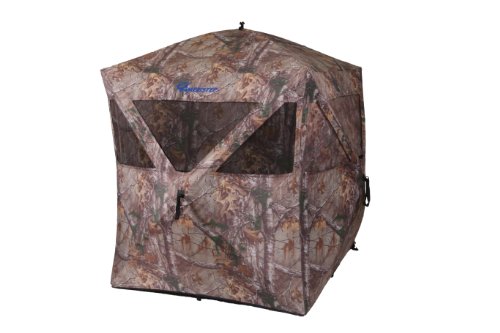 The Ameristep Care Taker Hub is made with Durashell Plus to ensure that it will stand up against various weather conditions and block out any insects in the warmer months. It features shoot-through mesh windows with gun ports. When all of the windows are opened, you'll have a 360-degree view of your hunting area. For extra concealment, this hunting blind also features a shadow guard. It measures 69 inches wide and 66 inches tall, making it spacious enough for two adults. One thing to note is the Velcro and zipper pulls can be noisy so be sure to open windows long before you intend to shoot.
>>>Check out what other customers say about the Ameristep Care Taker Hub Blind-Realtree Xtra<<<
---
Barronett Blinds Cool Factor Ground Blind
The Cool Factor Ground Blind is made with a durable hub design that's easy to set-up and take-down. It has vented roof panels to keep you comfortable in warmer weather. Its panels don't let light in, which ensures that shadows will not appear from within the blind. The windows dip lower for angled shots and feature replaceable shoot-through camo mesh. Also, included are brush holders, a gear pocket, tie-down ropes and ground stakes. The Cool Factor Ground Blind measures 75 x 75 x 80 inches and weighs 304 ounces.
>>>Click here for more info about the Barronett Blinds CF275BT Cool Factor Ground Blind<<<
---
Barronett Blinds Big Cat 350 Hub Blind
This Big Cat has a spacious interior room that measures 80 inches tall and 90 inches from hub to hub. It weighs only 304 ounces and can fit up to three people inside. It's quick to set up, easy to transport, and gives you a 360-degree view of your hunting grounds.It comes in two camouflage patterns that give game a 3D illusion of outdoor foliage. The hub design is durable and includes thick poles and zipperless windows. The Big Cat also features replaceable shoot-through mesh camo windows with two gun hunting ports. The blind also comes with a backpack for your carrying convenience.
>>>Click here for more info about the Barronett Blinds Big Cat Hunting Blind<<<
---
Primos Double Bull Deluxe Ground Blind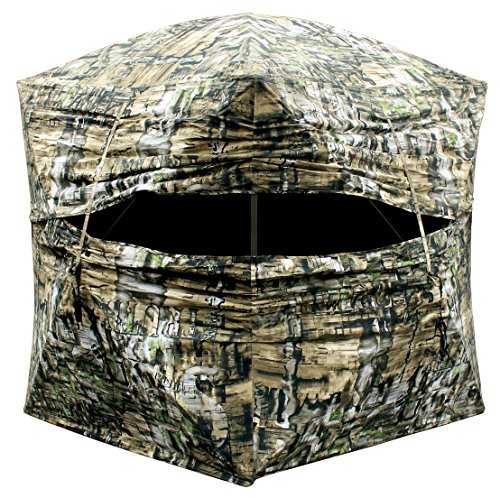 The Primos Double Bull Deluxe features the patented Double Bull hub system that's durable and easy to set up. It has an180-degree full front view window with silent slide closures. The blind is spacious but also quite heavy to transport. Hub to hub it measures 77 inches and weighs 480 ounces. It has a camouflage design and made with opaque material to ensure that you won't cast any shadows.
The blind comes with a carrying bag, but it may be worth investing in a higher quality bag for hunting trips that you'll be moving from spot to spot.
>>>Check out what other customers say about the Primos Double Bull Deluxe Ground Blind<<<
---
Final Thoughts
Investing in a high-quality hunting blind is sure to keep you well-hidden from game and increase your hunting success. Be sure to assess your hunting grounds and the gear you intend to hunt with to help find the best hunting blinds for your next hunting adventure.