As a beginner, I know how difficult it is to choose the first bow when there are so many options like recurve bow, compound bow, long bow etc.
But we are going to explain each type of bows so that you can get the perfect guideline for your first archery.
How to choose the appropriate bows and arrows?
 Select the hand either you're willing to use the right hand or left one.
Approximate the bow length of your arrows. Take your hands fully extended in front of your chest and then take your palms together then ask your companion to take a measurement of arrow length from the chest to the tip of your extended fingers.
Decide the weight of bow according to your poundage and how much you can handle a weight.
Different types of bows
The selection about complexity of bow depends up on your art of shooting the arrows accurately to the target, like if you're a beginner, our suggestion is that you should start with the simple recurve bows having no pulley system. If it more difficult to use but you can learn better with a recurve bow.
As your expertise level increases, you can progress to the more complex bows like compound one. Moreover, some bows are specified for any particular competition like recurve bows are used in the Olympic Target Archery but on the other end of spectrum, the compound bows are commonly used in the Paralympics activities.
Bow types comparison
Recurve bows
This type of bow is the simplest one as compared to the other types of the bows; it is made up of four components, namely;
1. Riser: The part of bow which is in your hands and accounts for the sight and limbs.
2. Limbs: Drawback energy is stored in this part while you're about to release the arrows at the target. Anyhow, limbs are two in number which is attached with the bottom part of riser.
3. Strings: this part is mainly utilized when you pull backs the bow and this is mainly adhered with the limb's tips.


Pros:
Recurve bows are easy to access, uncomplicated and flexible, that's why beginners should practice with it.
Recurve bows can be used for hunting and it is commonly used in the archery competition. When it is about the speed of the recurve bows, the expected velocities of the recurve bows are about 190 FPS (feet per second). The recurve bows are also not as expensive as compound bows, which is great for some who just started archery.
If you are looking for a recurve bow, You can check out our top 5 review here.
Cons:
Recurve bows are harder to use and the learning curve is steeper compared to compound bows.
Body's posture is an important part of learning how to use a recurve bow. You will also need to choose the right poundage in order to maintain the good body's posture.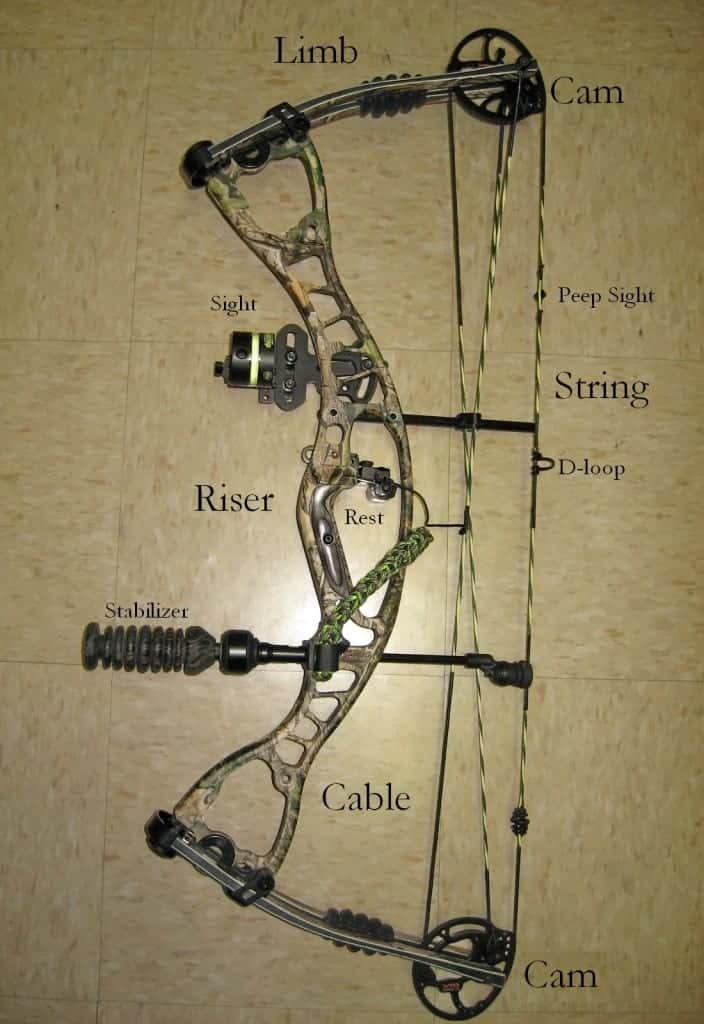 Compound bows
Compound bows are the most complex and complicated version of the bows, which is usually opted by many professional archers but some contributing factors make this type of bow much easier than longbow.
It is mainly composed of a string, a riser and two limbs but a string is different than the recurve bows due to the placement of cams at the limb's tips.
Compound bows are easy for releasing arrows and the placement of cams at the limb's tips makes it good archery for hunting.
Accessories can also be attached with bows such as triggers and sights for optimizing the accuracy of arrows on target.
In US, compound bows are now become famous due to the instant satisfaction and anticipated outcomes.
Read this top 5 review post if you are thinking of getting a compound bow.
Longbow
Longbow is one of the most famous types of bow and the differentiating feature of long bow with other types of bow is that it contains only two parts namely string and bow.
It is mainly made up of wood but now it is available in some other materials as well. It is also believed that longbow is another difficult bow for fixing a target and firing the arrows exactly at the target.
Longbows are also known as traditional archery because it resembles the ancient style of bows. By practicing with longbows, skill of target fixation along with anticipation of accurate result can also be obtained.
Here are the top 5 longbows that we suggest.

Compound bows vs. recurve bows
• Body
Recurve bows are made up of bow as well as string but compound bows are made up of strings, two limbs and pulleys.
Along with body shape, material of both these bows are also different, recurve bows are mainly made up of wood, yet compound bows are made up of carbon or aluminum.
• Accuracy and power
Recurve bows are not as inherent accurate as compound bows. Compound bows are more energy efficient and durable, promoting the greater accuracy and power.
Longbow vs. recurve bow
Longbows and recurve bows are very different rather in accuracy or power. Longbows are very difficult to use and straight in shape but recurve bows are rounded at the end as well as to require less power to use.
Another main difference in between the long and recurve bows is that the long bows were traditionally made up of the yew wood but the recurve bows are made up of fiberglass.
Hybrids of archery bow
If you've sufficient amount of knowledge about the types of bows, then you can easily choose your favorite bow for archery.
Apart from the basic bow types, the hybrids of recurve and long bows like reflex longbow are also introduced in the market for the ease of the archers.
Though, hybrids are the best modification of the bow but if you don't know the art of using it then it could be useless for you. So, try to practice with the basic types of bow and then progress towards the complicated types of the bows.