The best part about a hammock for camping is that it's a brilliant addition around camp. The reason for this is that if you're not sleeping in it, it can be used to store all those odds and ends that you use around camp and which can be quickly retrieved.
The fact that most hammocks fold down to a mere 14oz means that you can easily pack one or two into your backpack and ensure versatility around your camp site.
Setting up a hammock is easy-peasy and simply involves clipping two nylon straps around sturdy trees making use of a basic knot. That's the beauty about a hammock, too – if your camp site doesn't offer you peace and quiet, simply take your hammock away from the noisy campers and get your good night's rest.
---
Double Hammocks First Choice
Camping hammocks are an ideal camping accessory and are available in lots of trendy styles and colors. The double ones are best, even for just one person, as they are longer and wider and provide a feeling of spaciousness.
---
A Number of Accessories to Enhance your Hammock Experience
Many of today's hammocks come with a padding layer which will help with keeping you warm, but also to ensure ultimate comfort in your hammock. Some come with pillows and others with wheels and canopies. A hammock is particularly ideal for hot nights, and with a mosquito net, you can literally sleep under the stars with a fresh breeze.
---
Let's take a look at some popular hammocks to enhance your camping experience:
1. Eagles Nest Outfitters (ENO)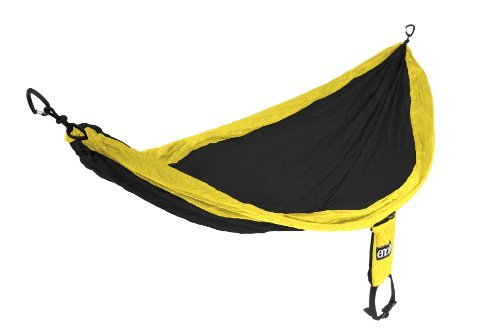 This high-strength hammock can cater for weights up to 400 lbs. It features 70D high tenacity breathable nylon taffeta, as well as triple interlocking stitching for added strength. The hammock itself weighs 17oz and is easy to set up and take down.
This 3-season hammock doesn't come with any suspension which is a bit of a drawback. Tree straps can then be purchased from different manufacturers including ENO. The Eagles Nest Outfitters hammock is a bit smaller than most other hammocks, with dimensions 112" x 55", but then it fits more easily between trees that would be too close for larger hammocks.
>>>Click to see the latest price for ENO Eagles Nest Outfitters – SingleNest Hammock<<<
---
2. Kammok Roo Hammock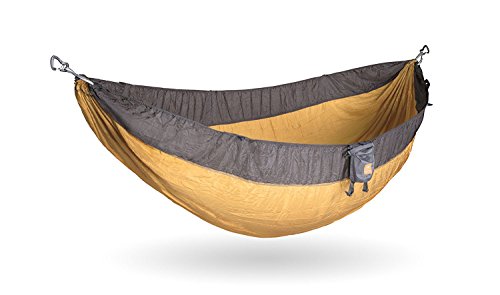 This is an ultralight, double parachute hammock designed to be tear resistant. It can cater for either one or two people. It measures 10ft long and its width is 5 1/2ft. It can hold up to 500 pounds with its triple stitching. The hammock is lightweight, weighing just 23oz when compressed down into its stuff sack, making it super portable. Kammok, themselves, claim that they are the world's best camping hammock.
The hammock comes with 2 heavy steel carabiners and 1 inch thick tree straps which are 6ft long. This hammock comes with a gear bag for easy transportation and you get a lifetime warranty with this hammock.
>>>Check out what other customers say about the Kammok Roo Double Camping Hammock<<<
---
3. Neolite Double Hammock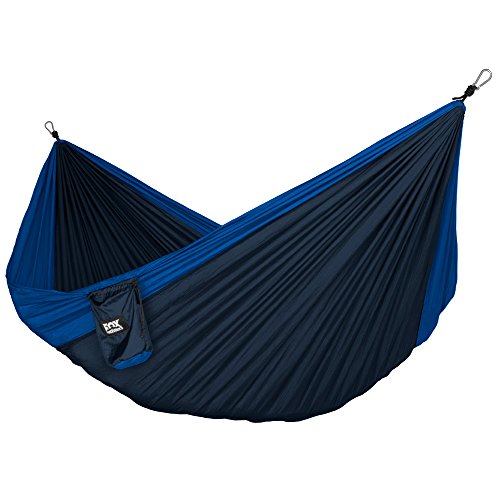 With this hammock, you get 2 robust steel carabiners. You also get 2 super-strong 9ft 10'' nautical-grade ropes for hanging with tree-friendly rope covers designed to protect the trees. The hammock is quick and easy to set up. This is a double camping hammock made from high-strength, quick-drying parachute nylon.
The hammock measures 10ft, 6 inches long and is 6 ½ft wide and can contend with weights of up to 400 pounds. It comes in a drawstring stuff sack for easy transportation.
>>>Click here for more info about the Neolite Double Camping Hammock<<<
---
4. G4Free
This high-strength hammock which can take up to 660 pounds, is made from quick-drying parachute nylon fabric and constructed making use of heavy duty triple interlocking stitching. The hammock comes with mosquito netting that attaches to the hammock. When the netting is in use, it unzips from the inside and the outside for easy entry. Its ideal for camping and measures just over 9ft long and 4ft wide. The G4Free is a hammock suited to one person. For packing, it folds down to 13 by 11 inches, weighing just 28 ounces. Included are 2 robust steel carabiners and 2 extra tough 9ft 10-inch nautical grade hang ropes.
>>>Click to see the latest price for G4Free Double Camping Hammock<<<
---
5. SEGMART Camping Hammock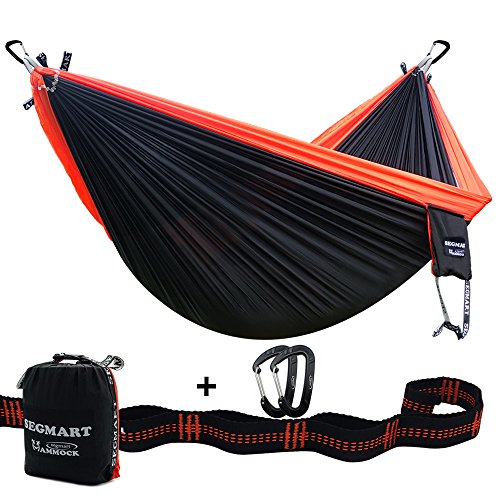 Made from durable nylon material, this double hammock comes with resilient tree straps and tough, but lightweight, carabiners made from a 7075-grade aviation aluminum alloy. The hammock measures 118″x78″ and can take weights up to 600lbs. Segmart is dedicated to providing quality leisure goods, and this hammock of theirs comes in a bag for easy portability.
This particular camping hammock is perfect for a wide range of outdoor environments. You can stretch it out and use it as a ground-sheet, bearing in mind that because it isn't waterproof, you can't spread it over a wet surface. The Segmart Double Camping Hammock also comes in 9 attractive colors.
>>>Check out what other customers say about the SEGMART Camping Double Hammock<<<
---
6. Wise Owl Hammock for Camping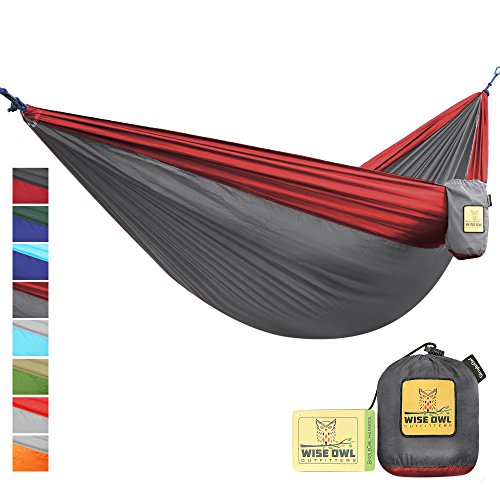 This camping hammock from Wise Owl with triple interlocking stitching is made of quality 210T parachute nylon. The hammock is designed to give you a comfortable, relaxing experience, and therefore, comes with a 100% Satisfaction Guarantee. Wise Owl loves the outdoors as much as anybody else and they offer quality products at affordable prices.
The single hammock from Wise Owl is 9ft long by 4 1/2ft wide and weighs 16 oz. Wise Owl also brings out a double hammock which is 10ft long. Wise Owl's hammocks come with carabiners attached to each end and 2 ropes to hang it up.
>>>Click here for more info about the Wise Owl Portable Camping Hammock<<<
---
7. TOMTU
This lightweight, quick-drying nylon camping hammock made from 210T Parachute Fabric comes with a mosquito and bugs net. One side of the mosquito net is connected to the hammock while the other side is zipped on. The TOMTU comes equipped with 2 Carabiner Clips and 2 Tree Straps enabling you to set your hammock up in seconds.
The hammock comes in a handy drawstring sack to make the parachute hammock easy to carry. The mosquito net hammock can be folded into this sack and attached to the side of the hammock when not in use. You could say that this versatile Tomtu Jungle Hammock with Mosquito Net is an ideal travel and camp buddy for all your outdoor adventures.
>>>Click to see the latest price for TOMTU Double Nylon Camping Hammock<<<
---
Final Thoughts
When you choose a hammock for camping, think of weather conditions and whether you'd need a bug net or a rain fly. Think of whether your hammock will be your primary sleeping spot or just for lounging about in.
Remember that body types with reference to weight will also play a role in your hammock choice. Fortunately, manufacturer's specifications provide weight limits and hammock dimensions. This review is based on camping models which have been made with strong materials. Each one comes with its own pros and cons and are suited for 1 or 2 people.
Some hammocks require the additional purchase of a suspension system, while others come fully equipped. This is something to keep in mind when considering your choice of camping hammock.
Choose the right lightweight hammock and you're guaranteed a safe and comfy resting place around camp and for every other outdoor adventure you take part in.