For those who are looking for the best longbow to suit their needs, the wide array of choices may appear to be more of a hassle than help as it presents the problem of tyranny of choice.
In the middle ages, particularly in England and Wales, longbows were used and were traditionally called as English or medieval longbow.
Back in the old days, these longbows were among the top weapon choices to be used in their battles. This weapon, which was usually made from yew tree, was about 6 ft. in length and amazingly, one can hit the target from half a mile. This is especially true for experienced archers.
In current times though, the longbow has ceased to be as popular as it was before because in terms of the improvement and technology used for this weapon, it isn't as highly developed compared other types of bows. These days, longbows are reserved for the more advanced and experienced archers, who even feel prouder when they are able to shoot an arrow from the longbow accurately.
Read on and find the best longbow that is most suited for your needs.
Bear AFT2040145 Montana Long Bow
[easyazon_image align="right" height="500″ identifier="B0017TGM96″ locale="US" src="https://deadbullseye.com//www/wp-content/uploads/2015/05/21TKmSllC4L.jpg" tag="deadbullseye-20″ width="225″]Designed by Bear Archery, this bow measures 64" – and is smooth and quick. It was first introduced in the late 90s and features a slightly reflexed design with tapered limb lamination.
The Montana's limbs are gracefully designed, faced and backed with high-quality fiberglass, and the toughened limb tips are handcrafted. Its black hard-rock maple riser's limbs are overlaid with clear white maple and come with a standard soft leather grip and FastFlight strings.
The Bear AFT2040145 Montana Long Bow also gets a lot of positive reactions from expert archers because of its featherweight lightness and how quiet it is when used.
It is definitely lighter than recurve bows anywhere. And despite the fact that the grip is not exactly contoured to fit the human hand as it's sort of blocky, it doesn't really hinders the archer's performance.
[easyazon_link identifier="B0017TGM96″ locale="US" tag="deadbullseye-20″]>>>Click here to see the latest Amazon deal for the Bear AFT2040145 Montana Long Bow<<<[/easyazon_link]
Handmade Longbow Flagella (Hungarian Style)
[easyazon_image align="right" height="500″ identifier="B00PJI6188″ locale="US" src="https://deadbullseye.com//www/wp-content/uploads/2015/05/313hqibaw4L.jpg" tag="deadbullseye-20″ width="300″]This longbow has been made to take the place of the usual bows and has a more advanced arrow speed and design plus, this is easier to use. It features a string and flagella-like bow.
However, despite the fact that its power is not as par with the latest crossbows, this still remains a potentially good hunting weapon – you can certainly feel proud using this Hungarian style longbow even if you're a beginner, although it will require you to exert much force for you to hit the desired target.
It measures 145 cm and has a 30 – 60-lb. draw weight which is relatively high versus the old-style longbows and allows you to shoot even within 40 yd. without much of a hassle. The arrow speed is dependent on how the arrow string is pulled.
Manual bows are great. When you are wondering why, the reason is simple – you can obviously control the arrow speed.
The overall weight is about 1.5 kg and the string length is 131 cm – it doesn't matter how far you go about your hunting trip as hanging the bow on your shoulders is without any hassle.
[easyazon_link identifier="B00PJI6188″ locale="US" tag="deadbullseye-20″]>>>Check out what other customers say about the Hungarian style Handmade Longbow<<<[/easyazon_link]
Hickory-Backed Tri Lam English Longbow
Great for both enactments and shooting range, the Tri Lam English Longbow's sophisticated look is just at par with the power it yields.
This bow qualifies with the standard size as prescribed by the English Longbow Society which is equivalent to 8' to 5' in width and approximately 72' in length, which makes it the perfect choice for achieving smooth draws and almost-perfect shoots.
It also features a noticeable plate and a nice vinyl leather grip which is intended to enhance handling and amplify its accuracy level accuracy.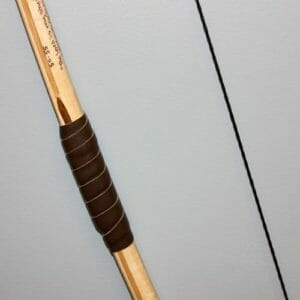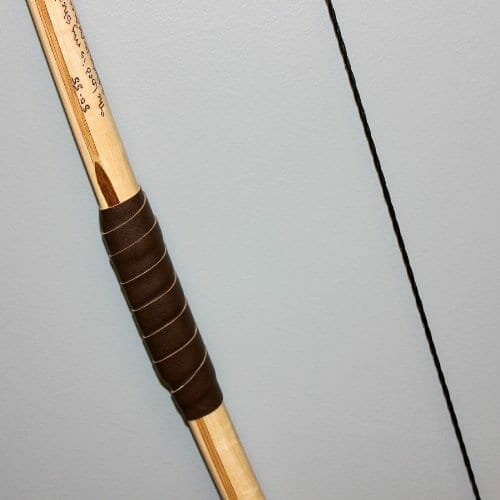 This traditional hunting weapon features a 30 – 35-lb. draw weight.
One caveat though is that everyone should take note of the potential bodily harm that this weapon might cause. With that, this weapon must be used with great responsibly and extraordinary diligence.
Customers can choose from a variety of longbow dimensions ranging from 28' to 31' and includes a string and loop style bow stringer. It can be utilized for daily target practice and common use.
You can use this Tri Lam English Longbow for 10 rings on target hassle-free that is, provided it is used with constant practice in mind coupled with a really nice 55-lb. spine weighted arrows (wooden).
On the whole, it features accuracy of shooting, overall lightweight and great quality handcrafting.
[easyazon_link identifier="B00JMTZD16″ locale="US" tag="deadbullseye-20″]>>>See the latest price for TRI LAM English Longbow here on Amazon<<<[/easyazon_link]
White Handmade Longbow Flagella Magyar Reiterbogen Horsebow (Traditional Bow)
[easyazon_image align="right" height="500″ identifier="B00DCWTCUM" locale="US" src="https://deadbullseye.com//www/wp-content/uploads/2015/05/31Sz89dcML.jpg" tag="deadbullseye-20″ width="300″]For those looking for traditionally styled bows, there are actually two options to choose from – recurve (you can check out our best recurve bow reviews here) and longbows.
This a reliable lookout you should definitely consider. This bow features a simple bow and string design with the bow featuring a cow leather cot in order to enhance its handle while giving it a nice look as well.
This measures 148 cm with a 142 cm string and enables you to shoot at lengths which other modern-day crossbows usually fail to accomplish.
It weighs a total of 1.5 kg and has a 20 – 80-lb. draw weight which can hardly be found in any traditional longbow and a 28 inch draw length that ensures that it is pulled back more before being released.
[easyazon_link identifier="B00DCWTCUM" locale="US" tag="deadbullseye-20″]>>>Check out more details on Amazon<<<[/easyazon_link]

Narrow Hickory English Longbow
Made by Rudderbrows Archery, the Narrow Hickory English Longbow is a fine piece of equipment seen as ideal for target training, hunting, and used by reenactment enthusiasts.
This bow has everything that an experienced archer searches for in a competent bow, but it's also not totally bad for any beginner bowman.
Simple, smooth and exceptionally fun to shoot with, either in the wild or the range, and the accuracy level will definitely amaze you.
These bows measures 72", following the 8/5 rule of historical that when strung, forms a slight 'D' shape, giving a natural feel to the contours of the hands.
The standard 28" draw length is pre-set, though this bow is safe up to 31" and also available in draw weights of 25 to 50 and includes bow string and bow stringer. Wrapped in tough vinyl leather, the hand-grip will surely last through many pulls for years to come.
[easyazon_link identifier="B00JS57QFU" locale="US" tag="deadbullseye-20″]>>>Click here to see more details and reviews Amazon<<<[/easyazon_link]