The earth in the 21st century is a dangerous place. Not only is there an intensification of terrorism around the world but earthquakes, floods and heatwaves threaten to bring disaster and loss.
A disaster can strike in the city or in the country and we can all learn from the motto of the boy scouts – to be prepared and to have courage in all difficulties.
Survivalists need a strong mental mind-set. This is a critical survival priority in the face of any kind of adversity, whether in the city or wilderness. The Red Cross may well set up a makeshift tent in the city and provide shelter, food and water for a few days, but in an outdoor scenario in the wilderness, you're on your own.
---
Outfitting Your Backpack with the Right Equipment
In any emergency situation, you have to eventually start thinking of food. It is important to keep up your strength. The food you have will be your fuel to make you think strategically, get your body to function, and to find a way out of the dangerous situation you find yourself in.
Hunger, thirst, cold and heat are enemies of survival, and getting a fire going offers multiple benefits in a wilderness emergency as it can provide warmth. There is also nothing like hot, cooked food to boost morale, provide a sense of security, and to provide encouragement.
The Best survival cooking gear is lightweight and compact. The next thing is to consider what the survival kit is made up of – pans, pots, plates, cups and a stove, perhaps?
Here, we look at some of the best survival cooking gear available:
---
1. Teaker Camping Cookware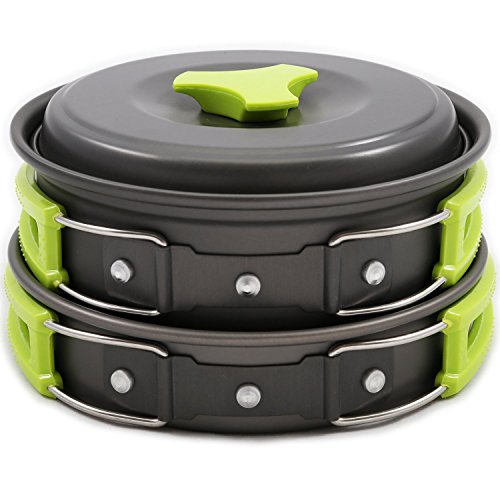 This outdoor cooking equipment ticks the right boxes in terms of being lightweight and compact. The full camping pot, cooking gear camping equipment comes with a FDA approved, non-toxic, anodized aluminum non-stick pot measuring 5.9″x 2.83″ with a pot cover and a non-stick pan measuring 5.98″x1.46″.
The cookware, ideally suited for 1 or 2 people, comes with handles with plastic insulation which prevents burns. The cookware comes with 2 BPA-free bowls and soup spoon, wooden spoon spatula, as well as a cleaning sponge, all niftily packed in a nylon travel bag.
>>>Click to see the latest price for Teaker Camping Cookware Outdoor Cooking Equipment<<<
---
2. HealthPro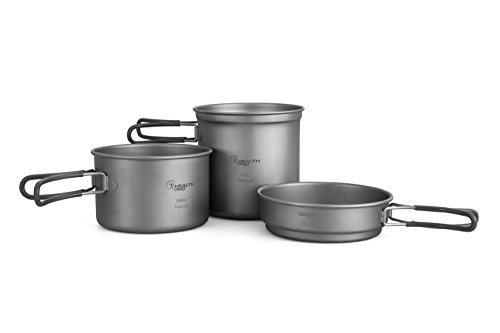 This lightweight titanium 3-piece pot and pan camping or hiking cookware set is great for any survival situation as it is lightweight. The set includes two pots – a 27-ounce pot, a 40.5-ounce pot and a 13.5-ounce frying pan that doubles as a 2-way lid. The space it will require in your backpack will be minimal. The outdoor cookware is easy to clean and durable. The non-allergenic cookware won't leave an unpleasant taste and when looked after, it won't rust. You can cook 2 items at once with the benefits of double boiler cooking. The set comes with a nylon mesh storage bag. This titanium cookware set is one of the lightest 3-piece sets, weighting in at just 9.2 ounces.
>>>Check out what other customers say about the HealthPro Titanium Lightweight Cookware Set<<<
---
3. Wolfyok Outdoor Cook Set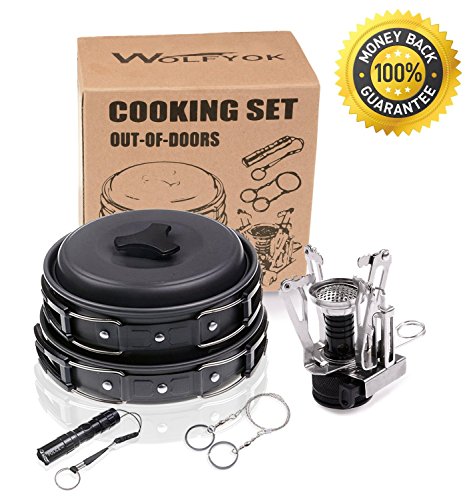 Hikers and campers love this set as it comes complete with a camping stove. The pan that is included in this set is made of anodized aluminum material and is non-toxic, and very importantly, non-stick. Important to survivalists is the fact that the cookware, suited for 2 people, is easy to carry and  to wash.
The pot, frying and soup spoon come with foldable handles to store in tiny vacant spots in your backpack. However, all items in this set can be stored in a mesh bag. When you invest in this Wolfyok non-stick camping cookware you get a few outdoor accessories free of charge ─ stainless steel wire saw, a flashlight and the very useful mini stove.
>>>Click here for more info about the Wolfyok Outdoor Camping Cookware Set<<<
---
4. Arcadia Outdoors Cookware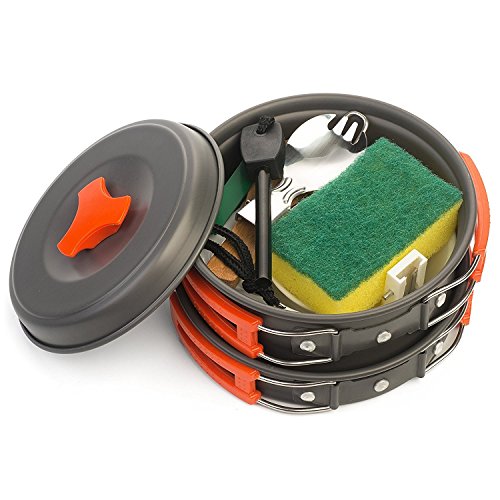 This survival mess kit for camping or backpacking is user-friendly and cost-effective. It you want portable outdoor cookware, then Arcadia meets your needs. Arcadia Outdoors has been specifically designed for the 21st century explorer.
The cookware is built with lightweight anodized aluminum which is also robust and durable. The set comes with safety handles to prevent cooking burns. For convenience, the set folds into one single set and weighs just a mere 14 ounces. Arcadia Outdoors are so confident about their product, they offer a lifetime guarantee.
>>>Check out what other customers say about the California Basics Arcadia Camping Cookware<<<
---
5. KevenAnna Cookware Set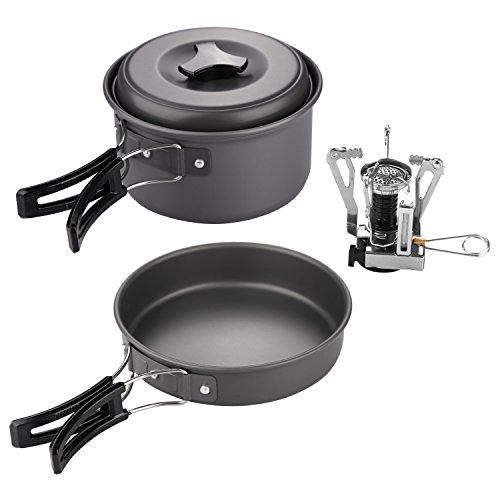 This is a 10-piece set designed for the outdoors. Items in this collection include – a pot measuring 5.70'' x 3.14'', a frying pan measuring 6.10″x 1.37'', a pan cover, rice ladle, sout spoon and 2 bowels, a stove, sponge and mesh bag. It is lightweight cooking gear which has been designed for 1 or 2 people. Made from anodized aluminum material which is non-toxic, the pot and frying pan are also non-stick and, therefore, easy to wash.
The cookware comes with foldable handles so as not to take up space and all items can be packed into a mesh bag. With mini camping stove included, this outdoor survival camping cookware is ideal for all your outdoor adventures. The cookware comes with a loofah sponge to clean these utensils.
>>>Click here for more info about the KevenAnna 10 Pcs Camping Cookware Set<<<
---
6. The Texsport Scouter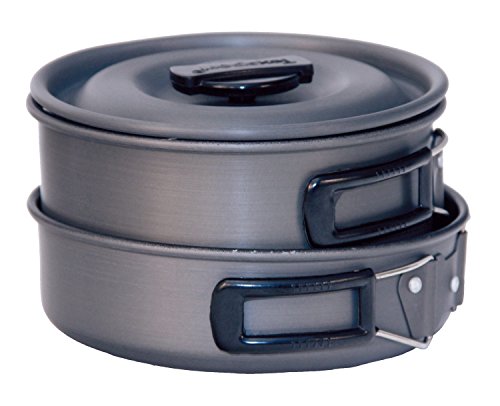 Founded in 1962, Texsport manufactures and supplies outdoor equipment such as tents, camping furniture, camping accessories, camping tools, compasses, backpacks, cookware and more. The company was founded in 1962 and is based in Houston, Texas. This hard-anodized non-stick aluminum backpack cooking kit is made up of a 7'' frying pan with Xylan non-stick finish.
The pan has a locking foldable stay-cool insulated handle. There is also a boiling pot with a non-stick finish. These non-stick coatings are compliant with USDA and FDA regulations. The same stay-cool handle which is foldable is found on the pot. Weighing just 26 ounces, the lightweight cookware set is described as well worth the investment.
>>>Click to see the latest price for Texsport Scouter Camping Cookware Set<<<
---
7. Kelly Kettle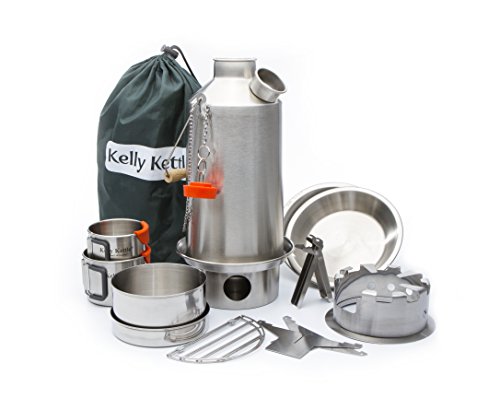 This Ultimate Stainless Steel Large Base Camp Kit will take care of all your needs in any emergency situation. Excellent for camping and for wilderness survival, this cook set includes the large camp Kelly Kettle which holds 54 ounces, a 32-ounce pot with lid, a pot gripper, as well as a frying pan. The kit also includes the pot support for cooking above the chimney.
There are also two stainless steel cups with measurements in ounces and ml, 2 plates, a Kelly Kettle Hobo stove and a carrying bag. Use fuel from nature – pine cones, sticks and grass ─ and within a few minutes, have your kettle boiling for tea. What's more, the new version of this kettle has all welded construction and no rivets. Because of its unique design, the stove can be used in light rain. The total kit weight is 2.26kg.
>>>Check out what other customers say about the Kelly Kettle Stainless Steel Camp Kit<<<
---
Final Thoughts
Common sense and a cool mind are needed to survive a disaster, but having the right emergency kit can provide comfort and assistance if you're lost, injured, cold and hungry. As far as survival cooking gear goes, space available is often the major consideration. Some of these kits have stoves, others do not. They are all rated highly, and with them, you've got a good chance of enjoying food that isn't ruined by poor preparation. They've all got different feature which will guide you in your shopping.